Radish Lentil Idli Fry + Carrot Ginger Chutney
Radish Lentil Idli Fry With Carrot Ginger Chutney is a steamed savory cake made into stir-fry with veggies. Best when paired with spicy carrot ginger chutney.
---
« Go back
Print this recipe »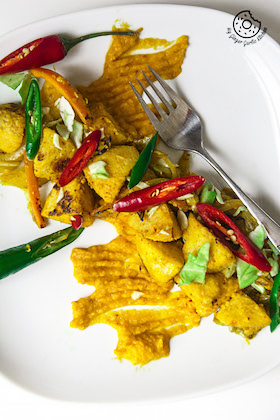 ---
Prep Time = 10 minutes
Cook Time = 30 minutes
Total Time = 40 minutes
Category = Breakfast
Cuisine = Indian
Serves = 4-6
Nutrition Info = 279 calories
Serving Size = 1 serving
---
RECIPE INGREDIENTS
» For Radish lentil idli //
Radish, stem removed - 2 cup
Ginger, peeled and chopped - 2 tablespoons
Onion, diced - 2
Green chilies - 2-3
Split black gram skinned/Urad dal, washed and soaked in water overnight - 1 cup
Split green gram/Moong dal, washed and soaked in water overnight - 1 cup
Salt - 1.5 tablespoons
Rice flour - 1 cup or more as needed
Baking soda or eno fruit salt - 2 teaspoons
» For Carrot Ginger Chutney //
Carrots, sliced into 2 inch pieces - 3 large
Ginger peeled, and chopped roughly - 1 tablespoon
Garlic cloves, peeled - 4
Dried ref chili - 2-3
Salt to taste
White vinegar - 1 tablespoon
Honey - 1 tablespoon
Desiccated coconut - 3 tablespoons
Water - 4 tablespoons
» For Idli Stir-Fry //
Oil - 2 tablespoons
Onion, sliced - 1 large
Green chilies, sliced diagonally - 3-4
Carrot, juliennes - 3/4 cup
cabbage, chopped lengthwise - 3/4 cup
Pinch of salt to taste
White vinegar - 1.5 teaspoons
Turmeric powder - 1/2 teaspoon
Desiccated coconut - 2 tablespoons
Sriracha sauce - 2 tablespoons
» For Serving //
Carrot ginger chutney
sliced, chilies (they give nice contrast)
Cabbage, chopped
---
RECIPE INSTRUCTIONS
» For Carrot Ginger Chutney //
Add carrots to pan with enough water and cook covered till they become soft.
Uncover the pan and let them cool completely.
Add all the chutney ingredients to blender jar.
Blend until smooth.
Once blend, check the seasoning and add more salt or water if required. Keep it aside.
» For Radish lentil idli //
In a food processor add radish, ginger, onion, green chili and grind well.
Remove water from dals and wash one more time.
Now add soaked dals, salt to the food processor and grind into a smooth paste.
Transfer lentil mixture into a large mixing bowl.
Add rice flour and mix well. Add some water or more rice flour if needed.
Add Eno Fruit Salt or soda to the batter and mix well. At this point, the batter would be so light, fluffy and almost double in size. This is exactly what we need.
Add ¼ cup boiling water to the base of steamer.
Grease the idli molds.
Now pour a idli batter into the molds.
Cover and microwave it on high for 3-4 minutes. Insert a toothpick in idli to check if it is cooked. We want soft and spongy idlis, so do not overcook idlis as they might absorb the moisture and will become hard.
Once cooked, remove the idlis from mold by inverting the mold. They will come out automatically. Now repeat the same process with rest of the batter.
» For Idli stir-fry //
Dice idlis into 4 pieces.
Heat oil in a pan.
Once hot, add onions and sauté for a minute.
Now add green chilies, carrot, cabbage, salt and cook for 2 minutes.
Add vinegar, turmeric powder, desiccated coconut and mix well.
Add chopped idlis and fold gently. Cook for a minute.
Now add sriracha sauce and mix well gently.
Let everything cook for about 2 minutes, and then turn off the heat.
» For Serving //
Slather a generous amounts of carrot chutney on serving dish.
Add idli stir-fry.
Top with cabbage and chilies. This addition is essential as they make them more appealing. Enjoy!
---
RECIPE NOTES
No notes for this recipe.
---