Onion Pakoda (Fritters)
Onion pakoda are crispy crunchy fritters made with onions mixed in chickpea flour batter and then deep-fried. Making tasty onion pakoda at home is so easy.
---
« Go back
Print this recipe »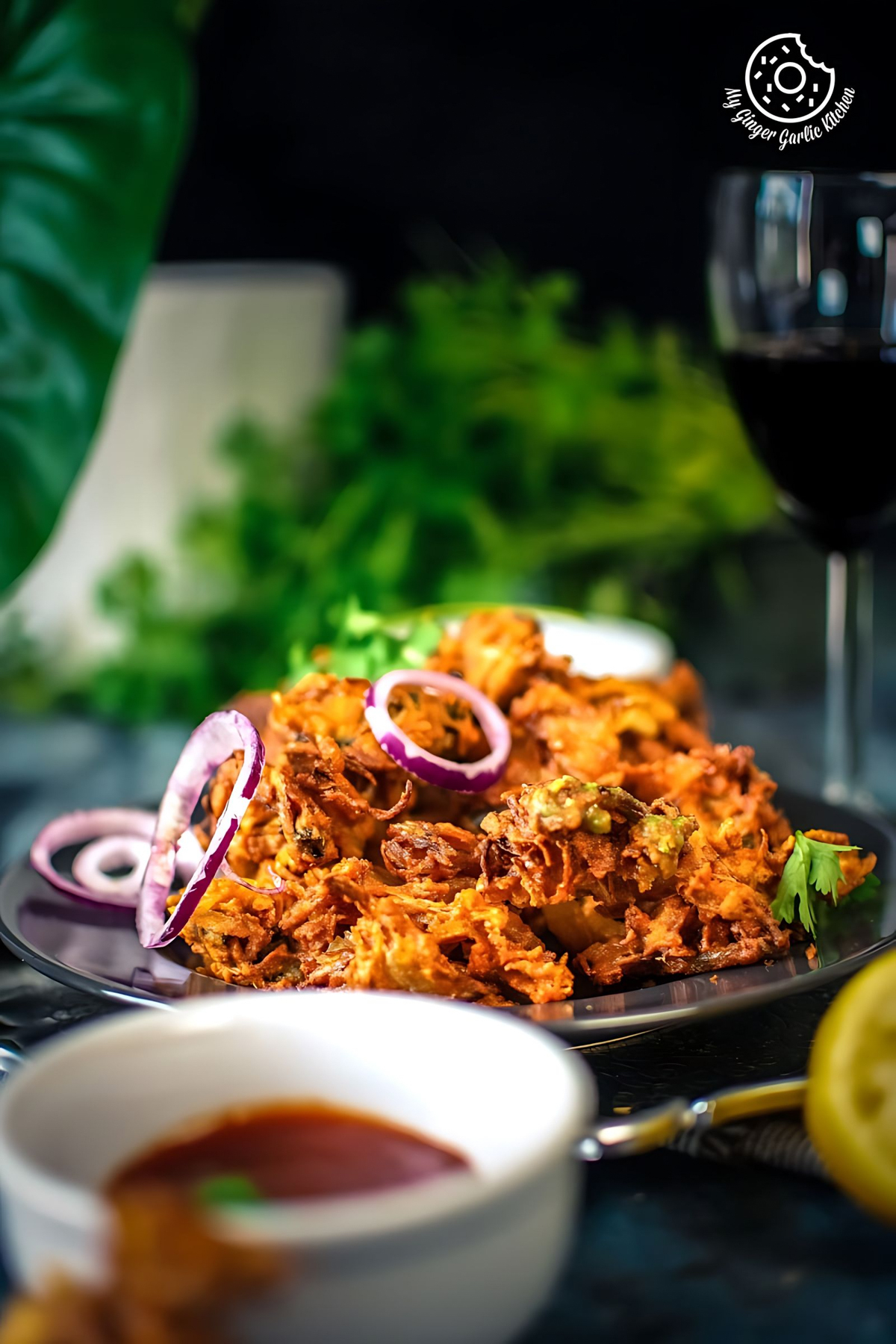 ---
Prep Time = 10 minutes
Cook Time = 15 minutes
Total Time = 25 minutes
Category = Snack
Cuisine = Indian
Serves = 4
Nutrition Info = 284 calories
Serving Size = 1 serving
---
RECIPE INGREDIENTS
» For Pyaaz Pakoda //
4 medium-sized onions, peeled (I have used yellow onions)
3 green chilies, chopped
1/2 teaspoon turmeric powder (haldi powder)
1 teaspoon red chili powder (lal mirch powder), or to taste
1 teaspoon chat masala powder
1/2 teaspoon garam masala powder
1 teaspoon cumin powder (jeera powder)
Carom seeds (ajwain)
Lemon juice (neembu ka ras), optional
Salt to taste
2 tablespoons rice flour (chawal ka atta)
8 tablespoons gram flour (besan), or as required
» For serving //
Green coriander chutney
Chaat masala
Masala chai
---
RECIPE INSTRUCTIONS
» How to make pyaaz pakoda batter //
Cut onions into thin slices. Open all the layers using fingers.
Transfer them to a mixing bowl.
Next add green chilies, salt, red chili powder, turmeric powder, cumin powder, carom (ajwain) seeds, chat masala powder, and lemon juice to the same mixing bowl.
Mix well using your fingers. Then use the fingers to squeeze the onions gently without squishing them up.
Add besan little by little, and mix everything well to coat the onions with the flour. Use 2 tablespoons besan at a time. The batter should be tight yet moist. So if you think you have added more flour to the batter, then add water 2 tbsps water to make it moist. You can up-to add 3-4 tablespoons of water.
Your batter is ready.
» How to fry pyaaz pakoda //
Heat enough oil for deep frying in a heavy-bottomed pan over high heat. Once the oil is hot enough, turn the heat to medium-high.
To check, drop a tiny piece of batter into the hot oil. If it sizzles immediately, the oil is ready.
Drop a few spoonfuls of the pakoda batter into the hot oil. Alternatively, you can use fingers for sliding the batter. (Do not overcrowd the pan. Fry only 7-8 pakoras at a time.)
Deep fry on medium-high heat until they turn crispy & golden.
Take them out using a slotted spoon. Place them onto a paper towel-lined plate to absorb the excess oil. Repeat this process for the rest of the batter.
Sprinkle with some chaat masala powder, red chili powder, and drizzle with some lemon juice.
Serve pyaaz pakoda hot with green chutney/ketchup and a cup of tea or coffee.
» How to bake pyaaz pakoda //
Preheat the oven to 392°F/200°C.
Scoop out small balls of batter on a parchment-lined baking sheet using your hands or a tablespoon or ice cream scoop.
Flatten them using a spoon and brush or spray with some cooking oil.
Bake for 22-25 minutes until pakoras are golden brown and crisp on the outside.
Sprinkle pakoras with some red chili powder, some chaat masala and then serve hot with garlic tomato chutney or ketchup or sauces of your choice.
---
RECIPE NOTES
The temperature of oil has to be hot enough for frying pakoras. So before dropping the batter make sure that oil is moderately hot. If the oil is not hot enough, the pakoras will soak up oil. If the oil is too hot, the onion pakoda will brown outside but will not get cooked inside.
If you want a lighter and softer texture of onion pakoda then you can add 1-2 tablespoons of hot oil to the batter.
I did not add any herbs to my pakoras. If you want to give a leafy green touch to your onion pakodas, then you can also add some chopped coriander, or chopped mint leaves to the batter. Chopped spinach also tastes great in this recipe.
---