Baingan Bharta Recipe - Roasted Eggplant Mash
Baingan Bharta is a fire roasted eggplant mash cooked with spices. It is the best restaurant style baingan bharta recipe. It tastes best with any flatbread.
---
« Go back
Print this recipe »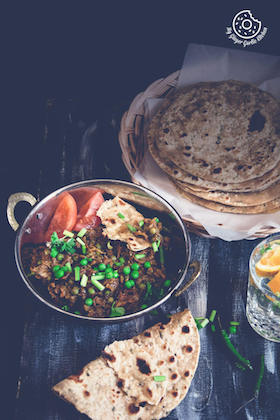 ---
Prep Time = 1 hour(s) 0 minutes
Cook Time = 20 minutes
Total Time = 1 hour(s) 20 minutes
Category = Side
Cuisine = Indian
Serves = 4
Nutrition Info = 90 calories
Serving Size = 1 Serving
---
RECIPE INGREDIENTS
» For Roasting Eggplant:
1 Large sized baingan/aubergine/eggplant
Few drops of oil for brushing
» For Baingan Bharta:
2 tablespoons oil
1 teaspoon cumin seeds
1 tablespoon garlic crushed
1 tablespoon ginger grated
1 large onion chopped
2 medium sized tomatoes chopped
1/2 cup green peas
1 teaspoon red chilli powder
1/4 teaspoon garam masala powder
1/2 teaspoon turmeric powder
2 tablespoons coriander powder
Salt to taste
1 teaspoon kasuri methi (dried fenugreek leaves), (optional)
---
RECIPE INSTRUCTIONS
» Roasting eggplant (baingan) on an open fire:
Brush eggplant with oil. Make a couple of slits or slightly prick with a fork.
Put eggplant directly over heat, and roast it over medium heat for about 10-12 minutes or until eggplant (baingan) is tenderly cooked completely. Keep rotating it after every 2 minutes. (Insert a knife to check if baingan is cooked through. The knife would glide smoothly when it?s done.)
Let it cool completely.
» Roasting eggplant (baingan) in the oven:
Brush eggplant with oil and place it on a baking tray.
Bake it in a 180°C preheated the oven for 55-60 mins or until the skin is charred and eggplant starts to shrink. Broil for 2 mins on high settings, or roast over the flame (prick the eggplant with a fork or slit it, if you are roasting on the flame). Let it get cool.
» Peeling the eggplant skin:
Once cooled, peel off the skin.
Mash or finely chop the cooked eggplant. Set it aside.
» How to make baingan bharta:
Heat oil in a pan, and add cumin seeds.
When they start to splutter add garlic and saute for few seconds.
Add ginger and saute for 30 seconds.
Now add onions and sauté till they turn translucent.
Add green peas and cook for 3-4 mins.
Add in the chopped tomatoes and cook for few more minutes.
Add garam masala, chili powder, Coriander Powder, Red Chili Powder and salt to the mashed eggplant.
Add the mashed eggplants to the onion tomato mixture and cook for a minute.
Add Kasuri methi and mix well. (this step is completely optional)
Mix well and cook on medium heat for 7-8 minutes. Once it starts boiling and the spices have all blended in well with the Eggplant and Peas, it is ready.
Garnish with cilantro and serve hot with paratha, chapati or Naan.
---
RECIPE NOTES
Roasting baingan on open flame/fire takes some time, so you have to be patient while roasting it.
Baingan should be cooked through properly from the inside because only this way you will get and nice pulp.
Don?t roast baingan on high heat, otherwise, baingan skin would be charred quickly and baingan won?t cook from inside.
You can also prick or slit baingan if you are cooking it on an open fire.
After roasting let the baingan cool completely before peeling the skin.
---