Pumpkin Muesli Chocolate Bread
Pumpkin Muesli Chocolate Bread is made with pumpkin, museli, and chocolate. Then swirled with chocolate and a layer of muesli and sprinkle of brown sugar.
---
« Go back
Print this recipe »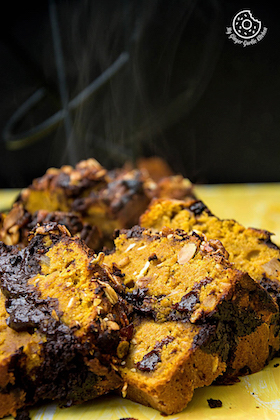 ---
Prep Time = 10 minutes
Cook Time = 50 minutes
Total Time = 1 hour(s)
Category = Breakfast
Cuisine = American
Serves = 1 loaf
Nutrition Info = 226 calories
Serving Size = 1 serving
---
RECIPE INGREDIENTS
» For Chocolate Filling //
Dark chocolate or semi­sweet chocolate - 200 grams
Fresh Cream - 200 ml or 2dl
» For Bread //
Pumpkin puree - 3/4 cup
Melted butter or oil - 1/2 cup
Eggs - 2
Vanilla extract - 1/2 teaspoons
Buttermilk - 1/4 cup or more if batter is too thick
Bread flour - 200 grams or 1 1/2 cup
Brown sugar - 165 grams or 3/4 cup + 2 teaspoons
Baking soda - 1 teaspoon
Salt - 1/4 teaspoon
Pumpkin pie spice - 2 teaspoons
Fruits and nut muesli - 1/4 cup + 4 teaspoons
---
RECIPE INSTRUCTIONS
» How to Make Pumpkin Muesli Chocolate Bread //
Preheat the oven to 175°C/350°F.
Brush a pan with butter and dust with some sugar. (9 X 5 inch - 23X 13 cm loaf pan would be good)
In a large bowl, using an electric hand mixer, cream together brown sugar, eggs and vanilla and the pumpkin puree until creamy.
Add flour, baking soda, salt and pumpkin pie spice and whisk until combined.
Add buttermilk and whisk again.
Fold in 1/4 cup muesli and mix well.
Add chocolate and cream to a mixin bowl and microwave for 2 minutes.
Stir well until combined. Chocolate filling is ready. Keep it aside.
Pour the 3/4 of the batter into the prepared greased loaf pan.
Add chocolate filling to create a chocolate layer.
Add 1/4 of the batter and and top with rest of the chocolate filling.
Make swirls with a knife or tooth piece.
Sprinkle muesli and brown sugar on top, and then bake for about 50-60 minutes until golden brown and a toothpick inserted into the center comes out clean.
Let bread cool in pan for 10 minutes.
Then invert onto a wire rack or a clean surface.
Slice and enjoy.
---
RECIPE NOTES
To make Pumpkin pie spice, mix 1(1/2) teaspoons ground cinnamon + 1/4 teaspoons ground nutmeg + 1/4 teaspoons ground ginger + 1/4 teaspoons ground cloves.
---