Easy Pumpkin Cinnamon Rolls - Pumpkin Cinnamon Bun
These incredibly gooey pumpkin cinnamon rolls would make a delicious treat for Halloween. It?s the best breakfast indulgence ever.
---
« Go back
Print this recipe »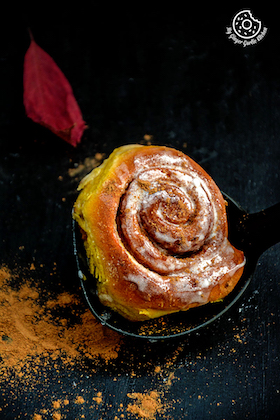 ---
Prep Time = 20 minutes
Cook Time = 2 hour(s) 0 minutes
Total Time = 2 hour(s) 30 minutes
Category = Breakfast
Cuisine = American
Serves = 18 rolls
Nutrition Info = 125 calories
Serving Size = 1 roll
---
RECIPE INGREDIENTS
» For The Dough //
Dry Yeast - 1 Package (7g)
Warm Water - 1/4 Cup
White Sugar - 1 Teaspoon
Pumpkin Puree - 1/2 Cup
Heavy Cream Or Full-Fat Milk - 1/4 Cup
Salt - 1 Teaspoon
Unsalted Melted Butter Or Vegetable Oil For Dough - 1/4 Cup
Vanilla Extract - 1/2 Teaspoon
Ground Cinnamon - 1 1/2 Teaspoons
Ground Ginger - 1/4 Teaspoon
Ground Pepper - 1/8 Teaspoon (Optional)
Egg - 1 Large
Granulated Sugar - 1/4 Cup
Bread Flour Or All-Purpose Flour, Divided - 3 Cup + 2 Cup (And More If Needed)
» For The Filling //
Melted Butter, Brushed On Rolled Dough - 6 tablespoons
Brown Sugar - 1 Cup
Granulated Sugar - 1/2 Cup
Ground Cinnamon - 2 tablespoons
» For The Glaze //
Powdered Sugar Or Icing Sugar - 1 Cup
Fresh Cream - 1/4 Cup Or As Needed
---
RECIPE INSTRUCTIONS
» Making Dough:
Add yeast and 1 tsp sugar to a large mixing bowl.
After that, add warm water and whisk well. Let it rise for 10 minutes.
Mix well the yeast mixture, and add pumpkin puree, cream, ground cinnamon, ground pepper, ground ginger, vanilla, salt and mix well.
Add 2 cups all-purpose flour and egg.
Mix well until combined.
Now add oil/butter and 1 cup flour. Mix well for 2 minutes.
Add 2 cups flour, sugar and mix well using a hand mixer or standing mixer with the dough hook attached for 5-7 minutes, or mix until it?s all incorporated and a very soft, slightly sticky dough is formed.
Add oil to the dough and pull it together with your hands to form a ball.
Place it in a large oiled bowl and cover with a kitchen towel, and place it in a warm spot to rise for about 1-2 hours or until the dough is double in size.
» Making Filling:
In a bowl, mix together the brown sugar, granulated sugar, and cinnamon for the filling, set aside.
» For Rolls:
When doubled in size, punch the dough down and roll it out onto a floured surface.
Roll it into a 15×9? rectangle.
Spread the melted butter over the top.
Sprinkle over the sugar and spice mixture evenly.
Starting from one of the long ends, tightly roll the dough into a log.
Apply water to the edge to seal. Cut into 16 to 18 slices (make sure they are even).
Slightly shape the rolls.
Now place them cut side down in a well buttered baking pan. I didn?t have a large pan, so I arranged them 2 pans (if you have a large baking pan you can arrange them in one pan).
Cover with plastic wrap and put them back into a warm spot to rise for another 1-1/2 hours.
» Baking Rolls:
Preheat the oven at 300°F/150°C. When the dough is double in size unwrap the pan.
Bake them for about 25-30 minutes or until golden brown.
Take them out of the oven and let them cool for few minutes.
» For Glaze:
While the rolls cool for a few minutes make the glaze. Mix all the ingredients for the glaze in a bowl.
Whisk well until combined. You can simply adjust glaze by adding more powdered sugar or milk to achieve desired runny glaze consistency.
» Serving:
Immediately pour the glaze over the cinnamon rolls and enjoy!
---
RECIPE NOTES
No notes for this recipe.
---