Potato Paneer Stuffed Roasted Red Cabbage Cones
Potato Paneer Stuffed Roasted Red Cabbage Cones is an easy and delicious gluten free recipe. Omit paneer to make it vegan. Serve it as a snack or a side dish.
---
« Go back
Print this recipe »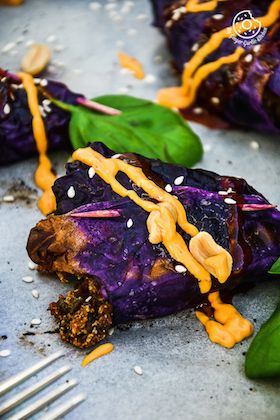 ---
Prep Time = 15 minutes
Cook Time = 18 minutes
Total Time = 33 minutes
Category = Main
Cuisine = World
Serves = 5
Nutrition Info = 223 calories
Serving Size = 1 serving
---
RECIPE INGREDIENTS
» For Cabbage Cones //
red cabbage cups - 5
toothpicks - 10
» For Stuffing //
sesame oil - 2 tbsp
salt as per taste
ground pepper - 2 tsp
soya sauce - 2 tsp
potatoes, peeled, boiled and halved - 2 cups
paneer, finely grated - ½ cup
white vinegar - 1 tsp
honey - 1 tbsp
sriracha sauce - 2 tbsp ( you can use less, if you think it?s too spicy)
extra oil for brushing
» for serving //
sriracha sauce
mayonnaise
sesame seeds
roasted peanuts
basil leaves
---
RECIPE INSTRUCTIONS
» Making Cabbage Cones //
Cut 5 cabbage cups in equal halves. Roll them into a cone shape and secure them with a toothpick. You can remove toothpick at the time of serving, if you wish.
Warm enough water in a pan with 2 tsp salt. Soak cabbage cones in warm salted water for 25-30 minutes. Drain and keep aside.
» Make Stuffing //
Heat 2 tbsp oil in another pan. Add chopped garlic and saute for 2-3 minutes or till they turn brown. Add chopped onions and chopped green bell pepper. Saute for 3-4 minutes.
Add green peas, soya sauce, honey, ground pepper, vinegar and salt. Let them cook for another 2-3 minutes.
Add potatoes and paneer. Mix well to make a soft and mushy mixture. Cook for 5 more minutes.
Add sriracha sauce and saute for another minute. Remove from heat and let it cool.
» Baking //
Preheat oven at 150°C/ 300°F.
Now the fun part. Fill the prepared cones with stuffing. Brush cones with little oil and bake them for 10 minutes. Turn them and bake again for 2-3 minutes.
Remove from oven. Transfer these cones in serving tray.
» Serving //
Sprinkle some sesame seeds and drizzle sriracha sauce and mayonnaise. Garnish with basil leaves, and top with roasted peanuts.
Eat!
---
RECIPE NOTES
No notes for this recipe.
---