Pineapple Coconut Smoothie
This fresh and tropical Pineapple Coconut Smoothie is a tasty drink prepared with tropical fruit and no added refined sugar. Ideal as on-the-go breakfast.
---
« Go back
Print this recipe »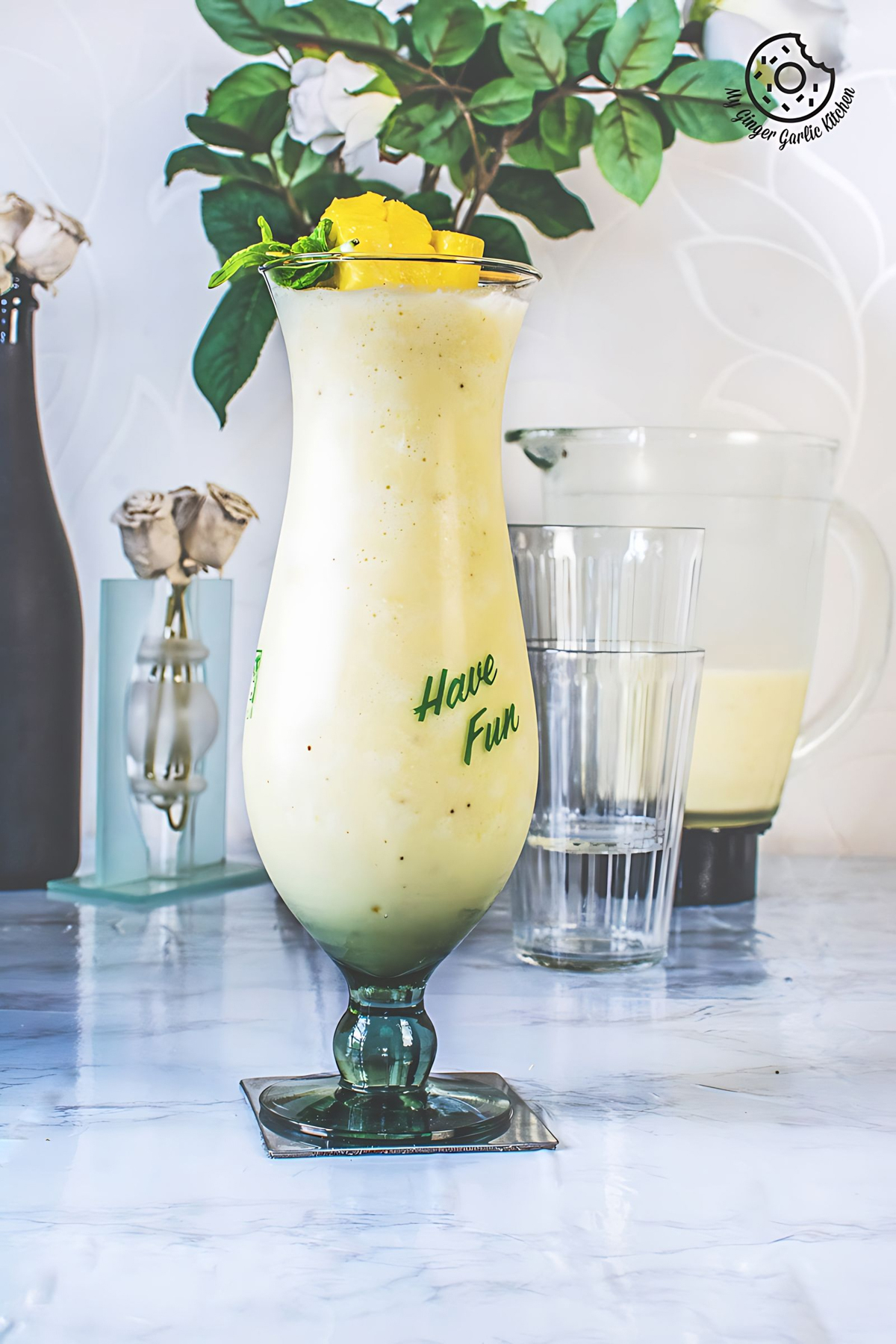 ---
Prep Time = 02 minutes
Cook Time = 03 minutes
Total Time = 05 minutes
Category = Breakfast
Cuisine = International
Serves = 2 large
Nutrition Info = 205 calories
Serving Size = 1 serving
---
RECIPE INGREDIENTS
» For Pineapple Coconut Smoothie //
1/2 cup coconut water
1 1/2 cups unsweetened coconut milk
1 1/4 cups frozen pineapple chunks
1 1/4 cups frozen banana slices
2 tablespoons unsweetened shredded coconut or coconut flakes
1/2 cup ice cubes
1 tablespoon sweetener, optional (honey, maple syrup or any other sweetener of your choice)
---
RECIPE INSTRUCTIONS
» How to Make Pineapple Coconut Smoothie //
Add frozen pineapple chunks, frozen banana slices, coconut milk, shredded coconut, and ice cubes to a blender and process until smooth.
Next, add the coconut water.
Taste and add the sweetener, if needed. Blend again to combine.
Pour smoothie into serving glasses.
Garnish with pineapple, mint, or with coconut. Top with some pineapple chunks. Serve immediately or refrigerate it for up to 7-8 hours.
---
RECIPE NOTES
You can also add some coconut yogurt to this smoothie. If you are not into a vegan diet then you can also add unsweetened vanilla yogurt to this smoothie.
If making this smoothie for a weekend brunch, then feel free to add some of your favourite alcohol to it.
Unsweetened shredded coconut enhances the coconut flavor of this smoothie. But if you are not into so much coconutty flavours then you can skip it.
Coconut water provides a desired consistency and a mild coconut flavor to this smoothie. If you dont have coconut water then you can also use plain water.
In this smoothie recipe, coconut water can also be replaced with the fresh pineapple juice.
Ice gives a thick and creamy texture to this smoothie, but if you think it is too cold for you then skip the ice cubes.
Frozen mangoes can also be added to this pineapple coconut smoothie.
If you want to limit your sugar intake, then make sure to use unsweetened coconut milk, unsweetened shredded coconut, and unsweetened frozen pineapple chunks for this recipe.
Add 2 tablespoons of coconut cream to this smoothie to make it creamier.
Adding sweetener is completely optional.
---