Pepper Corn Arugula Pizza with Sun-Dried Tomatoes
Making this Pepper Corn Arugula Pizza from scratch is super easy. A drizzle of Mayonnaise Pepper on top is all you need make a classic Friday Pizza Night.
---
« Go back
Print this recipe »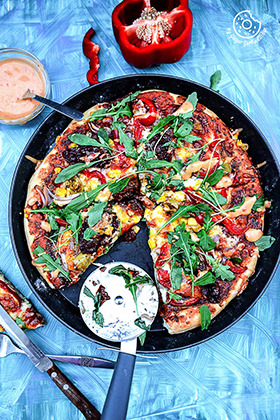 ---
Prep Time = 15 minutes
Cook Time = 40 minutes
Total Time = 55 minutes
Category = Main
Cuisine = Italian
Serves = 2
Nutrition Info = 252 calories
Serving Size = 1 serving
---
RECIPE INGREDIENTS
» For Pizza Dough //
bread flour - 2 cups
warm water - 1 cup
active dry yeast - 2 teaspoons
powdered sugar - 2 teaspoons
salt - 1/4 teaspoon
olive oil - 1-2 tablespoons
some extra flour for rolling and sprinkle
» For Toppings //
slices of red bell pepper - 10-12
mayonnaise pepper - 1/2 cup
sun-dried tomatoes - 5-6
red onion, sliced - 1
sweet corn kernels - 1/4 cup
pickled yellow pepper, sliced - 1-3
fresh arugula - 1 cup
mozzarella slices - 2
grated mozzarella cheese - 1 1/4 cup
pizza sauce - 1/4 cup
oregano
pepper powder
---
RECIPE INSTRUCTIONS
» Making The Dough //
In a bowl, combine water, yeast and sugar. Mix with a spoon, then let it sit for 10 minutes or until foamy.
Take a large bowl, and add flour and salt to it. Mix well. Add yeast water and olive oil.
Mix to combine using your hands or stand mixer with the dough hook attachment.
Knead until it comes together or form into a dough ball. Cover the dough ball with cling film and let it rest in a warm place to rise for about 1 hour.
Knead the dough again and divide the ball into two pieces.
Roll them into a ball again.
Now sprinkle little flour on the bottom of a tray.
Place these dough balls as shown in the picture.
Cover with cling film and keep the dough in refrigerator for 24 hours.
Your dough is ready. You can now start assembling the pizzas.
» Assembling The Pizza //
Preheat the oven to 325°F/175°C.
Lightly flour a counter to roll the dough.
Use your hands or a rolling pin to roll the dough out until you have a flattened disk of desired size.
Place the pizzas on a floured baking pan and then use your hands to gently tug.
Spread pizza sauce over the pizza dough. Sprinkle grated cheese.
Now place sliced cheese.
Now add bell pepper, corn, pickled yellow pepper and sliced onions.
Sprinkle some oregano on top.
Bake the pizza in a middle rack for 30-25 minutes or until the cheese is all melty.
Transfer pizza to the lowest shelf and bake for 5-7 minutes.
This would give such a nice crisp to pizza.
Remove the pizza from the oven and and sprinkle with fresh arugula and drizzle mayonnaise pepper.
Slice into desired shape and ATTACK!
---
RECIPE NOTES
No notes for this recipe.
---