Eggless Peach Chocolate Brownies
Eggless Peach Chocolate Brownies have no butter, no egg, no white flour and no white sugar. Plus, they are vegan and they are dairy-free too.
---
« Go back
Print this recipe »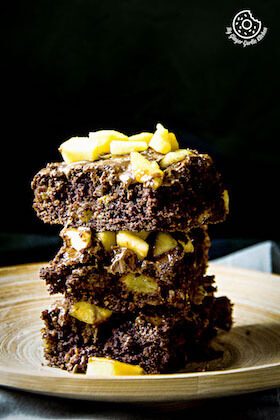 ---
Prep Time = 10 minutes
Cook Time = 30 minutes
Total Time = 40 minutes
Category = Dessert
Cuisine = World
Serves = 10
Nutrition Info = 55 calories
Serving Size = 1 brownie
---
RECIPE INGREDIENTS
» For Brownies:
1/4 cup vegetable oil
1/2 cup + 1 tablespoon brown sugar
1 teaspoon vanilla extract
3 tablespoons white vinegar
3/4 cup wheat flour
1/4 cup unsweetened cocoa powder
3/4 teaspoon baking soda
3/4 teaspoon baking powder
1/2 teaspoon salt
3-4 tablespoons almond milk or soya milk
3/4 cup peaches, peeled and chopped
» For Frosting:
1/8 cup chopped peaches
Icing sugar
Nutella
---
RECIPE INSTRUCTIONS
» How to Make Peach Chocolate Eggless Brownies:
Preheat oven to 175 degrees°C/350°F.
In a bowl, combine chopped peaches and 1 tablespoon of sugar. Set it aside for 10 minutes.
In a large bowl, salt, mix the oil, sugar, and 2 teaspoons vanilla until well blended.
Add white vinegar and mix again.
Combine the peaches, wheat flour, cocoa, baking powder, baking soda in the same bowl.
Stir well until combined.
Add almond milk and mix well again to make a brownie batter.
Grease a pan and line with parchment paper. I have used a 13×7 inch pan.
Pour the batter into the prepared baking pan.
Spread batter evenly and bake for 25 to 30 minutes in the preheated oven, until brownies are cooked.
Remove from the pan a set aside to cool.
Spread Nutella over cooled brownies.
Add chopped peaches and dust with icing sugar.
Cut them into squares and enjoy with hot coffee or milk.
---
RECIPE NOTES
No notes for this recipe.
---