Panchmel Dal | Panchratan Dal
Panchmel Dal or Panchratan Dal or mix lentils stew is a very popular delicacy from Rajasthani cuisine. It goes well as a side dish of Baati.
---
« Go back
Print this recipe »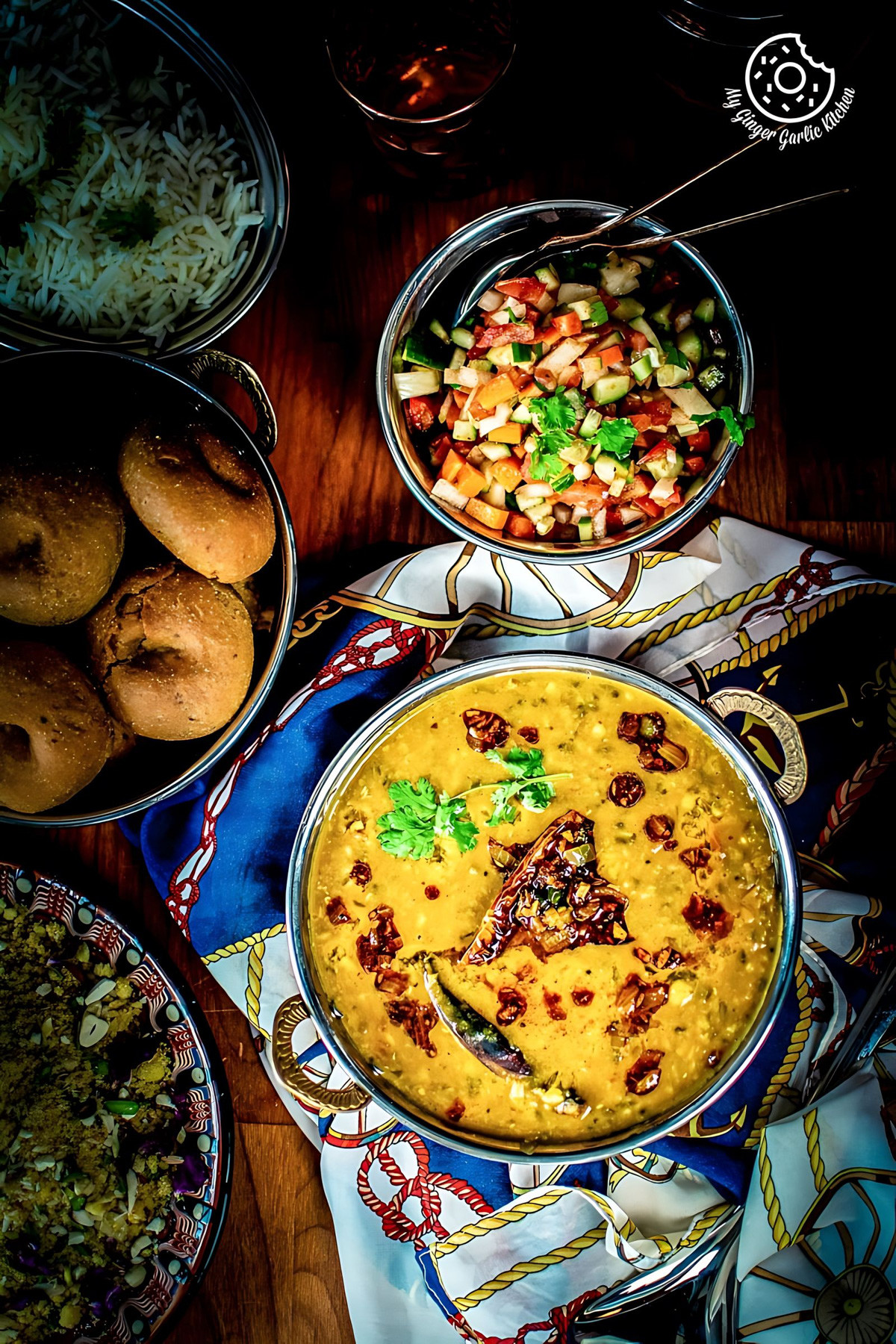 ---
Prep Time = 20 minutes
Cook Time = 40 minutes
Total Time = 60 minutes
Category = Side
Cuisine = Indian
Serves = 5-6
Nutrition Info = 398 calories
Serving Size = 1 serving
---
RECIPE INGREDIENTS
» For Panchmel Dal:
1/4 cup urad dal chilka (split black lentils)
1/4 cup chana dal (split Bengal gram or chickpeas)
1/4 cup green moong dal chilka (split green grams)
1/4 cup masoor dal (split red lentils or Egyptian lentils)
1/4 cup tuar/toor dal or arhar ki dal (split pigeon peas )
Salt to taste
1/2 teaspoon + 1/2 teaspoon turmeric powder (haldi powder)
2 teaspoons coriander powder (dhania powder)
1/2 teaspoon garam masala powder
1/2 teaspoon black pepper (kali mirch) powder, optional
6 cups water or as required
1 medium-sized onion, finely chopped
1 tablespoon minced ginger (kisi hui adrak)
1 tablespoon minced garlic (kisi hui lehsun)
2-3 green chilies (hari mirch)
2 medium-sized tomatoes, chopped
2 pinches of asafoetida (hing)
1/2 teaspoon mustard seeds (rai)
1/2 teaspoon cumin seeds (jeera)
3 tablespoons + 2 teaspoons ghee
2 tablespoons oil
2 dried red chilies (sukhi lal mirch)
2 green chilies (hari mirch), chopped
2 tablespoons fresh coriander chopped
Lemon juice to taste
---
RECIPE INSTRUCTIONS
» How To Cook Panchmel Dal:
Add all the dals to a large mixing bowl.
Mix well using fingers and rinse 3-4 times.
Soak the dals (lentils) in 2 cups of water for 1 hour.
In a pressure cooker add the mix of dals (lentils) along with 3 cups of some water. (Alternatively, you can also cook dals in a thick bottomed pan, or a slow cooker.)
Next add 1 teaspoon salt, 1/2 teaspoon turmeric powder, a pinch of asafoetida (hing), and 1 teaspoon of ghee.
Cover the lid and pressure cook for 6-7 whistles over medium heat.
Let the pressure release naturally before opening the lid.
At this point, the mix of dals should be completely cooked and you should be able to mash them with your fingers. Mash some of the cooked dal using a ladle.
» How To Make Temepring (Tadka) For Panchmel Dal:
To make the tempering, in a large pot/pan, heat 2 tablespoons oil and 3 tablespoons ghee on medium heat (You can also use butter instead of ghee).
Once the oil ghee mixture is hot, add a pinch of asafoetida. Sauté for a few seconds.
Then add mustard seeds and cumin seeds. Let the seeds crackle for a few seconds.
Add bay leaf, peppercorns, cloves, and crushed black cardamom. Sauté for a few seconds.
Add chopped onions and sauté for 2 minutes.
Add green chilies and sauté for another minute.
Then add minced garlic, minced ginger, and 2 dried red chiles.
Fry for 2 minutes or until onion turns translucent.
Add 1/2 teaspoon turmeric powder, 1 teaspoon red chili powder, 2 teaspoons coriander powder and mix well.
Sauté over medium-low heat for 1 minute or until the oil leaves the side.
Take out 3 teaspoons of masala in a bowl and keep it aside. (We will use at the time of serving)
Add chopped tomatoes, ground black pepper, and mix well. Cook for 2 minutes.
Add 4 tablespoons of water and mix well again.
Cook for another 3-4 minutes or until oil starts oozing out from the sides. To get the smooth texture, mash tomatoes with a spoon.
Once the masala is ready, add cooked dal to the pan and mix well.
Add salt to taste and mix again. This dal is supposed to be of creamy consistency. (At this stage you can also add some water if the dal mixture looks too thick.)
Boil for 2 minutes over medium-low heat. This boiling time ensures that your dal will absorb all the flavors from the masala and it would get a nice and creamy texture.
Add garam masala powder, coriander leaves and mix well and boil for another minute.
Add 1 teaspoon of ghee and mix well. Turn off the heat.
Transfer dal to a serving bowl and drizzle with some tempering.
Garnish with coriander leaves and drizzle with some lemon juice and ghee.
Serve this delightful Panchmel Dal or Panchratna Dal hot with bati, chapati, rice, or paratha.
---
RECIPE NOTES
I have boiled dals in a stovetop pressure cooker. You can also make this dal in an Instant pot, a slow cooker, or a thick bottomed pan.
This is a spicy dal and its hotness levels are a bit high. So feel free to adjust the amount of spices in this recipe.
---