3-Ingredient Nutella Mousse
An Easy and delicious Nutella Mousse made with 3 ingredients. Nutella combined with whipped cream and coffee makes this a quick treat.
---
« Go back
Print this recipe »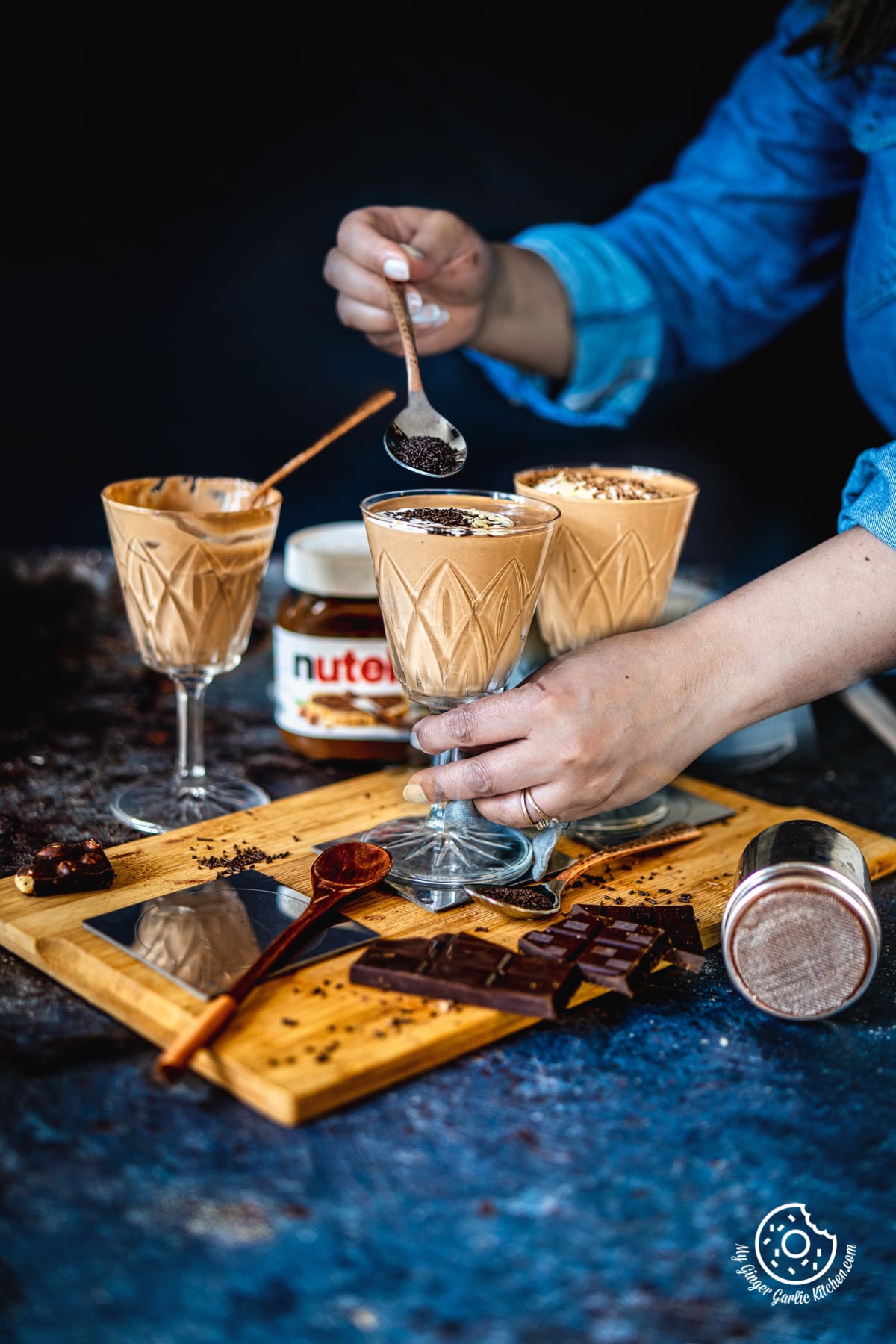 ---
Prep Time = 4 hour(s)
Cook Time = 5 minutes
Total Time = 4 hour(s) 5 minutes
Category = Dessert
Cuisine = American
Serves = 3 large
Nutrition Info = 565 calories
Serving Size = 1
---
RECIPE INGREDIENTS
» For Nutella Coffee Mousse:
1 cup whipping or heavy cream
1/2 cup Nutella or any other hazelnut spread
1 teaspoon instant coffee powder
» For Serving (optional)
Whipped cream
Chocolate sprinkles/shavings
Chopped chocolate
Unsweetened cocoa powder
---
RECIPE INSTRUCTIONS
» How to make Nutella Mousse:
Pour heavy whipping cream into the bowl of a stand mixer or a large mixing bowl.
Using a hand mixer or the whisk attachment on a stand mixer, whip the heavy whipping cream until stiff peaks are formed.
Now scoop the nutella and instant coffee powder into the same bowl.
Whip until until evenly incorporated. You can also fold them together using a rubber spatula.
Spoon the mousse into 3 large or 6 small serving glasses/dishes, or use a piping bag.
Chill in the refrigerate at least 3-4 hours or overnight. You can also freeze this mousse for about 1 hour.
To serve, top with a teaspoon of whipped cream, chocolate sprinkles/ shavings or chopped white chocolate. You can also dust them with unsweetened cocoa powder.
Serve chilled or store for up to 3 days.
---
RECIPE NOTES
I have added the instant coffee powder to this Nutella mousse. This addition of coffee to the chocolate mousse takes it to the next level. It brightens the chocolate flavor. If you are not a fan of coffee, then feel free to omit it from the recipe.
If you want just a hint of coffee then add only 1/4 teaspoon of instant coffee powder to this mousse.
I have whipped the Nutella and coffee with whipping cream. But you can also use a silicone spatula to fold it.
You can directly pour/scoop the mousse into serving dishes or you can also use a piping bag to pipe.
This mousse has no egg or gelatine in it. So to make it set correctly you will have to whip the cream until stiff peaks form.
Refrigerate this Nutella Mousse at least for 4 hours. You can also leave it overnight to set.
---