No Machine Cafe Mocha
This rich, full-bodied, bittersweet cafe mocha is a classic coffee drink that will comfortably please your coffee and chocolate cravings simultaneously.
---
« Go back
Print this recipe »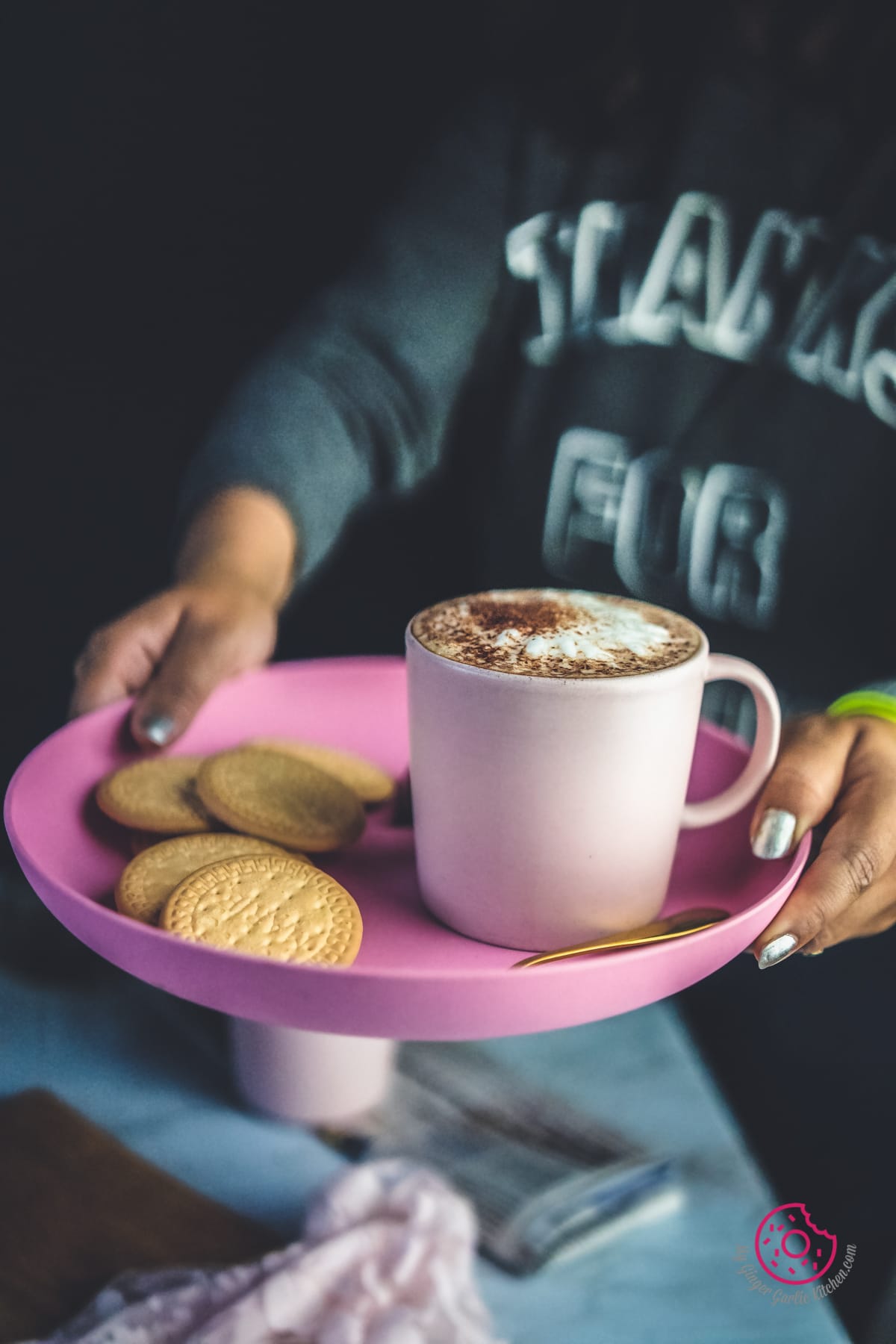 ---
Prep Time = 01 minutes
Cook Time = 04 minutes
Total Time = 05 minutes
Category = Beverage
Cuisine = International
Serves = 2
Nutrition Info = 174 calories
Serving Size = 1 serving
---
RECIPE INGREDIENTS
» For Cafe Mocha //
2.5 cups full cream milk or semi-skimmed milk
2 tablespoon organic cocoa powder or 40 grams dark chocolate
2 tablespoons instant coffee or 2 shots (60ml) of freshly brewed coffee
2 teaspoons granulated sugar, or to taste
4 tablespoons hot water
---
RECIPE INSTRUCTIONS
» How to make Cafe Mocha //
In a coffee mug, add 1 tablespoon cocoa powder.
Add 1 teaspoon sugar, and 1 tablespoon instant coffee. Feel free to adjust the amount of sugar according to your taste.
Then add the 2 tablespoons of hot water to the mug and everything until sugar dissolves completely. Keep it aside.
Alternatively, add 20 grams of dark chocolate to a mug along with 2 tablespoons of hot water. Let it sit 2 minutes or until chocolate softens.
After 2 minutes, mix everything well.
Add 1 teaspoon of sugar.
Also add add 1 tablespoon instant coffee and mix again.
Once mixed, keep this aside.
Now in a saucepan, heat the milk on medium heat.
Do not boil the milk, you only need to steam the milk. So, turn off the heat right before it starts to boil. Alternatively, add milk to a microwave-safe bowl and heat for 2 minutes. Stir the milk and heat again for 2 minutes. You only need to heat it until hot but not boiling.
Pour the hot milk into a clean heat-resistant bottle or jar.
Close the lid tightly and wrap the bottle with a kitchen towel. Now shake the bottle vigorously for about 1 minute or until the milk becomes frothy.
Transfer it to to a frothing pitcher, swirl the milk around the pitcher, this trick remove the larger bubbles and you get equally foamed milk.
Now pour frothy milk slowly into coffee-chocolate mixture. If you don't have a frothing pitcher, then you can directly pour it from the bottle.
Dust with some cocoa powder or drizzle with chocolate syrup. Serve immediately!
---
RECIPE NOTES
I used some good quality organic cocoa powder which had less sugar. Remember chocolate flavour can make or break the taste of cafe mocha. Feel free to use any of your favourite cocoa powder. You can also use artisan drinking chocolates instead of cocoa powder.
A whipping cream topping is always welcome in cafe mocha. So you can surely add a dollop of whipped cream to your cafe mocha.
For a classic mocha taste, I choose finest quality cocoa powder, or some simple luxury dark chocolate. Feel free to choose any of your other favourite dark chocolate or cocoa here.
I topped my cafe mocha with some cocoa powder, you can also top it with some sea salt, chocolate shavings, or even chocolate syrup.
If you are into syrups, then try a combination of chocolate and caramel syrup. They both taste great in mochas.
If you are dreaming about holidays, then addition of mint chocolate would surely make this mocha more dreamy.
I made the instant super fast version of mocha coffee, so I didnt use brewed coffee. If you are someone who doesnt like instant coffee then swap replace instant coffee with 4-5 tablespoons of freshly brewed strong coffee.
Shaking steamed milk in a jar is the best way to get frothy milk without a machine or frother. If you want you can also use milk frother.
Instead of heating milk in a pan, you can also heat it up in the microwave. For 5 cups of milk, you need to microwave for about 4 minutes.
If you don?t have any jar or bottle with a lid, whisk steamed milk vigorously in the pan itself. You can also use a coffee tumbler for shaking.
To make vanilla cafe mocha, you can also add some vanilla extract to this coffee.
To make this coffee richer, you can also add about 1 tablespoon of cream to each coffee mug.
Make sure that the bottle you?re using is heat resistant.
---