No Cream Fettuccine Alfredo
No Cream Fettuccine Alfredo is an Italian pasta dish made in a real authentic way. This pasta dish has silky smooth, and buttery sauce.
---
« Go back
Print this recipe »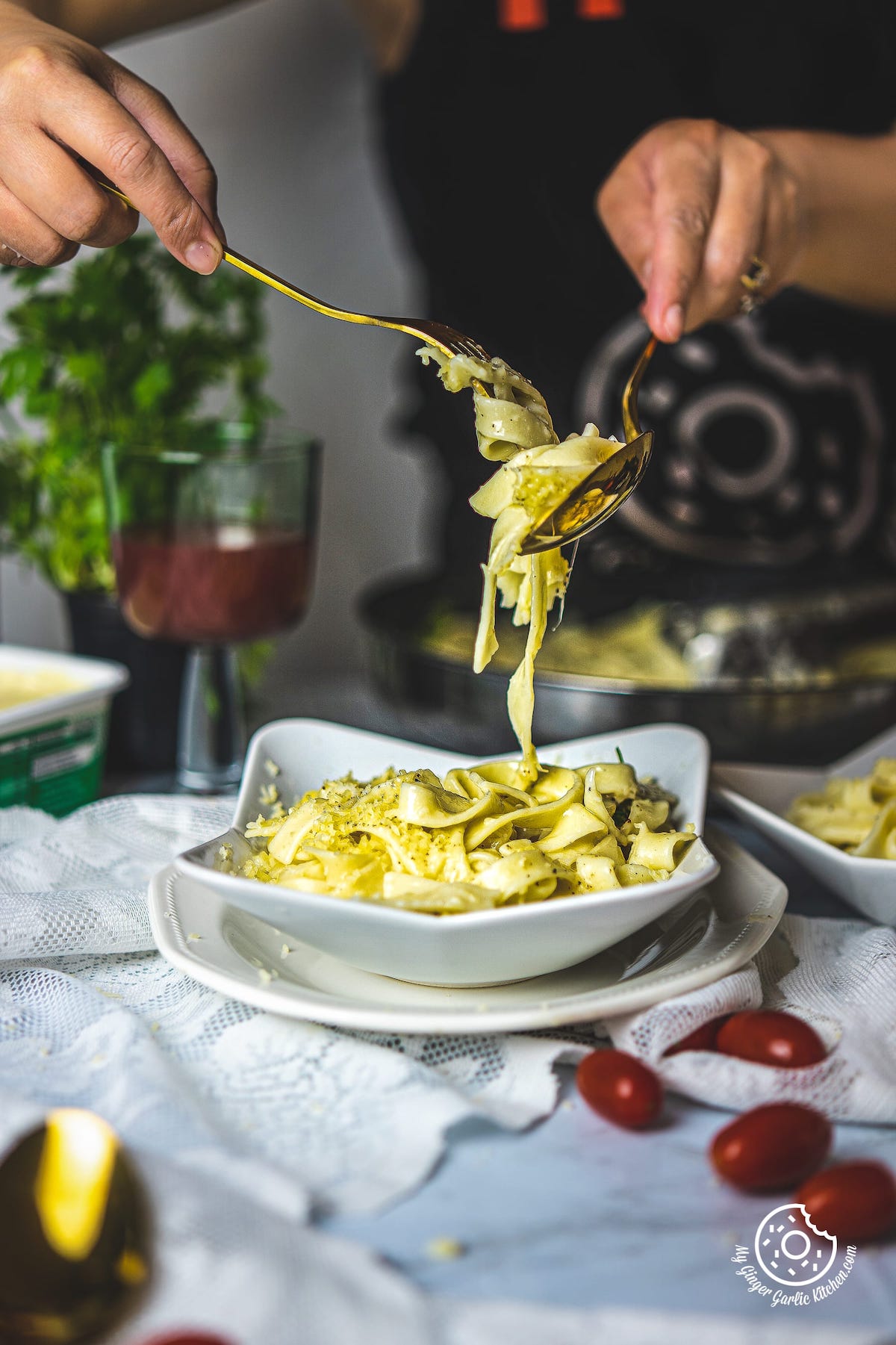 ---
Prep Time = 02 minutes
Cook Time = 20 minutes
Total Time = 22 minutes
Category = Italian
Cuisine = Main
Serves = 4
Nutrition Info = 210 calories
Serving Size = 1
---
RECIPE INGREDIENTS
» For No Cream Fettuccine Alfredo Pasta:
12 ounces/340 grams fettuccine (or any other long pasta)
Salt
8 cups of water
2 tablespoons unsalted butter (feel free to add more butter)
3/4 cup grated Parmesan cheese
Freshly ground black pepper to taste
» For Serving:
Grated Parmesan cheese
Freshly ground black pepper
---
RECIPE INSTRUCTIONS
» How to Cook No Cream Fettuccine Alfredo Pasta:
Add water and salt to a large pot or pan and stir it well. Let it come to a boil.
Add fettuccine to this salted boiling water, and cook until al dente or cook the fettuccine according to package directions. Keep stirring occasionally.
Once the pasta is cooked, drain, reserving about 2 cups of pasta cooking liquid.
Add 1 cup hot pasta cooking liquid to a skillet. Now add butter to it and whisk well. Simmer until it boils.
Gradually add grated parmesan cheese, whisking constantly, and let it completely melt.
Once the cheese is incorporated well, add the cooked pasta and toss well to combine. At this point, add more pasta cooking liquid as required. The idea is that the sauce should coat noodles entirely.
Season with some black pepper and toss again.
Divide pasta into 4 serving dishes. Sprinkle with parmesan cheese and ground black pepper.
Pair No Cream Fettuccine Alfredo with a glass of white/red wine, and your gourmet dinner is ready.
---
RECIPE NOTES
If you want to adjust the consistency of pasta, then add some reserved pasta water to it. This would help in getting the right type of pasta consistency.
If you want herby pasta, then add chopped parsley or basil leaves.
You can also add some corn kernels or broccoli to make it veggie.
I made an authentic recipe which only has salt and pepper seasoning, but you can also add some white peppercorns, red pepper flakes, or Italian seasonings.
You can add some mushrooms to make Mushroom Fettuccine with alfredo Sauce. Or you can also add zucchini, or broccoli to this no cream fettuccine alfredo.
Instead of dried fettuccine, you can also use fresh pasta for making No Cream Fettuccine Alfredo.
Fettuccine can be swapped with the same amount of spaghetti of your choice.
Parmesan cheese is one of the essential ingredients in this No Cream Fettuccine Alfredo recipe. So make sure that you use the best quality parmesan, preferably real Parmigiano Reggiano. Using freshly grated aged or block parmesan cheese will ensure that your sauce would have a smooth and velvety texture. For this recipe, I would not suggest using pre-grated cheese.
---