Zebra Cheesecake Recipe (No-Bake | Gluten Free)
Zebra Cheesecake Recipe is a gluten-free and egg free cake. A two-layered delight, with cornflakes crust at the bottom and cheesecake on the top.
---
« Go back
Print this recipe »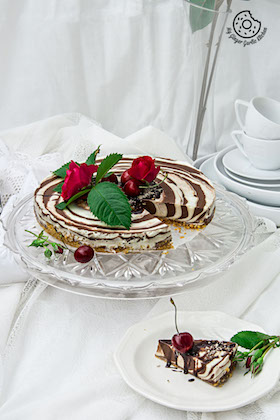 ---
Prep Time = 8 hour(s) 25 minutes
Cook Time = 10 minutes
Total Time = 8 hour(s) 35 minutes
Category = Dessert
Cuisine = Indian
Serves = 7-8
Nutrition Info = 396 calories
Serving Size = 100g
---
RECIPE INGREDIENTS
» For Crust //
3 cups gluten-free cornflakes
1/4 cup/50 g butter or margarine
5 tablespoons sugar
» For Cream Cheese Filling //
500 g cream cheese
200 g double cream or whipping cream
1/2 cup sugar
1 tablespoon vanilla extract
1/4 cup unsweetened cocoa powder
1.5 tablespoons instant coffee powder
5-7 gelatin leaves
2 1/2 dl or 250 ml cold water
2 1/2 dl or 250 ml of water
1/2 cup cornstarch
» For decoration //
Chocolate sauce
Ground almond
Cherries
---
RECIPE INSTRUCTIONS
» Making Crust:
In a food processor, add cornflakes, butter, and sugar.
Pulse well, until well blended and the crumbs are evenly moist.
Brush a (? 25 cm) cake pan with butter and line the base with the baking paper.
Dump the mixture into the prepared pan and press the crumbs evenly and firmly onto the bottom of the dish. (Press a round measuring cup along the edge to smooth it out. Pressing with a flat measuring cup works well at the end, this ensures the crumbs are tightly packed on the bottom.)You can either bake or freeze the crust.
» Freezing Crust:
Place the crust in the freezer while you prepare the batter.
» Baking Crust:
Preheat the oven to 356°F/180°C. Bake the crust at 356°F/180°C for about 5-7 minutes or until lightly browned. Cool it completely.
Remove the pan from the stove and allow it to cool slightly.
» Making Cornstarch Liquid:
Soak gelatin leaves in the cold water for 5-10 minutes.
Once soft, remove sheets from the cold water.
Add 250 ml of water and cornstarch to the saucepan.
Whisk well and cook for 3-4 minutes or until the liquid bubble up.
Stir in the gelatin leaves while the liquid is still warm.
Set it aside until the liquid has cooled to room temperature.
» Making Cream Cheese Filling:
Combine cream cheese, sugar, and vanilla in a large bowl.
Using an electric mixer set at medium-high speed, beat until smooth.
Add whipping cream and beat more for 1-2 minutes.
Add cornstarch liquid a little at a time and whisk well.
Divine cream cheese filling into two portions.
Keep one portion aside for white cream cheese filling.
Now add instant coffee powder and cocoa powder to the one portion.
Whisk it well until com.
» Assembling Zebra Cheesecake:
Pour into the center of the dish alternately with cream cheese filling and cocoa cream cheese filling. (Note that you can control the pattern also because of how high you pour the filling.)
Once done, place the pan in the fridge overnight to firm. The coagulation of the cake lasts longer than ordinary cheesecake.
» To Serve Zebra Cheesecake:
Remove the cake from the pan and decorate it with chocolate sauce, almonds, and cherries.
Slice and serve with some coffee.
---
RECIPE NOTES
If you want neat results, you can use squeeze bottles or piping bags to pour the batter in the center of the pan to create even circles. This might also make the process fast and a lot easier.
You can either bake or freeze the crust. Freezing would make this cake completely no-bake.
If you don?t want to make this cake gluten-free, you can replace gluten-free cornflakes with graham crackers, or oreo cookies for making the crust.
You can keep this cake for 3-5 days in the fridge.
---