Nepalese Whole Wheat Steamed Veg Momos
Nepalese Whole Wheat Steamed Veg Momos are very popular street food in Nepal and in the Northern part of India. Momos are brilliant as a snack.
---
« Go back
Print this recipe »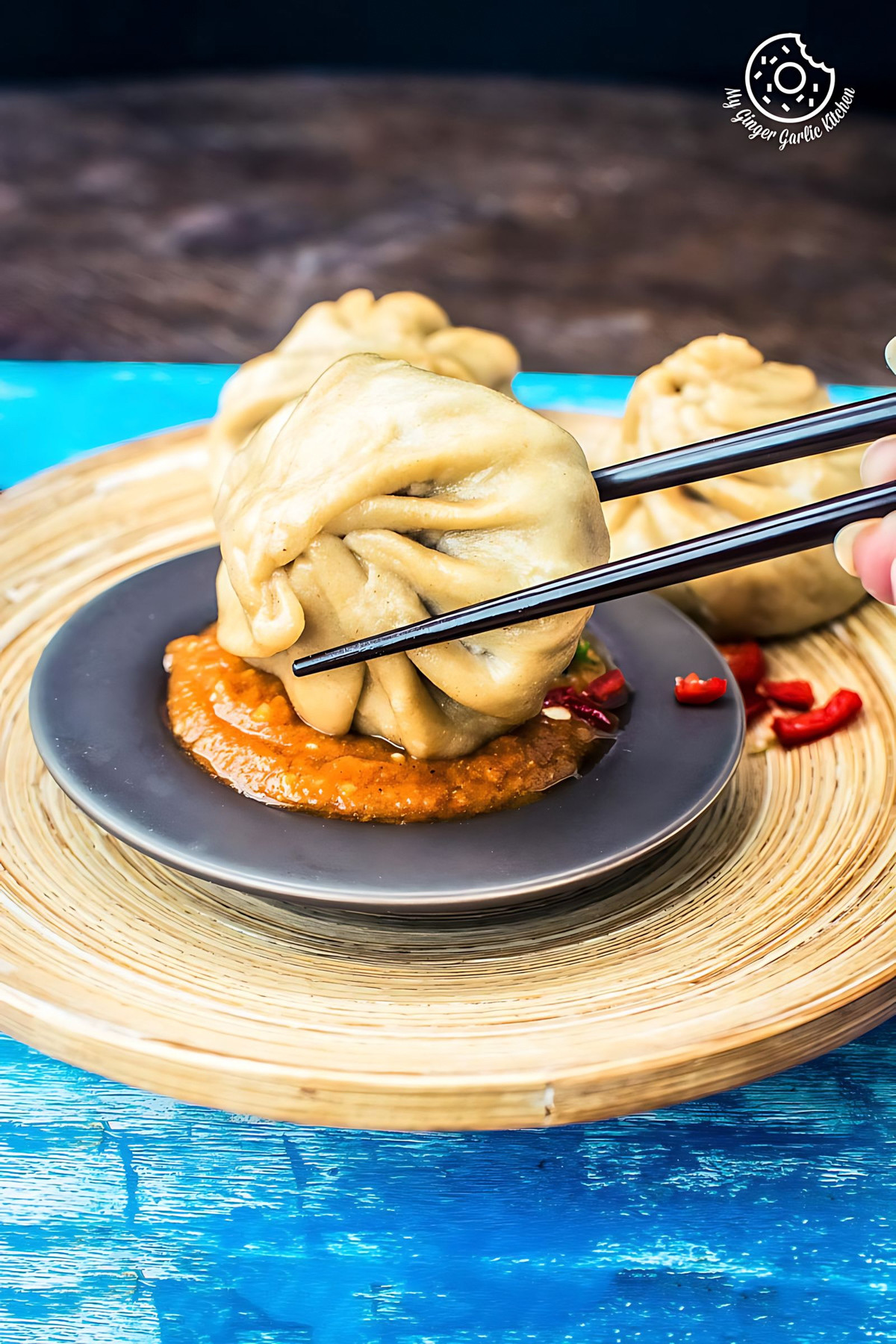 ---
Prep Time = 10 minutes
Cook Time = 30 minutes
Total Time = 40 minutes
Category = Snack
Cuisine = Nepalese/Chinese
Serves = 14-15
Nutrition Info = 35 calories
Serving Size = 1 momo
---
RECIPE INGREDIENTS
» For The Momos Dough:
2 cups whole wheat flour
1 teaspoon oil
1/2 teaspoon salt
4 tablespoons milk, and some water for kneading soft dough
» For Filling:
1 cup carrots, grated
1 cup cabbage, grated
5 tablespoons bell pepper, chopped
1 tablespoon spring onion greens
2 teaspoons white vinegar
1 teaspoon chili sauce
1 teaspoon soy sauce
1 tablespoon ginger garlic paste
Salt to taste
1 teaspoon black pepper
---
RECIPE INSTRUCTIONS
» Make Momos Dough:
Combine all-purpose flour, salt, and oil in a mixing bowl. Mix well.
Add milk and mix well again.
Now add enough water to make a smooth dough, just like the chapati dough. Apply a little oil.
Cover it and let it rest for 30 minutes.
» Make Filling:
Add shredded cabbage to a bowl. Add salt and mix well.
Squeeze out the excess water. (You can use this nutritious water for kneading chapati dough)
Add shredded carrots, bell pepper, spring onion greens and mix well.
Now add the chili sauce, the soy sauce, vinegar, ginger-garlic paste, salt, and mix well.
Now add black pepper and mix well again.
Momos stuffing is ready. Keep it aside.
» Making Dumplings:
Divide dough into 14-15 equal sized balls.
Coat them with some dry flour, and roll each dough ball thin into about 3 inch circle, or until almost translucent. The edges should be thin. Roll all the balls similar way.
Place about 1 tbsp filling in the center. Wet the edge with some water.
Bring one edge and start pleating as shown in the video above.
Twist to seal the dumpling. Stuff the rest of the dough balls in the same way.
Heat water in a steamer or a pan. Arrange the momos on the steaming basket. Make sure to have some space between them, so they do not stick to each other.
Place the steaming basket over the steamer or pan and steam for about 10 minutes.
Serve with spicy momos chutney.
---
RECIPE NOTES
You can cover the steaming basket with lettuce or cabbage.
---