Mohabbat Ka Sharbat - Watermelon Rose Drink
Mohabbat Ka Sharbat is a super refreshing, luscious, and delicious drink popular in the Indian city of old Delhi. It is made with 5 ingredients.
---
« Go back
Print this recipe »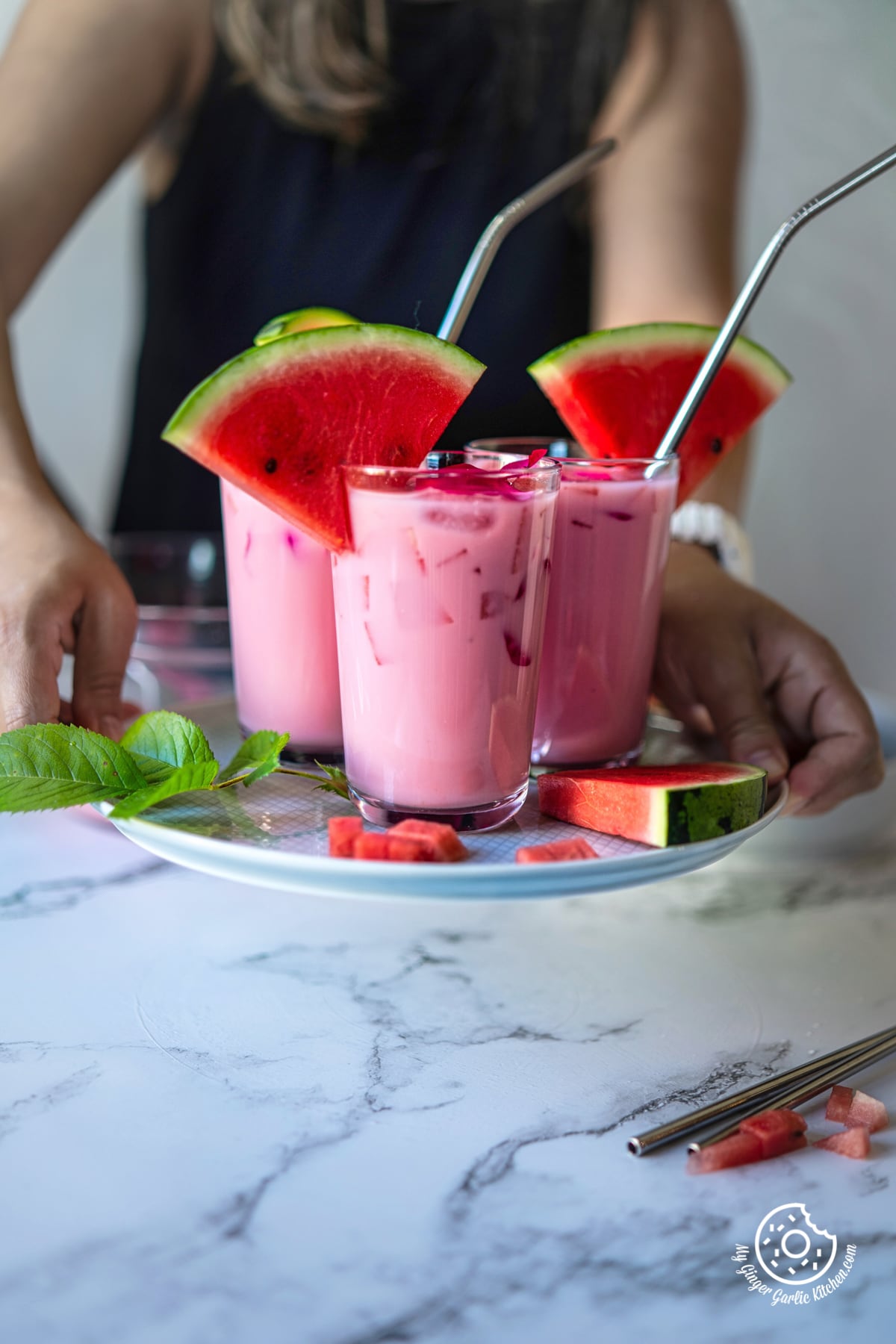 ---
Prep Time = 5 minutes
Cook Time = 5 minutes
Total Time = 10 minutes
Category = Drinks
Cuisine = Indian
Serves = 6
Nutrition Info = 104 calories
Serving Size = 1
---
RECIPE INGREDIENTS
» For Mohabbat Ka Sharbat
3 cups (750 ml) full cream chilled milk, or any other milk of your choice
Half watermelon (about 1.5 kg)
1/4 cup sugar, or to taste
1/4 cup rose syrup
Handful of fresh red rose petals, edible (to garnish)
2 cups ice cubes, or as required
» For serving:
Watermelon slices and fresh rose petals (optional)
---
RECIPE INSTRUCTIONS
» How to Make Mohabbat Ka Sharbat
Peel and chop half watermelon into small chunks.
Transfer 1 cup watermelon chunks to a bowl, and discard seeds. Keep it aside.
Add rest of the watermelon chunks to a blender along with 1/4 cup sugar. Blend well to make the watermelon juice.
To a large mixing bowl, pour 3 cups of chilled milk. After that, strain about 2 cups watermelon juice into the same bowl.
Then add 1/4 cup of rose syrup and stir everything to combine.
Now add 1 cup of chopped watermelon chunks to the same bowl and mix. Lastly add ice cubes, rose petals, and stir well.
Pour Mohabbat Ka Sharbat into serving glasses. Garnish each glass with watermelon slice and rose petals.
Stir and enjoy immediately.
---
RECIPE NOTES
The amount of sweetener depends on one's taste and the sweetness of the watermelon. So feel free to increase or decrease the amount of sugar according to your taste.
You can also adjust the amount of rose syrup as per your taste.
Always cut watermelon in small chunks when making this drink. Big watermelon pieces won't taste good in this recipe.
To make this drink taste more decadent, you can also add chopped nuts of your choice.
---