Mint Chana With Grilled Tofu (Vegetarian-Recipe)
Mint Chana With Grilled Tofu is an exotic vegetarian, vegan and gluten-free chickpea (chola) curry. Taste great with chapati, or pulav.
---
« Go back
Print this recipe »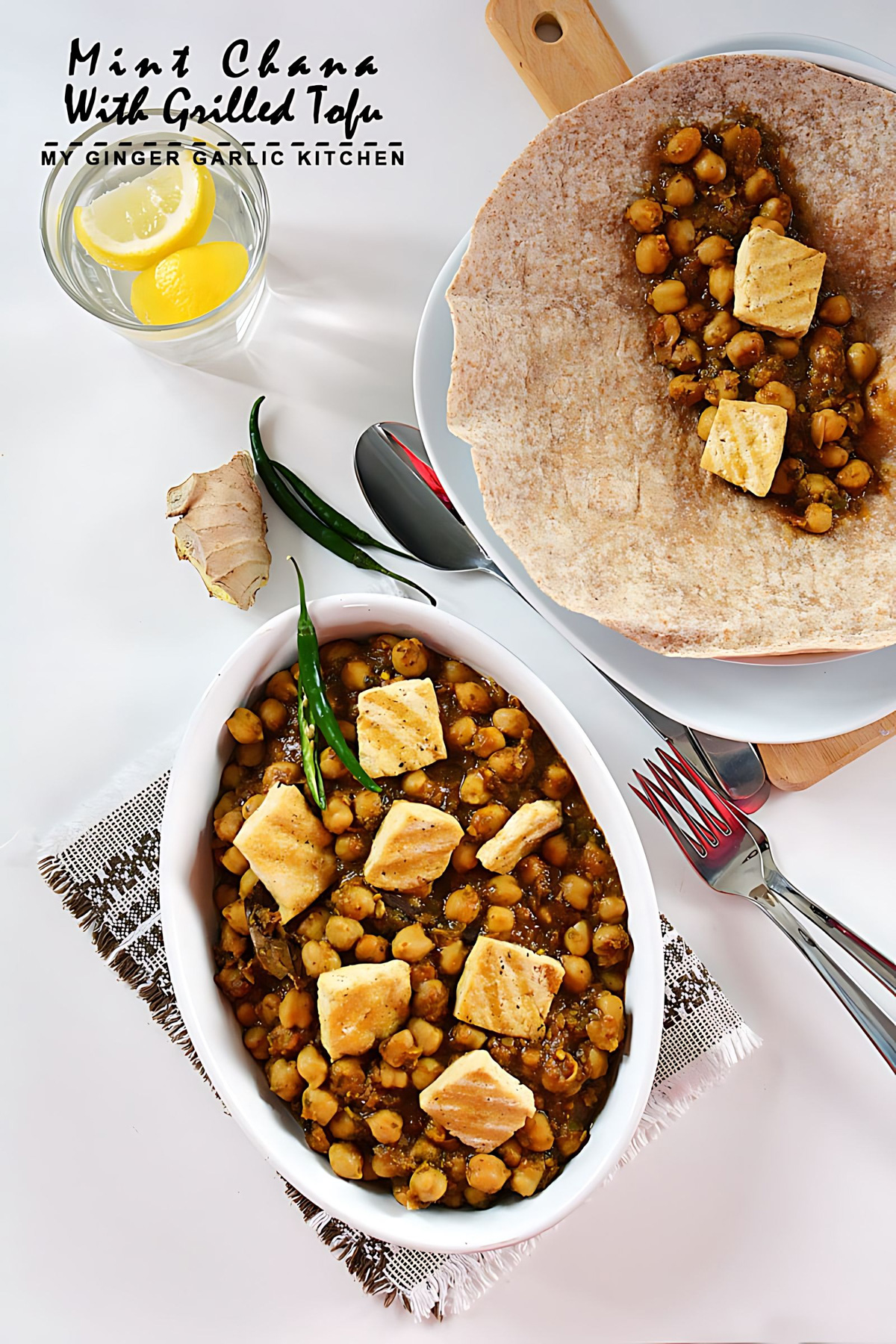 ---
Prep Time = 15 minutes
Cook Time = 60 minutes
Total Time = 1 hour(s) 15 minutes
Category = Main
Cuisine = Indian
Serves = 4-6
Nutrition Info = 207 calories
Serving Size = 1 serving
---
RECIPE INGREDIENTS
» For Grilled Tofu //
tofu, cubed - ¾ cup
oil for brushing
» For Mint Paste //
fresh mint leaves- 1½ cup
sea salt - 1 tsp
tomatoes, diced - ¾ cup
» For Curry //
chickpeas - 1 cup
olive oil - 3 tbsp
cumin seeds - 1 tsp
tomato puree - 4 tbsp
green chilies, chopped - 2
chana masala - 2 tsp
turmeric powder - ¼ tsp
red chili powder - 1 tsp
garam masala powder - ¼ tsp
tamarind paste - 1 tbsp
whole garam masala (1 bay leaf, 2 cloves, 1 cinnamon stick, 2 black cardamom)
tofu, cubed - 2 cups
---
RECIPE INSTRUCTIONS
» Making Grilled tofu //
Brush a little oil on each side of tofu. Heat grill, and grill on a medium heat until golden color on both the sides.
Remove from grill and keep aside.
» Making Mint paste //
Add all the ingredients to a grinder, and grind until smooth.
» Making Mint chana //
Soak chickpeas into water for 7-8 hours or overnight.
In the morning wash them with fresh water and pressure cook with salt, tamarind paste and whole garam masala (bay leaf, black cardamom, cloves, cinnamon stick).
Cover the lid and pressure cook till the pressure cooker whistles 3-4 times. Reduce heat to low and cook it on low heat for 15 minutes.
Remove from heat and let the cooker cool down. When the cooker has cooled off, open the lid and pour into a bowl.
Now slightly mash the chickpeas with the back of ladle.
Heat oil in a saucepan. Add cumin seeds to it. When they start to splutter, add mint paste to it.
Cook for about 7-8 minutes. Now add chana masala, red chili powder, turmeric powder, and garam masala powder.
Mix well, and cook for 3-4 minutes.
Now add tomato puree, green chili and mix well. Cook for 2 minutes more.
Stir well and add boiled chickpeas with a cup of water and cook on high heat for 2 minutes.
Add salt if needed. Cook covered on low heat for at least another 30-40 minutes.
Remove from heat, and add grilled tofu to the chickpeas curry.
Serve hot with steamed rice and tortilla.
---
RECIPE NOTES
No notes for this recipe.
---