Masala Shikanji - Masala Soda
Masala Shikanji or Masala Nimbu Pani is an Indian spiced version of lemonade. This refreshing lemon-based drink is bursting with flavors.
---
« Go back
Print this recipe »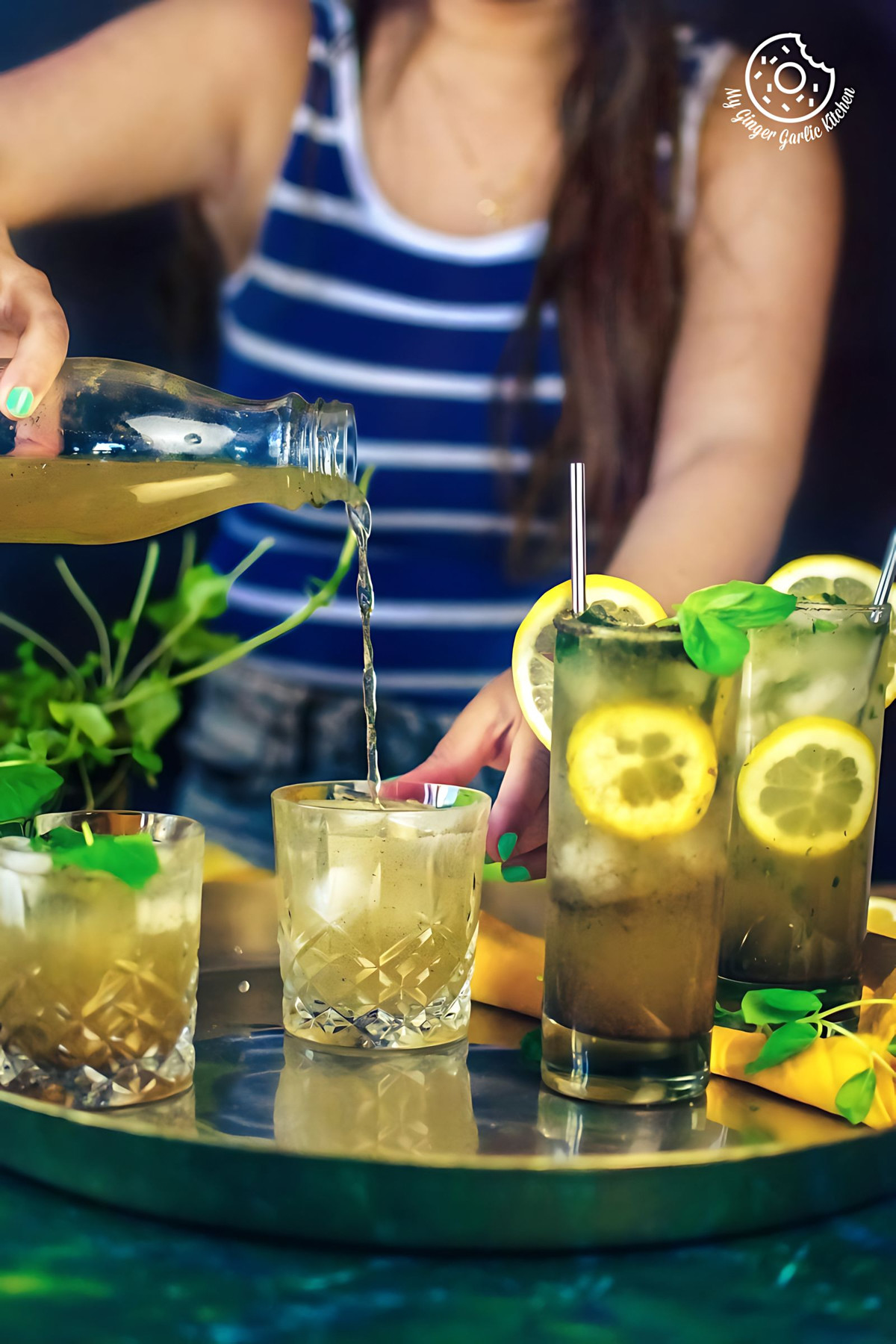 ---
Prep Time = 05 minutes
Cook Time = 05 minutes
Total Time = 10 minutes
Category = Drinks
Cuisine = Indian
Serves = 4-5 tall glasses
Nutrition Info = 45 calories
Serving Size = 1 serving
---
RECIPE INGREDIENTS
» For Shikanji:
3 large Lemons (or 8 small)
10 tablespoons sugar, or to taste (you can also add honey)
Ice cubes
A handful of mint Leaves
Chilled Water or soda Water
» For Shikanji Masala:
1 teaspoon rock salt (or use regular table salt)
1 teaspoon black salt (or Himalayan pink salt)
3 teaspoon roasted cumin powder (bhuna jeera powder)
1 teaspoon black pepper powder
1 teaspoon chat masala powder
1.5 teaspoon dried mint powder
» For Serving:
» For Rimming Your Glasses (Optional):
1 tablespoon lemon juice
Brown sugar or shikanji masala
» Types Of Equipment:
A sharp knife
Add chopping board
Mortar and pestle
Citrus reamer (optional)
---
RECIPE INSTRUCTIONS
» How To Cut Lemons To Get More Juice:
Put 3 lemons on a hard counter and roll them back and forth. Keep applying heavy pressure with the palm of your hand. Once rolled, press them between your thumb and fingers. These steps will help them break down and you will get more juice. Alternatively, you can also microwave lemons for 20-30 seconds before rolling them.
Cut the lemon into 8 pieces.
Juice all the lemons using a citrus reamer or simply squeeze them with your bare hands
» How To Make Shikanji Masala:
In a small mixing bowl, add black salt, black pepper powder, roasted cumin powder, rock salt, chat masala powder, and mint powder. Mix everything well to combine.
Shikanji masala is ready. Keep it aside.
» How To Make Masala Shikanji Base:
Add 1/2 cup lemon juice to a large glass.
Next, add 10 tablespoons sugar (or honey), 4 teaspoons (or more) Shikanji masala.
Stir until the sugar dissolves completely.
» Rimming The Glass(optional):
Dip the rim of your glass into the lemon juice.
Then carefully dip the moistened glass into the shikanji masala powder or brown sugar.
» How To Serve Masala Shikanji:
Lightly crush a handful of mint leaves using a mortar and pestle.
Fill 4 tall serving glasses with the ice cubes. You can use whole or crushed ice cubes.
After that, add 1-2 sliced lemons to each glass.
Next, add crushed mint leaves to each glass.
After that add about 2-3 tablespoons of lemon mixture to each glass.
Then pour chilled water or chilled soda into each glass.
Shikanji is ready. Stir well and serve chilled.
---
RECIPE NOTES
To make ginger shikanji, add 1 freshly squeezed teaspoon ginger juice (simply grate or mince ginger and squeeze) to each glass.
You can also add some ground ginger to your shikanji masala.
I love the taste of black salt in my shikanji. However, if you can't find black salt then feel free to add Himalayan pink salt
I usually add 10 tablespoons of sugar for 1/2 cup of lemon juice. But you can also use 1:1 ratio of sugar and lemon.
Rock salt can be replaced with regular table salt.
You can also substitute lemon juice with the same amount of lime juice to make 'Lime Shikanji'.
If making masala soda, then lemon soda water can also be used in this recipe.
You can also fill your shikanji glasses with some soaked chia or basil seeds.
If you like boozy flavorings in your lemonade, then feel free to add some rose wine, vodka, gin, or rum to your masala shikanji.
If you have so many lemons then you can juice them and freeze them into ice cubes too.
For more intense lemony flavors, you can also add some grated lemon zest to the shikanji recipe.
Make sure to strain the lemon juice if you are juicing with bare hands.
I like to make masala shikanji directly into serving glasses. But you can always use a large pitcher to combine all the ingredients.
---