Masala Peanuts (Air Fryer, Baked and Fried Recipe)
Masala Peanuts or crunchy and spicy coated peanuts are one of the most popular Indian snacks made using spicy gram flour coating and raw peanuts.
---
« Go back
Print this recipe »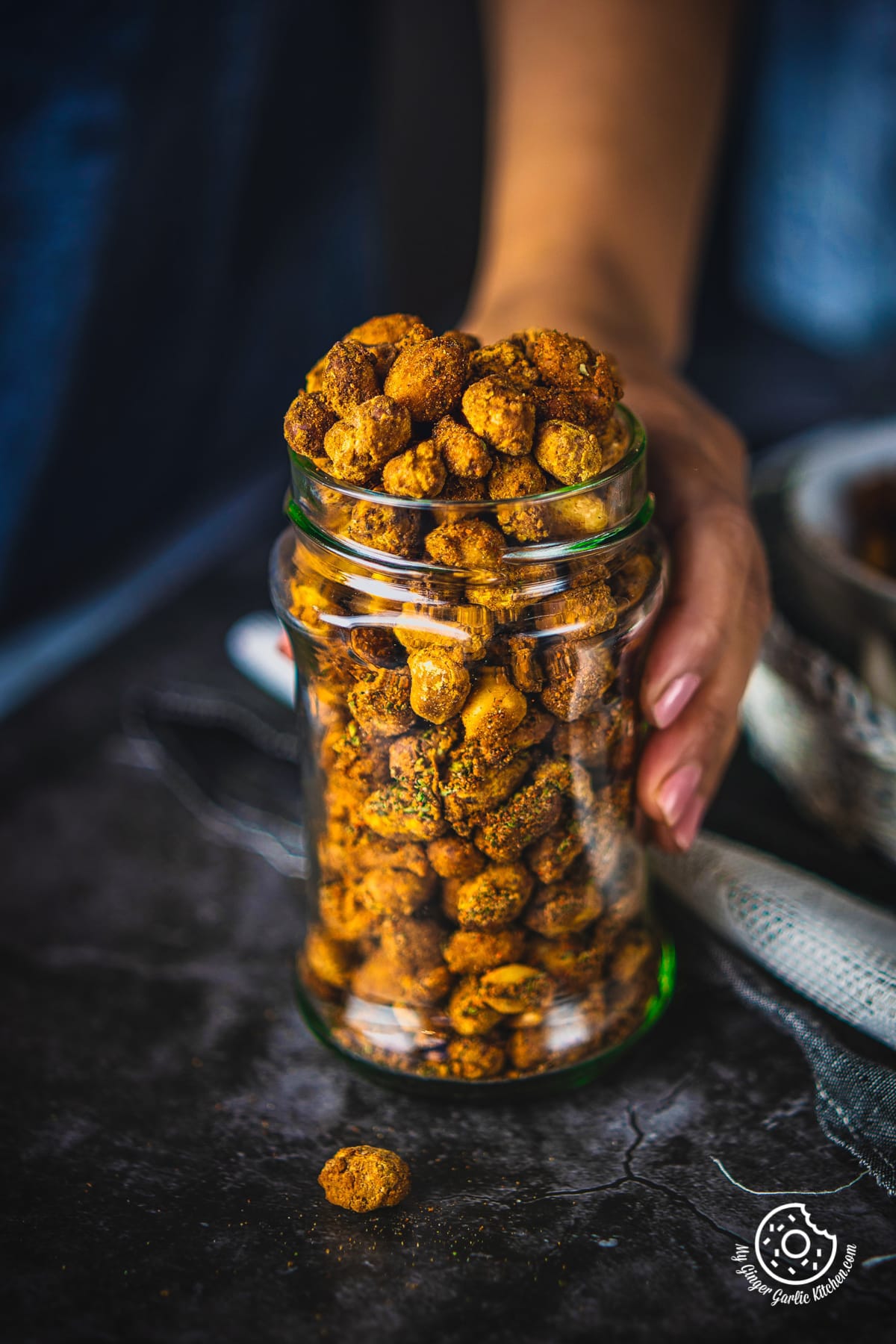 ---
Prep Time = 05 minutes
Cook Time = 10 minutes
Total Time = 15 minutes
Category = Snack
Cuisine = Indian
Serves = 9
Nutrition Info = 45 calories
Serving Size = 1
---
RECIPE INGREDIENTS
» For Masala Peanuts
1.5 cups (about 190 grams) raw peanuts (moongfali)
2 teaspoons ginger garlic paste (adrak lehsun ka paste)
1/2 cup besan (chickpea flour/gram flour)
2 tablespoons rice flour
Cooking oil for frying and brushing, + 1 tablespoon
A pinch of asafoetida (hing), use gluten-free
3/4 + 1 teaspoon Kashmiri red chili powder, (you can also use any other lal mirch powder)
1/2 teaspoon turmeric powder (haldi powder)
3/4 teaspoon salt, or to taste
1 teaspoon chaat masala powder
1/4 teaspoon garam masala powder
1/2 teaspoon black salt or pink salt
1/2 teaspoon dried mango powder (amchur powder)
1 tablespoon dried mint leaves (optional, but recommended)
---
RECIPE INSTRUCTIONS
» Preparation:
Add raw peanuts and 1 cup water to a mixing bowl.
Mix well and soak them for 2 minutes.
After 2 minutes, drain the water from the peanuts.
Now add ginger garlic paste and 1 tablespoon of oil to the rinsed peanuts.
Give it a good massage and set aside for 5 minutes. These 5 minutes of marinating time would enhance the flavors of these masala peanuts.
» Making Masala Powder (Spice Mix):
Add black salt, dried mango powder, chaat masala powder, red chili powder, and dried mint powder to a mixing bowl.
Mix well until combined. Spice Mix is ready. Keep it aside.
» Making Masala Peanuts:
Add gram flour, rice flour, salt, 1 teaspoon chili powder, turmeric powder, garam masala powder, and asafoetida to a bowl.
Mix well until combined.
Now transfer the prepared spicy besan and rice flour mixture to the bowl of peanuts.
Using your hands, mix everything to cover the mixture with peanuts.
Now splash the coated peanuts with 1 tablespoon of water. Mix gently so that the besan mixture sticks to the peanuts. You can add 1 tablespoon of more water if needed. You only need to moisten the besan mixture, so that it covers peanuts well. Don't add too much water.
Once the peanuts are nicely coated, keep them aside.
» How to Fry Masala Peanuts:
Heat oil in a pan over high heat. Once hot, turn the heat to lowest.
Now carefully drop a handful of besan coated peanuts into the hot oil. Separate peanuts if they are stuck. Do not stir them at this point.
Let them fry over low heat until they float on the surface. Now stir, and turn the heat to medium-low and deep-fry until they are golden and crispy.
When fried, drain them with a spatula and transfer them onto a paper towel-lined plate to remove excess oil.
Sprinkle fried masala peanuts with the prepared spice mix. Toss well to combine.
Let them cool completely before storing. Store and enjoy them with some masala chai.
» How to Air Fry Masala Peanuts:
Air Fryer Peanuts Masala:
Preheat the air fryer to 170°C/340°F for 3 minutes.
Brush or spray the air fryer basket with some oil.
Place besan coated peanuts in the air fryer basket in a single layer.
Air fry for 4 minutes and then remove the basket.
Stir the peanuts well.
Air fry for 4 more minutes at 175°C/350°F.
After 4 minutes, remove peanuts from the basket and transfer them onto a plate. Sprinkle with the premade spice mix. And toss well to combine. (You can also add 1 tablespoon of hot oil along with the spice mix). Let them cool completely before storing.
» How to Bake Masala Peanuts:
Preheat oven to 200°C/400°F. Line a medium baking pan with parchment paper or brush with some oil.
Transfer the peanuts to the pan and spread them in a single layer. At this point, you can drizzle peanuts with some oil.
Bake in the preheated oven at 200°C/400°F on the middle rack for 18-20 minutes or until crisp. The temperature of every oven is different so keep an eye after 15 minutes to make sure that you don't burn them.
Once baked, remove the tray from the oven.
Sprinkle peanuts with the masala power (spice mix). Toss well and let them cool completely.
---
RECIPE NOTES
Chaat masala powder and amchur powder give this chaat a tangy and flavourful taste, so using them both is highly recommended. But if you can't find them, then surely you can skip them. You can always fill the void with other spices.
Do not touch peanuts after adding them to the hot oil until they float on the surface. Otherwise, the batter would come off and you will end up with just fried peanuts.
Sprinkle peanuts with spice masala mix as soon as they are out of the oil/air fryer/oven, sprinkle them with spice masala mix. This way masalas will coat the outer layer and will come off.
If you are baking and air frying masala peanuts, then you can add 1 tablespoon of hot oil and then coat peanuts with this masala mix.
Fry the peanuts on low heat and when they float on the surface then fry them on medium-low heat until they become crunchy and crispy.
---