Instant Mango Shrikhand - Mango Greek Yogurt Dessert
Learn to make Instant Mango Shrikhand with a video tutorial. Mango shrikhand is an Indian creamy, rich tropical flavorsome yogurt based dessert.
---
« Go back
Print this recipe »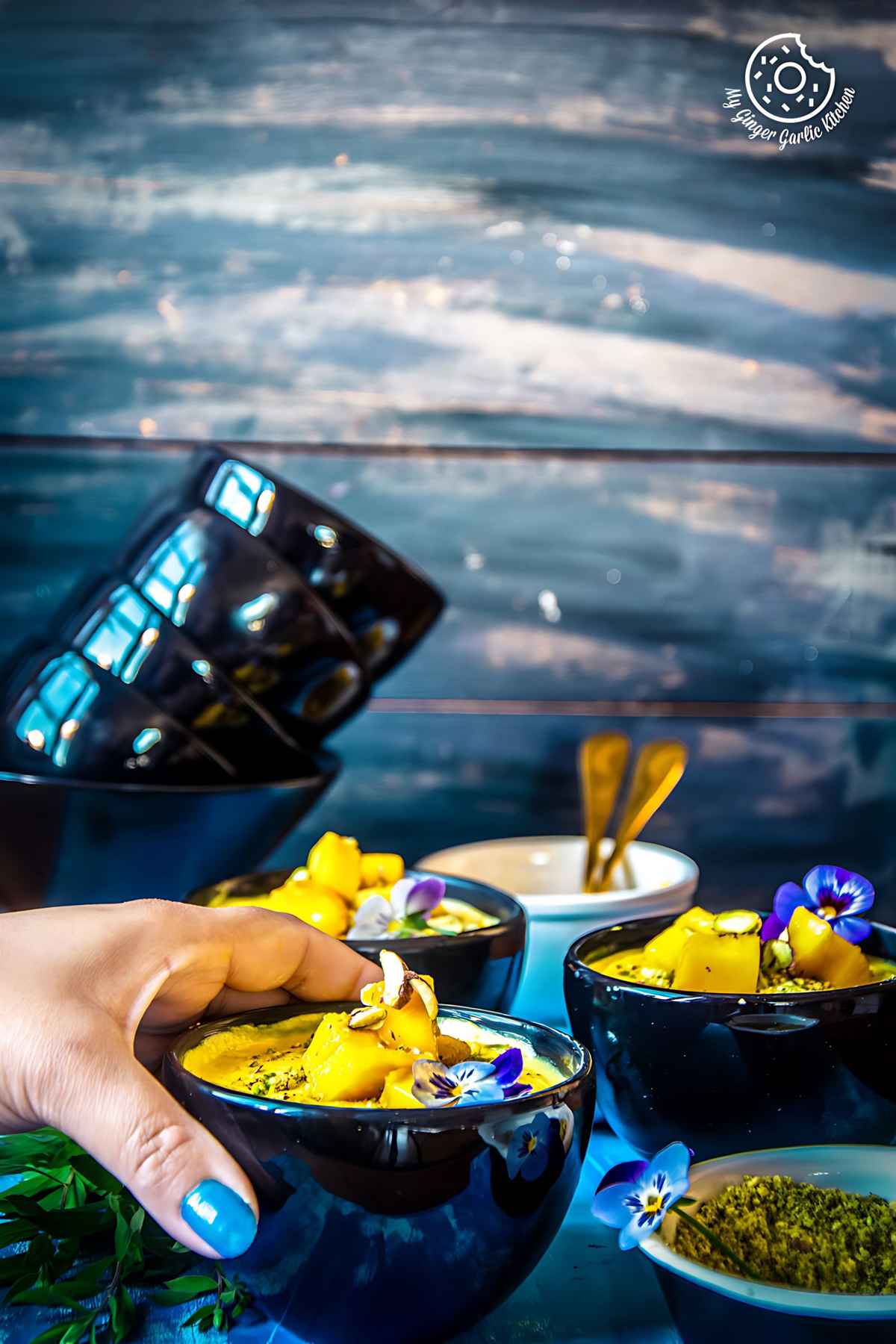 ---
Prep Time = 8 hour(s) 0 minutes
Cook Time = 10 minutes
Total Time = 8 hour(s) 10 minutes
Category = Dessert
Cuisine = Indian
Serves = 4-6
Nutrition Info = 140 calories
Serving Size = 1 Serving
---
RECIPE INGREDIENTS
» For Mango Shrikhand:
full-fat greek yogurt 500 g, (or 1 kg natural full fat yogurt)
1/4 cup powdered sugar, or as per taste
1 teaspoon ground cardamom
8-10 saffron strands soaked in 1 tablespoon warm milk
1 cup mango puree
4-5 tablespoons pounded pistachio for garnishing
3-4 tablespoon mango chunks, for garnishing
---
RECIPE INSTRUCTIONS
» Making Mango Shrikhand:
Put a strainer over a large bowl.
Take a muslin cloth and spread it on a strainer.
Pour yogurt into the cloth and bring edges of cloth together and put some weight on top.
Refrigerate for overnight, this will remove excess whey. Hung yogurt (curd) is ready.
Transfer hung yogurt to a large mixing bowl.
Add mango puree, cardamom powder, sugar, and saffron strands soaked in 1 tablespoon warm milk.
Whisk well until sugar is dissolved and yogurt becomes creamy.
Pour it into a piping bag and pipe into a serving glass or bowl, or simply pour it into a serving dish.
Garnish with pounded pistachios and mango chunks.
Chill mango shrikhand for 30 minutes to 2 hours before serving.
---
RECIPE NOTES
I have used homemade mango puree using fresh mangoes, but you can also use canned mangoes or mango pulp.
You can increase or reduce the amount of sugar according to the native sweetness of mangoes or according to your taste buds.
---