Mango Sago Recipe
Mango Sago is a refreshing, delicious summer dessert made with mangoes, coconut milk and sago pearls. Plus, it is vegan, and gluten-free.
---
« Go back
Print this recipe »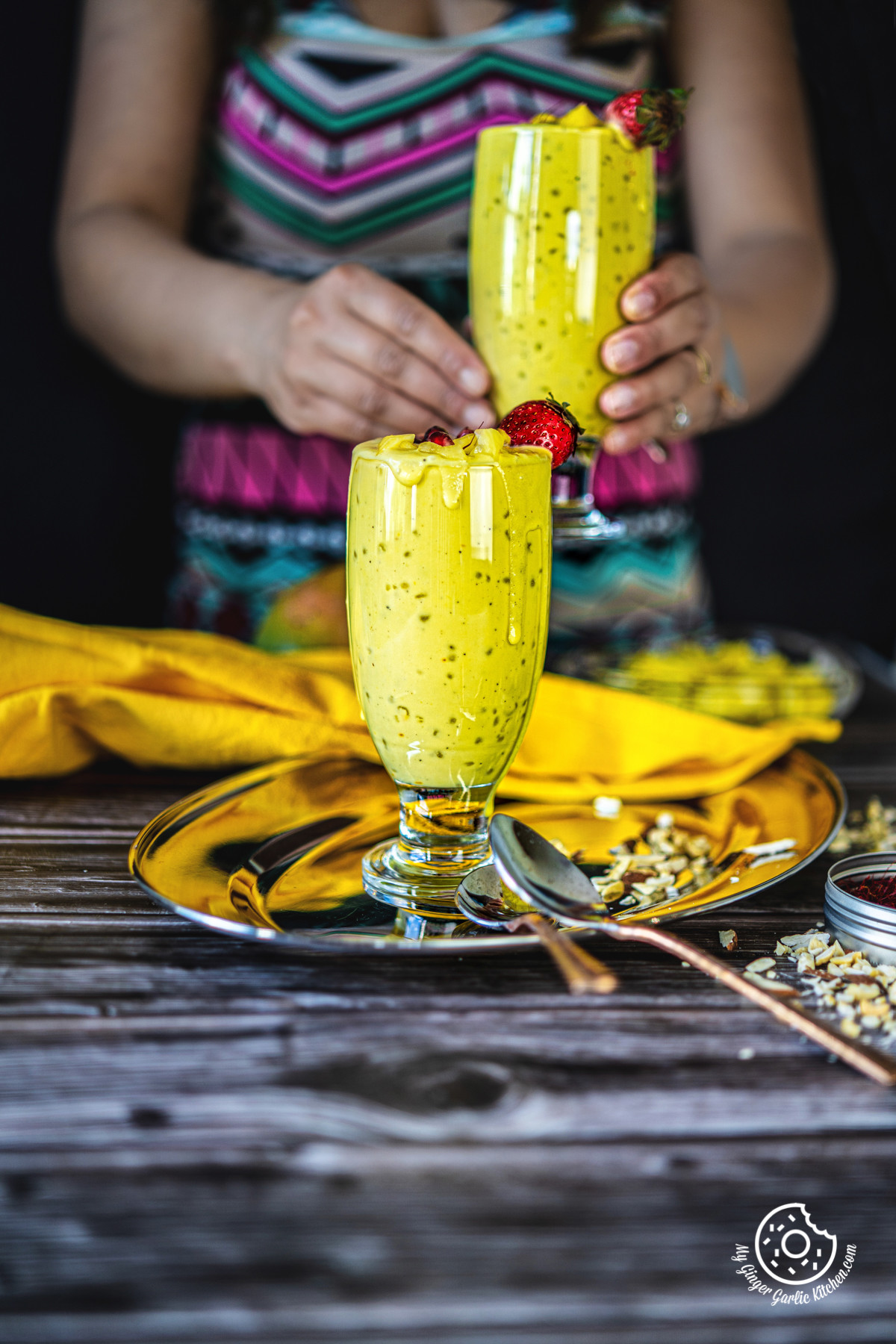 ---
Prep Time = 5 minutes
Cook Time = 20 minutes
Total Time = 3 hour(s) 25 minutes
Category = Dessert
Cuisine = Asian
Serves = 6
Nutrition Info = 181 calories
Serving Size = 1
---
RECIPE INGREDIENTS
» For Mango Sago
1/3 cup small sago or tapioca pearls
1/2 cup sugar, or 1/2 sweetened condensed milk
1 liter water, for boiling
2 cups thick coconut milk or coconut cream
1/2 teaspoon cardamom powder
18-20 saffron strands
1 cup mango puree, or 2 large mangoes, chopped
» For Serving: (optional)
Chopped mangoes
Pomegranate arils
Berries
---
RECIPE INSTRUCTIONS
» For making Mango Sago
In a blender, add mango puree (or mango chunks), coconut milk, sugar, cardamom powder, and saffron.
Blend until smooth. Refrigerate for 1 hour.
Meanwhile, in a pot, bring 1 liter of water to boil. Then add the sago pearls and stir well.
Cook until sago pearls are about 90% cooked.
After that, cover the pan and turn off the heat. Keep it covered for 15 minutes.
After 15 minutes, drain the cooked sago pearls and then rinse them with cold water to cool.
Add cooked sago pearls to coconut mango mixture and stir everything well until combined. At this stage, you can serve the dessert. But I like to chill it with sago pearls for at least 2 hours before serving, that way sago pearls expand and absorb the coconut mango mixture.
When you are ready to serve, stir the dessert and transfer the dessert into individual glasses or bowls.
Top each glass with mango chunks, pomegranate arils and strawberry. Serve Mango Sago chilled as an after meal dessert or a brunch.
---
RECIPE NOTES
I wanted to make this dessert vegan, so I added sugar here. But if you are not into vegan desserts then swap the Tip sugar with the same amount of regular sweetened condensed milk.
In traditional mango sago recipes there is no saffron and cardamom but I wanted to add some flavouring to it so I Tip went with some cardamom and saffron. So feel free to omit the saffron and cardamom from this recipe.
I have added white granulated sugar in this recipe, but you can also swap sugar with coconut sugar, palm sugar, Tip simple syrup, maple syrup, agave, sweetened coconut condensed milk, or sweetened condensed milk.
For a more coconutty punch and crunch, you can also top this dessert with some shredded and toasted coconut flakes.
---