Mango Halwa
Mango Halwa or Aam Ka Halwa (Mango Sheera) is an aromatic and delectable Indian sweet pudding. It is great as an after-meal dessert or a snack.
---
« Go back
Print this recipe »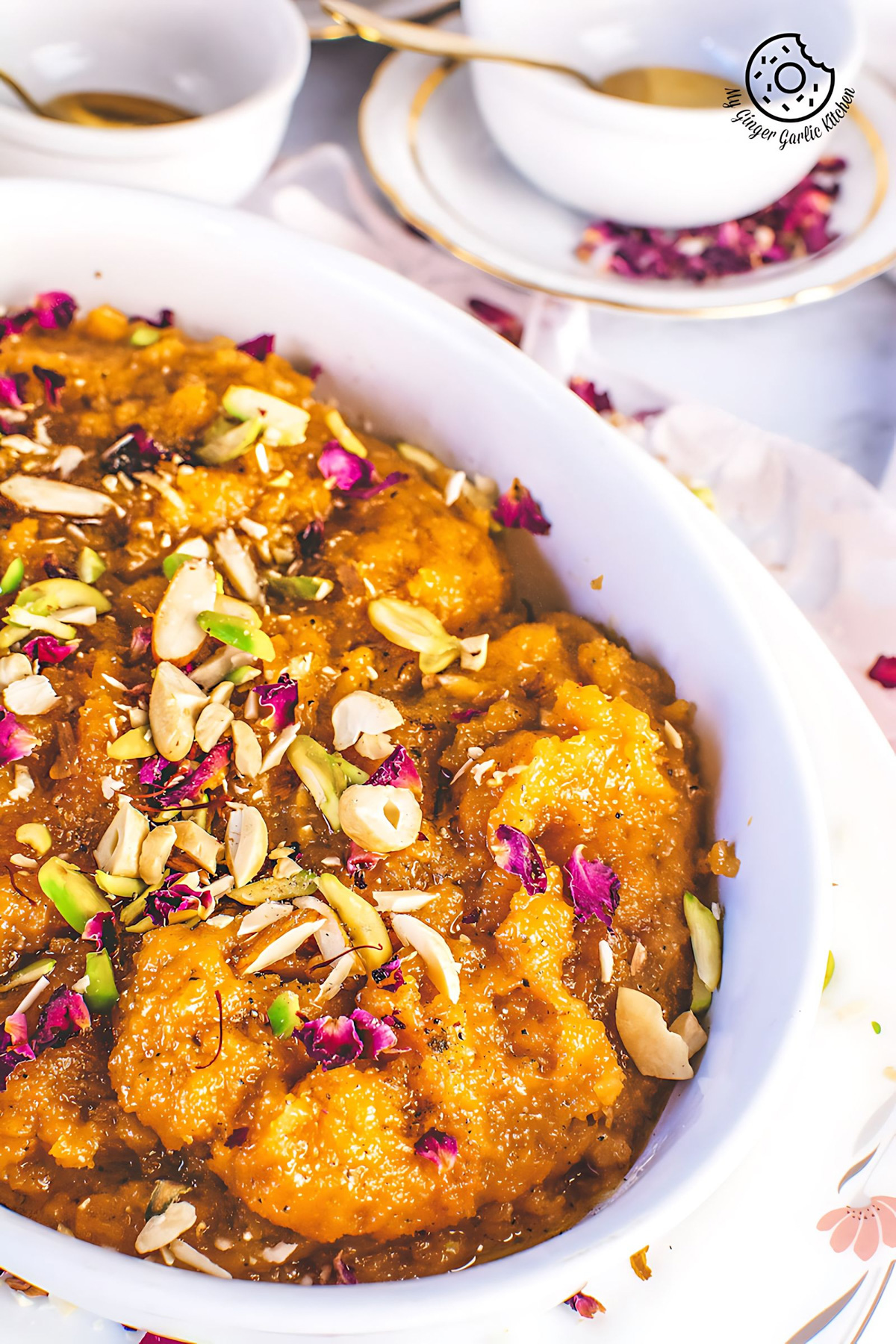 ---
Prep Time = 10 minutes
Cook Time = 40 minutes
Total Time = 50 minutes
Category = Dessert
Cuisine = Indian
Serves = 8
Nutrition Info = 342 calories
Serving Size = 1 serving
---
RECIPE INGREDIENTS
» For Mango Halwa //
1 1/4 cups mango puree (add chopped mangoes to a blender to a smooth puree.)
1/4 cup whole wheat flour (gehun ka atta)
1/4 cup gram flour (besan)
1/4 cup semolina (sooji/suji)
1 teaspoon cardamom powder
1/3 cup fresh cream or milk
1/3 ghee + 2 tablespoons
A handful of chopped nuts (almonds, pistachios, and cashews)
1/2 cup sugar or as per taste
2 cups boiling hot water
» For Serving (Optional) //
Chopped nuts
Edible dried rose petals
1 teaspoon ghee
---
RECIPE INSTRUCTIONS
» How To Make Mango Halwa //
Heat ghee in a pan over medium heat.
Turn the heat to low and add whole wheat flour (gehun ka atta), gram flour (besan), and semolina (suji).
Stir well and sauté on low heat till they turn light golden in color. Keep stirring continuously.
Add 2 cups of hot water slowly to the roasted flours. The flour mixture splutters, so be careful while adding water. Keep stirring continuously to make sure that there are no lumps in the mixture.
Stir until the liquid is absorbed. At this point, the halwa mixture would turn into lighter shades again.
Now add mango puree and stir well to combine.
Cook for 20-22 minutes over low heat. Stir occasionally to prevent burning and sticking to the bottom.
Once the mango puree is cooked, add sugar and stir well.
Let the sugar melt completely. Cook for 2-3 minutes.
After that, add cream and stir well to combine. Cook for about 5 minutes.
Now add cardamom powder, chopped nuts, and mix well.
After 1 minute, add 1 tablespoon of ghee to it and mix until combined.
Cook for another minute and add 1 more tablespoon of ghee to it. Mix again and cook for 1 minute.
Turn off the heat and transfer it to a serving dish.
Garnish with dried rose petals, chopped nuts. Drizzle with some more ghee, if desired.
Serve warm or at room temperature.
---
RECIPE NOTES
The amount of sweetener depends on your tastebuds and also on the quality of mango. If the mangoes you are adding are a sweeter variety then you might need to add a bit less sugar. Or if they are slightly tangy then you might need to increase the amount of sugar. So be your best judge when adding sugar.
For this halwa recipe, you can use refined white sugar, or raw cane sugar.
You can also use jaggery powder as a sweetener in this mango halwa recipe.
This is a great dish to throw together when guests are coming because it is super simple to make and is made with very simple ingredients.
If you dont want to add any cream then you can surely skip it. You can also replace cream with some milk.
You can make it when you have mangoes in season. When mangoes are not in season you can use frozen mangoes to make a puree. Or use canned mango puree. This mango halwa will still taste very good.
I topped my halwa with chopped nuts like almonds, cashews, and pistachios for a lovely crunchy and nutty flavor. You can also add any other nuts of your choice, or skip them completely if you are allergic to nuts.
Edible dried rose petals are added for nice rosy flavors and decorations. But you can skip it.
I have used a combination of whole wheat flour (gehun ka atta), chickpea flour (besan), and semolina (suji). This is because it gives a beautiful nutty texture and touch to halwa. If you don?t want to use all three flours, then you can use ¾ cup of whole wheat flour or semolina.
---