Makhana Namkeen
Roasted Makhana Namkeen or Makhana Chivda is a healthy, crunchy and delightful snack made with makhana (fox nuts), nuts, and spices.
---
« Go back
Print this recipe »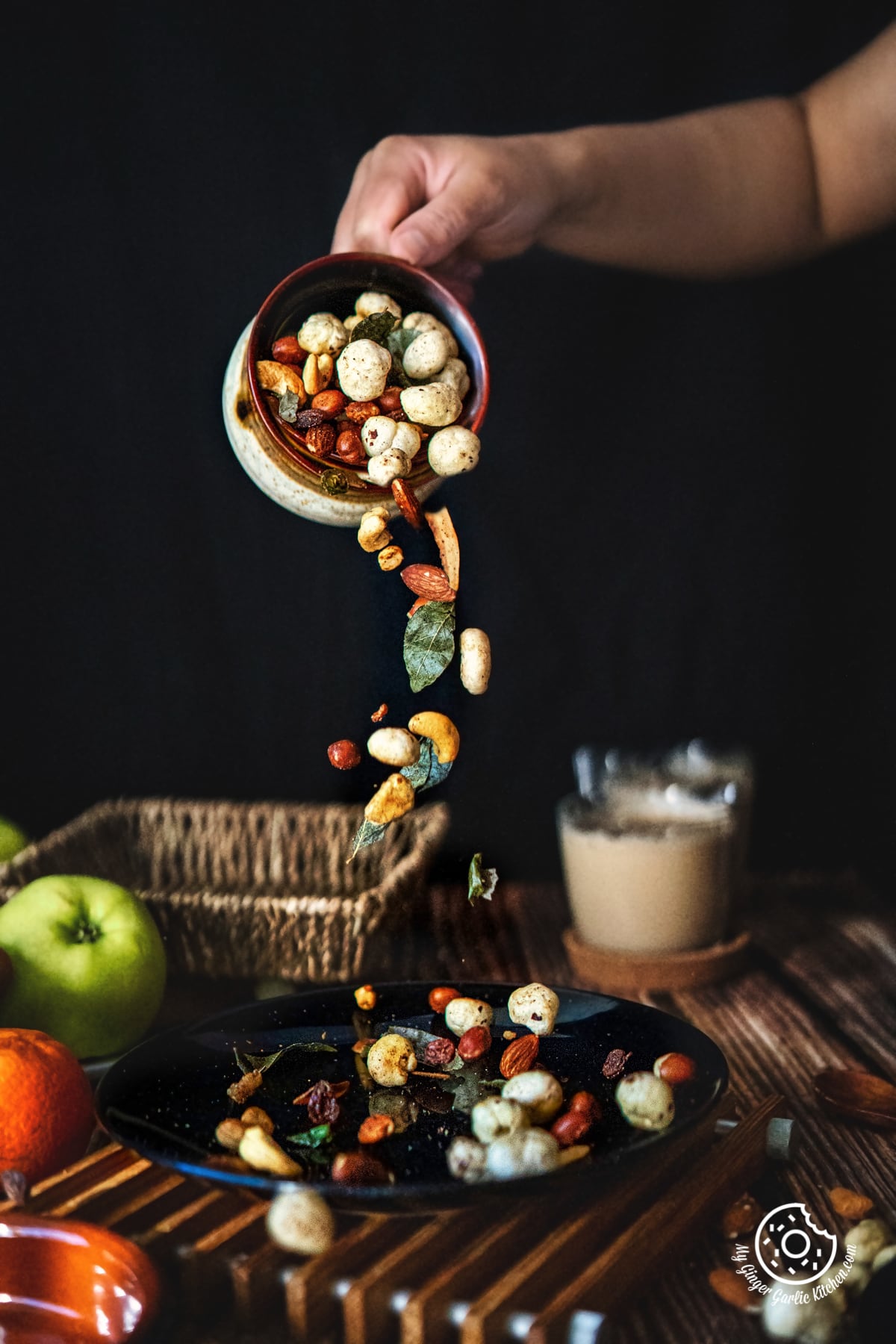 ---
Prep Time = 5 minutes
Cook Time = 15 minutes
Total Time = 20 minutes
Category = Snack
Cuisine = Indian
Serves = 5
Nutrition Info = 209 calories
Serving Size = 1
---
RECIPE INGREDIENTS
» For Makhana Namkeen
3 tablespoons ghee, divided
2 cups whole makhana, (lotus seeds/foxnuts)
1/3 cup peanuts
1/3 cup whole almonds
1/3 cup whole cashew nuts
1/4 cup raisins
2 tablespoons roasted chana (black gram/chickpeas)
1 tablespoon thinly sliced dry coconut
2 tablespoons curry leaves
2 green chilies, chopped
1/2 teaspoon salt
1/2 teaspoon black pepper powder
1/2 teaspoon chaat masala powder
---
RECIPE INSTRUCTIONS
» How to Make Makhana Namkeen in a Stovetop Pan
Heat 1 tablespoon ghee in a pan over medium heat. Once hot, add makhanas to the pan and roast on medium-low heat for 7-8 minutes or until they are crispy. Keep stirring while roasting to get evenly roasted makhanas. To check, take a roasted makhana and try to break it between the thumb and index finger. If it breaks easily into crumbs then it is ready. Also, you can test the doneness by eating a makhana, if it is crunchy then it is ready.
Once roasted, remove the makhana to a large bowl and keep it aside. To the same pan add 2 tablespoons of ghee and heat over medium-low heat. Once hot, add peanuts, almonds, and cashew nuts to the pan and roast them on medium-low heat for 5-6 minutes or until they are crunchy and golden.
Transfer them to a bowl and keep them aside. Add raisins to the same pan and sauté them until they plump up & swell.
Remove the raisins into the same bowl, and keep it aside. In the same pan, add chana dal, curry leaves, green chilies, and sliced dry coconut. Keep them stirring continuously and sauté until all the ingredients are lightly browned and crisp.
Now add roasted makhanas, nuts, salt, black pepper powder, and chaat masala powder to the pan. Turn off the heat and toss until everything is well combined. Let them cool completely and store them in an airtight container at room temperature. Serve makhana namkeen with a cup of masala chai or coffee and enjoy whenever you want.
» How to make Makhana Namkeen in an Air Fryer
Preheat the air-fryer for 2-3 minutes at 350°F. Add makhanas to the air-fryer basket of the air fryer and air fry at 350°F for 7-8 minutes. Since makhanas are very light you might hear some noise while makhanas are getting air-fried. But that noise is completely normal. When air-fried, makhanas would be crisp, remove them to a bowl. (TIP: All air-fryers have different temperatures, so if your makhanas are not crisp after 8 minutes, you need to air-fry for a couple of more minutes.)
To a cake tin (I used a 7-inch that fits in my air-fryer), add almonds, peanuts, and cashew nuts. Now place the cake tin on the basket and air fry for 5 minutes. Now open the air-fryer and add coconut slices, and curry leaves to the basket, and air fry for another 3 minutes.
Open the air-fryer and lift the pan using gloves or a pair of tongs. Transfer the nuts, coconut slices, and curry leaves to the same bowl as the roasted makhana. Now in a small frying pan heat 1 tablespoon of ghee/oil on medium heat. Once hot, add roasted chana, green chilies (if using), raisins, and sauté for 1 minute or until raisins swell up and chilies are crisp.
Now add pink or rock salt, black pepper powder, and chaat masala powder to the oil. Stir and sauté for a few seconds. Pour the tempering oven-roasted makhana and nut bowl and toss everything well until well combined. Let it cool completely before storing it in an airtight container. Enjoy roasted makhana namkeen with a hot cup of chai or coffee!
---
RECIPE NOTES
Adding roasted chana is optional. Don?t add roasted chana if you don?t eat them during fasts.
The quantity of nuts is quite adjustable, so feel free to increase or decrease the amount of nuts and raisins.
Make sure to store this roasted phool makhana chivda in an air-tight container at room temperature. Close the lid tight after every use, this way they would net get exposed to air and would stay crisp.
Adding green chilies is optional here. If you don?t like the heat from green chilies then you can skip adding them. You can also use red chili powder instead of green chilies.
---