Linzer Cookies
These Linzer Cookies are rich and have an intense fruity flavor. They are super-soft, buttery, sugar-dusted peekaboo shortbread cookies.
---
« Go back
Print this recipe »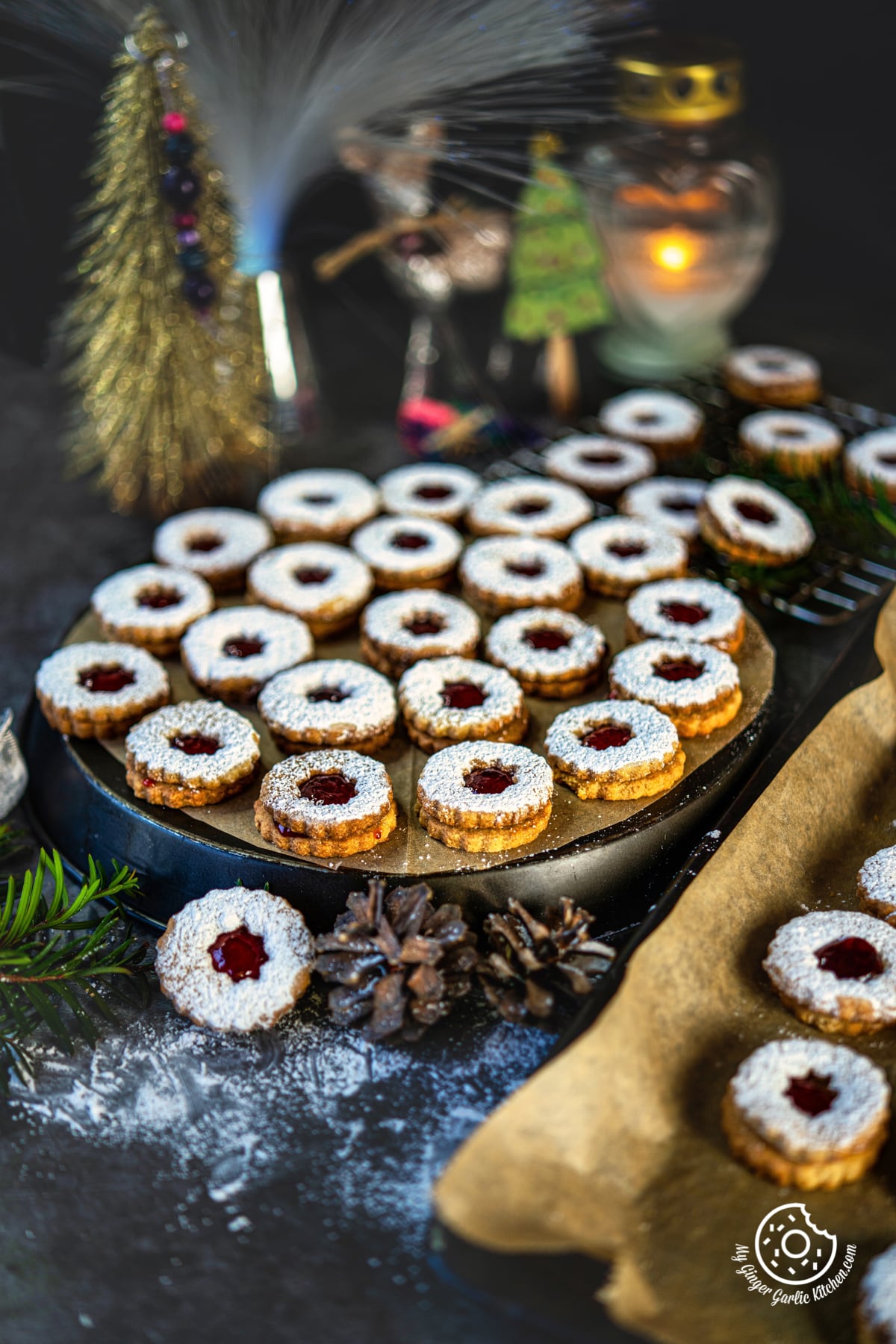 ---
Prep Time = 25 minutes
Cook Time = 9 minutes
Total Time = 34 minutes
Category = Dessert
Cuisine = Austrian
Serves = 30 small sandwich cookies
Nutrition Info = 109 calories
Serving Size = 1 cookie
---
RECIPE INGREDIENTS
» For Linzer Cookies
1 1/4 cups almond flour
1 1/2 cups all-purpose flour
1/2 cup + 2 tablespoons sugar
1 large egg
1/4 teaspoon of fine sea salt or kosher salt
1 teaspoon ground cinnamon
1/2 teaspoon baking powder
1 teaspoon of vanilla paste or extract
3/4 cup (12 tablespoons) unsalted butter, softened
3/4 cup (5oz/142g) butter softened
1/2 cup granulated sugar
1/2 cup raspberry jam or any other jam, strained or whisked
2-3 tablespoons Confectioners' sugar for dusting
---
RECIPE INSTRUCTIONS
» For making Linzer Cookies
In a medium bowl, whisk together all-purpose flour, almond flour, cinnamon, baking powder, and salt. Set it aside.
To make cookie dough; in a stand mixer or with a hand mixer, beat the butter and sugar together until it is light and fluffy, scraping the bowl as needed, for about 3 to 4 minutes. Add the egg and vanilla to the butter mixture and beat until well combined.
Add dry flour mixture in 2 batches and mix to incorporate, or until just combined. Don't overbeat. You can also stir the mixture with a spatula.
Divide the cookie dough into 2 portions, pat each half on a plastic wrap, and press into small disks. Refrigerate the discs for at least 1-2 hours or until firm. If you are in a hurry, then you can also freeze them for 30 minutes to 1 hour. We need the chilled dough for easier rolling.
When you are ready to bake the cookies, preheat the oven to 375°F (190°C) and line two baking sheets with parchment paper. To make cookies, remove the dough from the refrigerator and uncover it. At this point, the dough should be chilled, yet soft enough to roll. If it feels rock hard, then let it soften for 5-10 minutes at room temperature.
Dust the flour on the surface and roll the disk of dough 1/8 inch thick. For easier rolling, you can also roll the dough on floured parchment paper.
Using the desired cookie cutter (I am using round), cut out as many rounds of dough as you can. Then using a smaller round cookie cutter or round piping tip to cut to make a window cutout in the center of half the cookies.
Remove the cookies, and gather the dough. Re-roll the scraps, and repeat. If the dough becomes sticky while rolling then place it back in the refrigerator to chill for about 20-30 minutes or until it is chilled and firm.
Transfer the cookies to the prepared baking sheet. Re-roll scraps and repeat until all the dough is used up. You should have about 30 cookies, I have made 2 batches, so I have about 60 cookies.
To bake: Place the baking sheet in the oven and bake for 7 to 9 minutes, or until cookies are lightly golden on the edges. Remove the cookies, and let them cool for 5 minutes on the pan, and then place them on a wire rack to cool completely.
Place all cookies with the holes in them on a wire rack and dust generously powdered or confectioners' sugar over the top.
For the base of the cookie, spread about 1/2 teaspoon of raspberry jam into the center, spreading it slightly. You can use either side of the cookie for placing the filling. To make sandwich cookies, top each jam-filled cookie with sugar-dusted cookies.
Linzer cookies are ready to enjoy. They taste best when enjoyed the same day when they are baked. To store, place them in an airtight container and store them at room temperature for up to 4-5 days days or up to 8-10 days in the refrigerator. Or freezer them for up to 3 months.
---
RECIPE NOTES
These cookies can be cut out into different shapes and sizes, so feel free to use any of your favorite cookie cutters and have fun while cutting these cookies.
This recipe makes raspberry linzer cookies, but you can also make apricot linzer cookies or strawberry linzer cookies by swapping raspberry jam with apricot or strawberry jam.
You can also add some lemon or orange zest to the cookie dough. Even a splash of lemon or orange juice can also be added to enhance the citrus flavor in this linzer cookie recipe.
---