Kashmiri Pink Chai - Noon Chai (Video)
This Kashmiri pink chai has a rich, creamy, buttery and slightly thick texture which is thin enough to drink. It has a magical aroma of cardamom, saffron.
---
« Go back
Print this recipe »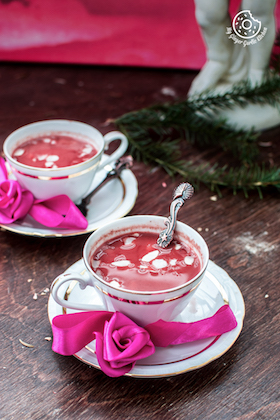 ---
Prep Time = 5 minutes
Cook Time = 45 minutes
Total Time = 50 minutes
Category = Drinks
Cuisine = Indian
Serves = 4-5
Nutrition Info = 85 calories
Serving Size = 1 Cup
---
RECIPE INGREDIENTS
» For Kashmiri Pink Chai:
3 tablespoons Kashmiri chai / tea leaves (you can also use good quality green tea if you don?t find kashmiri chai aves)
1/4 tablespoon salt
2 cups water
2 cups ice cold water
2 cups full cream milk
7-8 saffron strands
6-7 green cardamom pods, crushed slightly (optional)
1/4 teaspoon baking soda
Sugar according to your taste
Sliced almonds or crushed almonds and pistachios (I have added sliced almonds here)
---
RECIPE INSTRUCTIONS
» Make Kashmiri Pink Chai:
Pour 2 cups water, Kashmiri chai (green tea leaves), crushed cardamom and baking soda in a pan.
Stir well with a ladle, and let it come to a boil. Keep pouring vigorously with a ladle as shown in the video. Let the tea mixture steep well and boil on medium-low heat until the water is reduced to half. It would take about 18-20 minutes.
Turn off the heat and add 2 cups of cold water. Adding ice-cold water helps in holding the strong pink color.
Pour it vigorously again with the ladle for about 1 minute.
Turn on the heat and let it boil again for 10 minutes on medium heat.
Add sugar and salt, or only salt, or only sugar. Let it boil again.
Keep stirring the mixture and add the milk to this steeping tea mixture.
Boil for about 10 minutes. The more you boil this tea, the stronger, rich and creamier the tea will be.
Strain the tea into cups, and add sliced almonds or crushed dry fruits.
Serve it with your favorite snacks and enjoy it.
---
RECIPE NOTES
Store this tea in the flask without adding milk and refrigerate for up to 2 days. Add milk and boil it again whenever you want to drink this tea.
Adding saffron gives it a nice flavor, so I recommend adding it.
---