Kaju Katli Recipe - Kaju Burfi - How to Make Kaju Katli
Kaju Katli is one of the most popular and delicious Indian sweets recipes. Learn to make traditional kaju katli with step by step video instructions.
---
« Go back
Print this recipe »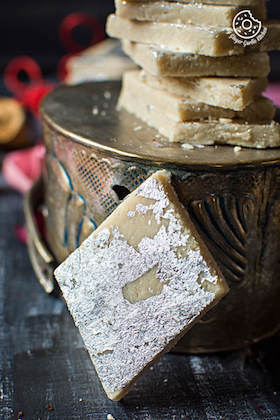 ---
Prep Time = 5 minutes
Cook Time = 15 minutes
Total Time = 20 minutes
Category = Dessert
Cuisine = Indian
Serves = 20-22
Nutrition Info = 57 calories
Serving Size = 1 piece
---
RECIPE INGREDIENTS
» For Kaju Katli:
1 1/2 cups cashew nuts
3/4 cup sugar
1/3 cup water
1 teaspoon rose water (optional)
1-2 teaspoon ghee for greasing
Edible silver leaf, German paper or vark for decoration (optional)
---
RECIPE INSTRUCTIONS
» How to make Kaju Katli:
Add cashews to a blender jar.
Powder the cashews in a grinder until its fine powder. (Do not over grind the cashews as they turn oily)
Heat a pan over medium heat. Add water and sugar to it.
Stir well and let it boil until sugar is completely dissolved.
Boil it for one more minute. (You just need a thin syrup)
Turn the heat to medium-low and add cashew powder and stir well.
Keep stirring continuously until it forms in the dough.
Grease a plate with ghee and transfer the dough to it. At this stage, you can add 1 teaspoon of rose water.
Mix well with the help of a spoon. And let cook until you can handle the heat.
Now grease your hands with ghee and knead the mixture well for a minute.
Spread a parchment paper on a working surface and place the dough on it.
Flatten the dough with palms and roll it with the help of a rolling pin.
Decorate rolled sheet with edible silver leaf.
Cut into diamond shape using a sharp knife.
Kaju katli is ready to serve.
---
RECIPE NOTES
Store Kaju Katli in an airtight container at room temperature for up to two weeks.
For a smooth finnish, you can also strain the powdered cashew.
If you want richer taste of kajukalti, then you can add add 1 tablespoon milk powder along with powdered cashews.
---