Jaipuri Pyaaz Ki Kachori Recipe - Onion Filled Spicy Snack
These crisp, flaky, deep-fried Kachoris stuffed with onion filling are so tasty. Learn to make Jaipuri Pyaaz Ki Kachori recipe with step by step photos.
---
« Go back
Print this recipe »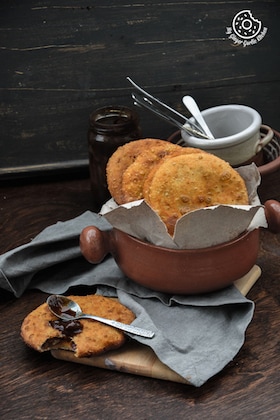 ---
Prep Time = 10 minutes
Cook Time = 25 minutes
Total Time = 35 minutes
Category = Snacks
Cuisine = Indian
Serves = 12
Nutrition Info = 186 calories
Serving Size = 1 kachori
---
RECIPE INGREDIENTS
» For Kachori Dough:
3 cups plain flour (maida)
6 tablespoons oil / ghee, i used vegetable oil
Salt to taste
» For Onion Stuffing:
4 large sized red onions, chopped
2 medium sized potatoes, boiled & peeled
2 tablespoon cooking oil
1 teaspoon mustard seeds
1 teaspoon cumin seeds
A pinch of asafetida
2 tablespoons coriander seeds crushed
Salt to taste
2 tablespoons chickpea flour (besan)
2 teaspoons dried mango powder (amchoor)
1 tablespoon garlic, crushed
1 teaspoon ginger finely, crushed
2 green chilies, finely chopped
2 teaspoon red chili powder
1/4 teaspoon garam masala
1 teaspoon sugar
1 medium sized yellow onion, chopped
» For Frying:
---
RECIPE INSTRUCTIONS
» Make The Kachori Dough:
Combine all the ingredients in a deep bowl and knead into a stiff dough using enough water.
Knead well for 4 to 5 minutes.
Cover the dough with a wet muslin cloth and keep aside for 15 minutes.
» Make The Onion Filling:
Heat 2 tbsp oil in a broad pan. Add asafetida, cumin seeds, mustard seeds, and crushed coriander seeds.
Sauté for half a minute. Add chopped red onions, salt and continue to sauté.
When onions are lightly browned, add garlic, ginger, green chilies, and red chili powder, and dried mango powder.
Mix well and sauté for a minute.
Add boiled potatoes, gram flour, sugar, and garam masala powder.
Mix well, and try to mash potatoes with the help of a ladle.
Cook for about 3-4 minutes.
Remove from heat. Add 1 chopped white onion, and mix well. Let it cool.
» Make Pyaaz Ki Kachori:
Divide the dough into 12 equal portions.
Roll out each portion of the dough into a 21/2 diameter circle.
Place 2-3 tbsp of the onion filling in the center.
Press gently and pat with hands to flatten the kachori a bit, keeping the sides thin.
Prick the kachoris 1-2 times with a fork. This is optional but recommended.
Heat oil in a pan over high heat.
Turn the heat to medium-low and deep-fry the kachoris till golden.
Drain on an absorbent paper and serve hot with mint coriander chutney, or tamarind chutney and tea.
---
RECIPE NOTES
Pyaaz ki kachoris are never puffed up like dal ki kachoris. And pricking kachoris a couple of times would stop them from puffing up too much.
Adding raw chopped onions to the mixture is optional. Raw onions add a nice crunch and flavour to the kachori stuffing. So I would highly suggest adding them.
---