Rajasthani Mawa Kachori Recipe
Mawe ki kachori or Jaipuri Mawa kachori is a famous Rajasthani sweet. These are stuffed with sweet mawa filling and then deep-fried and coated in sugar syrup.
---
« Go back
Print this recipe »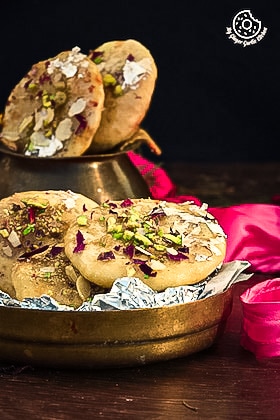 ---
Prep Time = 20 minutes
Cook Time = 20 minutes
Total Time = 40 minutes
Category = Main
Cuisine = Indian
Serves = 6
Nutrition Info = 358 calories
Serving Size = 1 kachori
---
RECIPE INGREDIENTS
» For Homemade Instant Khoya:
2 cups of milk powder (use full fat)
4 tablespoons ghee
1/2 cup milk for cooking in the pan, and 1 cup for microwave cooking
» For the mawa kachori dough:
1 cups all-purpose flour
3 tablespoons ghee (clarified butter)
Pinch of salt
Water to knead the dough
» For Mawa Kachori Filling:
1 khoya/mawa (dried whole milk), crumbled
2-3 crushed cardamom pods
1 teaspoon cardamom powder
1/4 cup dry fruits, finely crushed (almonds, pistachio, cashews)
3/4 cup powdered sugar
» For The Sugar Syrup:
1 cup of sugar
1/3 cup water
2 crushed cardamom pods
Ghee/oil for deep frying
» For Garnishing:
Chopped nuts
Saffron strands
Silver varq (edible silver)
Dried rose petals
---
RECIPE INSTRUCTIONS
» Make Mawa/khoya in the Microwave or Pan:
Add milk powder, ghee, and milk to a mixing bowl.
Whisk well to get a lump-free mixture.
Microwave it on high for 2 minutes.
Remove the bowl from the microwave and whisk well.
Microwave again for two more minutes. Mix well again. The mixture should look crumbly yet soft. (You can microwave for 30 seconds more if needed.) Set it aside and let it cool completely. Khoya Mawa is ready for use.
Alternatively, you can make mawa/khoya in a pan. Add milk powder to a mixing bowl. Add 4 tablespoons ghee and 1/2 cup milk to pan and heat over medium heat.
Let it cook until the mixture comes to a boil. Add this milk ghee mixture to the milk powder. Mix well with a spoon. The mixture would look crumbly yet soft. If the mixture seems too dry, then add some more hot milk to it. Grease your palm, shape the warm mixture into a ball. Let it cool at room temperate, after cooling it will harden and hold the shape. Just crumble or grate this mawa/khoya, and it is ready to use khoya in your dishes.
» Make Mawa Kachori Dough:
Add flour, salt, and ghee to a mixing bowl. Rub the mixture gently with fingers.
Add water and knead into a smooth dough.
Cover and set aside for 30 minutes.
» Make Mawa Filling for Kachori:
Heat prepared mawa/khoya in a pan.
Cook it on medium-low heat until it starts to melt and leave the sides of the pan. (Keep stirring.)
Turn off the heat. Add powdered sugar, crushed cardamom, cardamom powder, and chopped dry fruits.
Mix everything well to combine. Keep it aside to cool.
» Make Sugar Syrup:
Add sugar, crushed cardamom, and water to a pan.
Let it boil till it has reached 1 string consistency.
To check sugar syrup thickness, spill a drop of sugar syrup in a spoon, plate or bowl. Allow it to cool for a few seconds. Touch the syrup with forefinger and then touch your thumb and forefinger together and gently pull apart. If the syrup forms 1 thread then your syrup is ready. Sugar Syrup is ready. Remove from heat and set aside.
» Make Kachoris:
Divide the dough into 6 equal parts.
Take one dough ball and roll it into a disc of about 2-inch diameter using a rolling pin.
Place about 2 1/2 tablespoons of prepared mawa filling in the center and bring the ends together.
Seal tightly and flatten to make discs.
Roll gently again to make a 3-4 inch circle. Make remaining kachoris the same way. Keep them aside.
» Fry Mawa Kachori:
Heat ghee/oil in a pan over medium heat. When the ghee is medium hot, drop the kachoris into the pan.
Fry them on medium heat till slightly browned from both sides. It will take about 8-10 minutes to fry.
Remove fried kachoris on an absorbent paper and let them cool completely.
» Serving:
Heat the sugar syrup once again if that is cold.
Drop the cooled kachoris in the warm sugar syrup and let them bathe for 2 minutes.
Take them out on a serving plate. Garnish mawa kachoris with chopped nuts, rose petals, and edible silver varq.
Drizzle some more syrup on kachoris and enjoy.
---
RECIPE NOTES
You can store the stuffing in the freezer for upto 1 month. Thaw it overnight in the refrigerator prior to use.
You can store these kachoris at room temperature in an airtight container for 3-5 days.
Do not roll stuffed kachoris too thin. If the pastry shell is very thin, they might break while frying.
I have used instant mawa made with milk powder, but you can swap it with traditional mawa.
---