Instant Pot Peach Jam
This 3-ingredient Instant Pot Peach Jam is made with no pectin and no cornstarch. It is ready in under 25 minutes and can be stored.
---
« Go back
Print this recipe »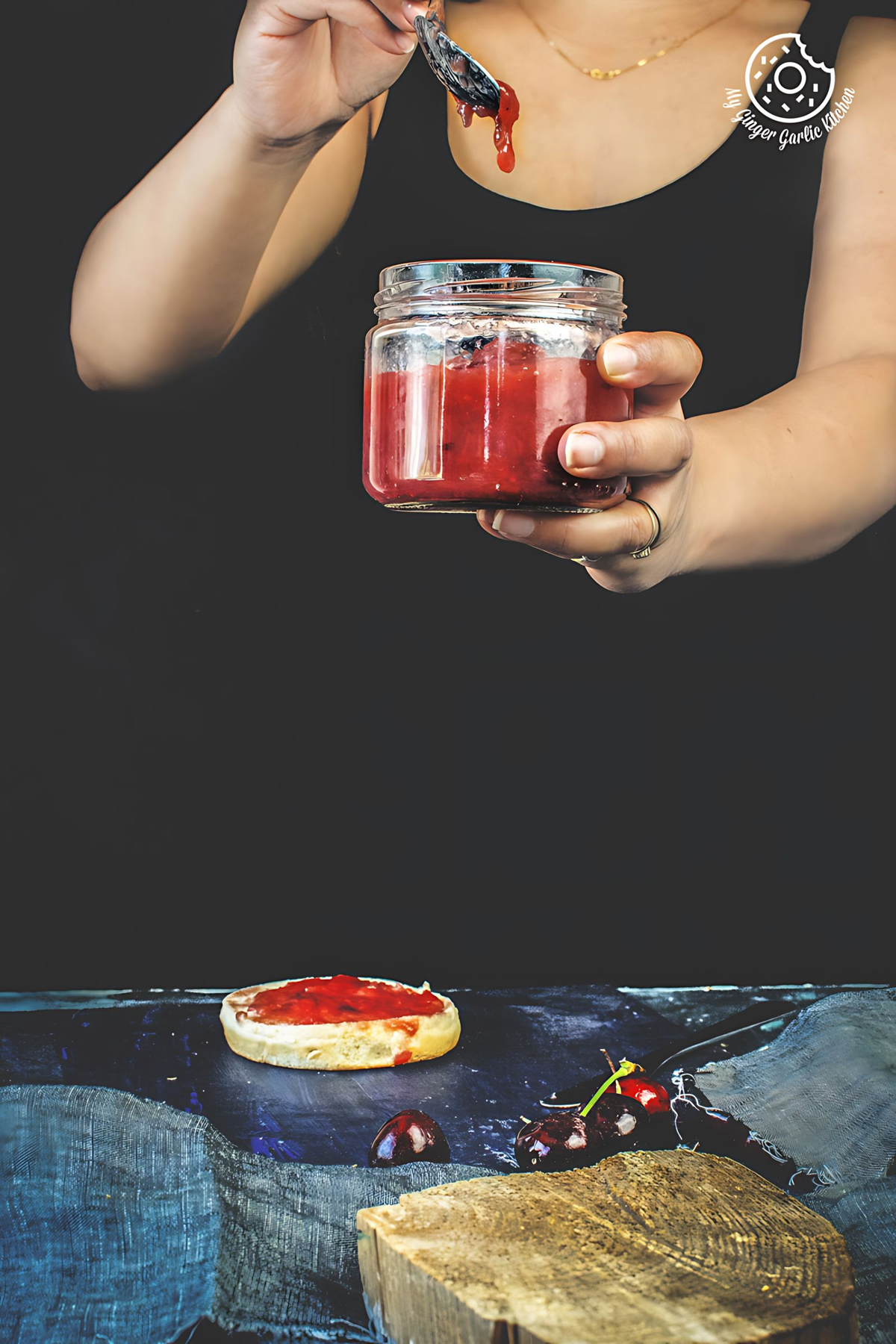 ---
Prep Time = 05 minutes
Cook Time = 15 minutes
Total Time = 20 minutes
Category = Condiment
Cuisine = International
Serves = 20
Nutrition Info = 35 calories
Serving Size = 1 tablespoon
---
RECIPE INGREDIENTS
» For Peach Jam //
6-7 fresh ripe peaches (I used donut peaches, you can use any)
1/2 cup sugar (or more, if desired)
1 tablespoon lemon, juice
» Equipments //
Instant Pot
Spatula
Potato masher
Ladle
Sterilized jar and lid
---
RECIPE INSTRUCTIONS
» How to Make Peach Jam in an Instant Pot //
Rinse the peaches under running water, and let them dry. Remove the pits and dice/chop them into 1-inch chunks. If you like, you can also remove the skin.
Add chopped peaches, sugar, and lemon juice to the Instant Pot. Mix well.
Press SAUTÉ mode and stir until sugar dissolves completely.
Once the sugar melts, press 'CANCEL'. Cover the pot with the lid, set the valve to SEALING. Next, press PRESSURE COOK or MANUAL mode. Pressure cook for 1 minute at high pressure.
Let the pressure release naturally for 15 minutes. After 15 minutes, open the lid.
Mash using a potato masher. You can also use a blender if you want smooth consistency of jam. Press CANCEL and switch to SAUTÉ mode.
Stirring occasionally, saute about 8-10 minutes or until most of the liquid has evaporated or until the jam reaches a consistency you like.
You can immediately store the jam in a sterilized jar or let it cool before storing it.
Once, the jam is cooled, refrigerate for up to 10 days. Or freeze for up to 6 months.
» How to Make Peach Jam in a Stovetop Pan //
Add peaches, sugar, and lemon juice to a pan.
Mix well and keep it covered for 30 minutes.
After 30 minutes, cook covered on medium-low heat for 7-8 minutes or until peaches are softened and cooked. Stir occasionally.
Once cooked, remove the lid.
Mash with a potato masher, and sauté until the jam has thickened.
Store jam in a sterilized jar and refrigerate.
---
RECIPE NOTES
You can also cover the pot with a lid and let it rest for about 25-30 minutes after adding peach, sugar, and lemon juice. The resting time helps in melting sugar and peach releases its juice and that reduces some cooking time. I don't mind melting sugar by sautéeing in the pot itself, so I generally don't wait for 30 minutes.
If you like some flavorings in your jam, then you can also add 1/2 teaspoon of ground cinnamon, allspice, or vanilla extract.
Lemon juice adds both acidity and tart flavor to the jam, which acts as a preservative in homemade goods. So adding lemon juice is mandatory.
I used a potato masher for mashing the jam. You can also use an immersion blender if you want a super smooth jam.
I used white sugar, but you can also use honey, maple syrup, brown sugar, cane sugar, or any other sweetener of your choice.
I used donut peaches and the jam was perfectly thickened after 8 minutes of sautéeing. You might need more cooking time if your peaches are too ripe because the more ripe the peaches are, the lesser pectin they have, and thus take a bit time to thicken.
If your jam is taking too long to thicken, then you can add 1 more teaspoon of lemon juice. It would fasten the thickening process.
Jam always thickens after cooling completely. So make sure you do not evaporate liquid too much while sautéeing.
Only use a sterilized jar and lid for storing. This is crucial. To sterilize, you can either use a bottle sterilizer or simply boil them in a pot of water.
To check your jams consistency, simply pour a spoonful of jam on a chilled saucer or plate and let it cool for a minute. Now, run your fingers through it, if the jam wrinkles, then your jam is ready. If not, then cook for some more time. Another test is, that if the jam is thin and runny and it needs more cooking. If you hang a spoonful of jam and pour back to the utensil, then it should form thick droplets and shouldnt drop immediately.
You can also add chia seeds to your jam.
---