Indian Cucumber Chutney Sandwich - Tea Time Sandwich
Indian Cucumber Chutney Sandwich with an easy to follow video tutorial. These tea Ttme sandwiches are sleek, presentable, and light sandwiches are so yummy.
---
« Go back
Print this recipe »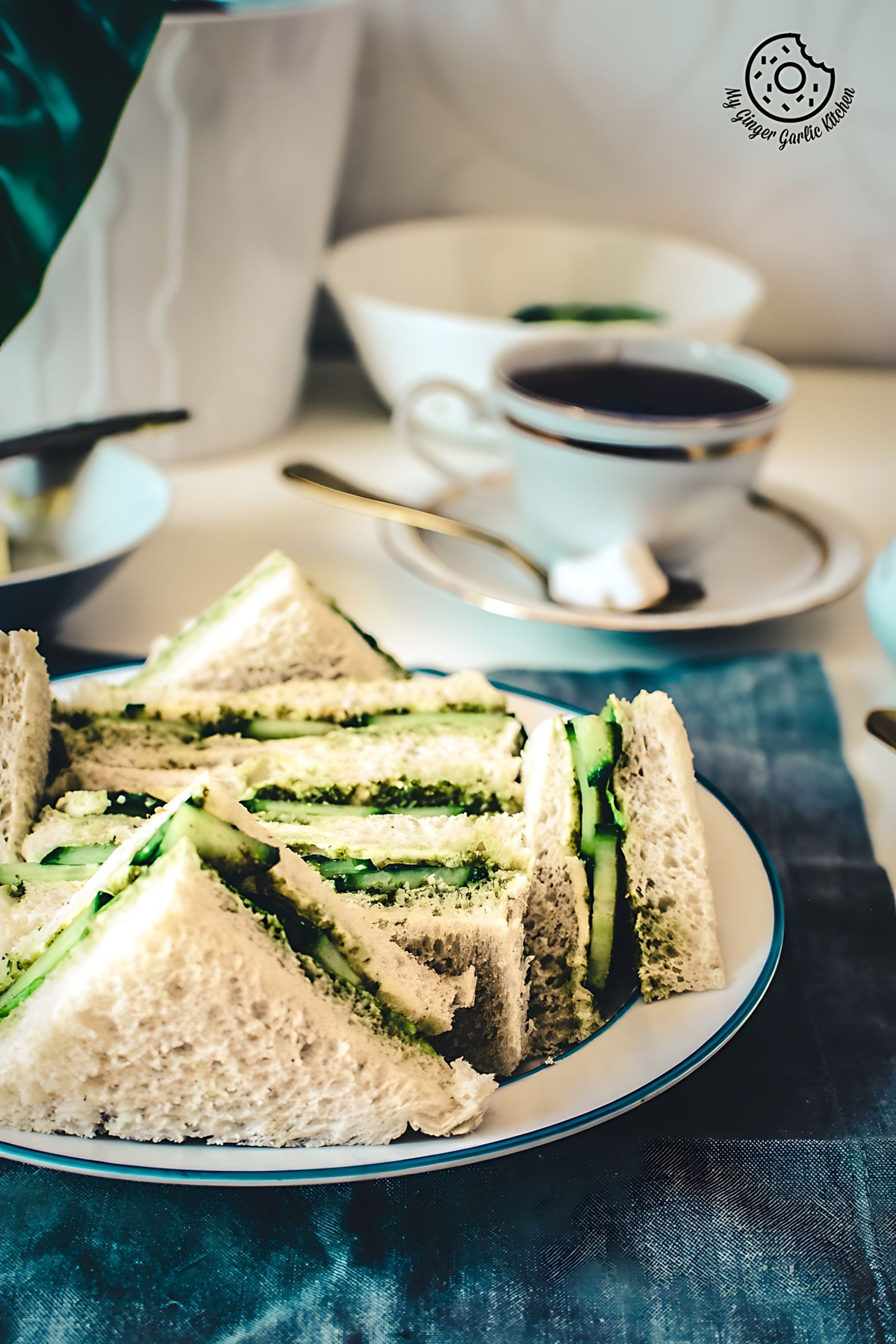 ---
Prep Time = 5 minutes
Cook Time = 5 minutes
Total Time = 10 minutes
Category = Brunch
Cuisine = Indian
Serves = 20 Finger Sandwiches
Nutrition Info = 135 calories
Serving Size = 4 finger sandwiches
---
RECIPE INGREDIENTS
» For Green Chutney:
Handful of coriander/cilantro leaves
1 inch ginger, peeled
3 garlic cloves, peeled
4 small green chilies
1 teaspoon sugar
salt to taste
1 tablespoon lemon juice
2 teaspoons cumin seeds
4 tablespoons water
» For Cucumber Chutney Sandwich:
10 slices good-quality white bread, or rye bread
1 english cucumber, thinly sliced (you can peel it if you like)
6 tablespoon. butter, softened to room temperature
1 teaspoon chaat masala (optional)
1 teaspoon roasted cumin powder (optional)
---
RECIPE INSTRUCTIONS
» Make Green Chutney:
Place all the chutney ingredients in a food processor or blender.
Blend into a smooth puree.
» For Cucumber Chutney Sandwich:
Lay the slices of bread on your work surface or on a large cutting board. Trim off the crusts using a knife.
For every two slices of bread, spread both slices evenly and thinly with butter.
Then smear both the bread slices evenly with coriander chutney.
Cover one side of the sandwich with sliced cucumber in one layer. Sprinkle some chaat masala and roasted cumin powder.
Cover with the other bread slice. You can also top cucumber layer with some lettuce.
Cut each sandwich into 3 or 4 pieces. (Slice the sandwich diagonally two times to create four triangle finger sandwiches. Or slice them into 3 equal pieces.)
Serve immediately with tea. Enjoy!
---
RECIPE NOTES
You can store this green coriander chutney in an airtight container in the fridge.
---