Indian Cappuccino - Beaten Coffee
This Indian Cappuccino or Beaten Coffee is a gourmet cup of smooth and frothy coffee that is great to drink at home or on the go. Ready in 10 minutes.
---
« Go back
Print this recipe »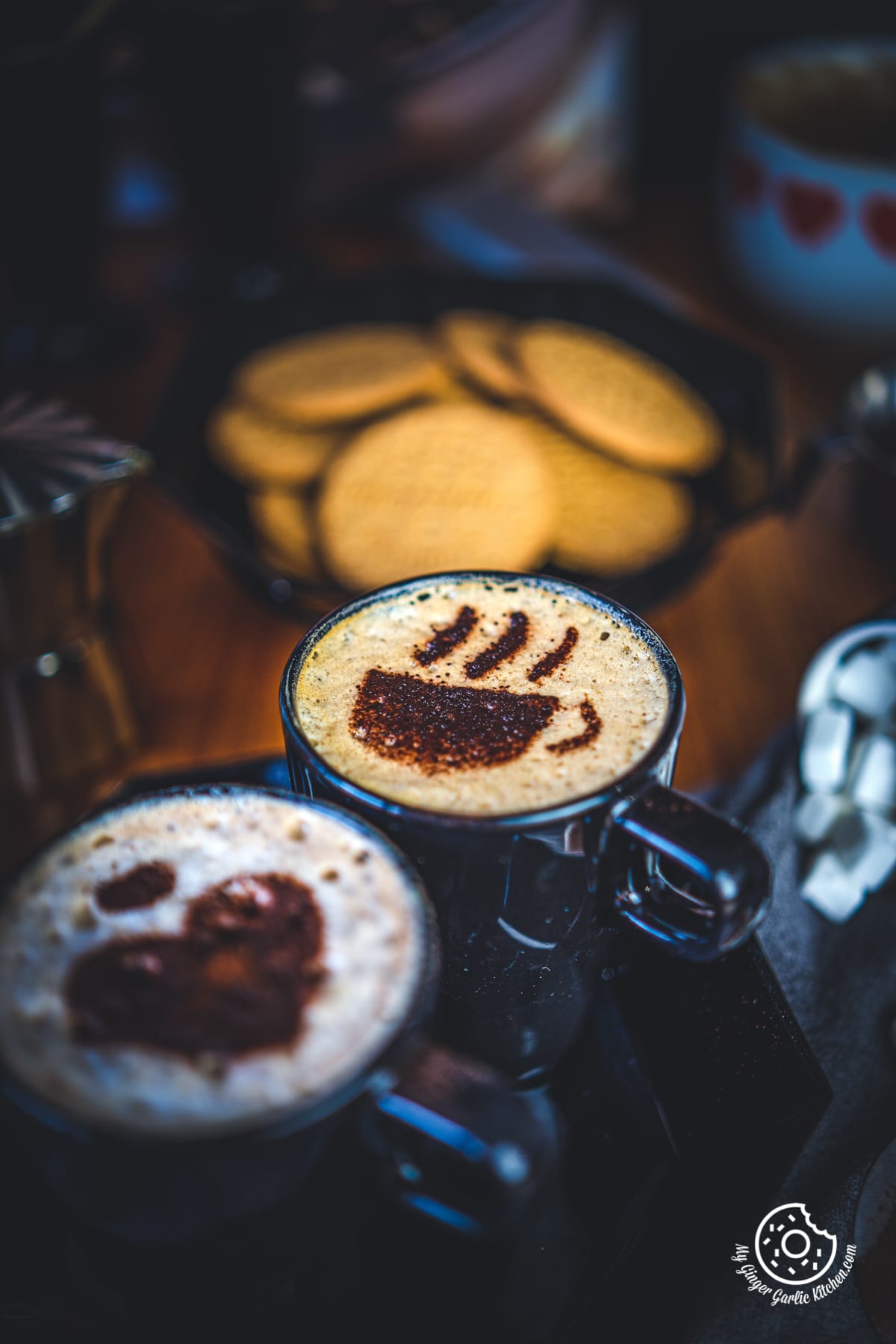 ---
Prep Time = 02 minutes
Cook Time = 08 minutes
Total Time = 10 minutes
Category = Drinks
Cuisine = Indian
Serves = 2 cups
Nutrition Info = 41 calories
Serving Size = 1
---
RECIPE INGREDIENTS
» For Indian Cappuccino:
3 tablespoons instant coffee powder
3 tablespoons brown or granulated sugar
1-2 tablespoons water (hot or cold)
2-3 cups milk, or as needed (dairy or non-dairy, any type of milk would work)
---
RECIPE INSTRUCTIONS
» Make Beaten Coffee Mixture:
In a large cup or a mixing bowl, add 3 tablespoons instant coffee powder, 3 tablespoons sugar, and 1-2 tablespoons hot water. The coffee and sugar ratio should be 1:1 ratio.
Using a wired whisk or electric mixer, whip the coffee mixture until it is light brown and fluffy. It should hold soft peaks when you remove the whisk. (This would take about 5 minutes if using a milk frother.) The beaten coffee mixture is ready. Keep it aside.
» Make Indian Cappuccino Coffee:
Now in a saucepan, heat the milk on medium heat. Do not boil the milk, you only need to steam the milk.
Turn off the heat right before it starts to boil. Alternatively, add milk to a microwave-safe bowl and heat for 2 minutes. Stir the milk and heat again for 1 minute. Remember, you only need to heat it until hot but not boiling.
Pour the hot milk into a clean heat-resistant bottle or coffee flask.
Close the lid tightly and shake the flask vigorously for about 1 minute or until the milk becomes frothy.
Add 2-3 tablespoons of whipped coffee mixture to the 2 coffee mugs.
Swirl the milk around the flask to remove the larger bubbles, pour about 1/4 cup of hot frothy milk slowly into beaten coffee mixture. Alternatively, you can directly pour the milk from the saucepan.
Stir the coffee with milk until combined.
Now pour the hot milk until the mugs are full.
Top both the mugs with some milk foam or more whipped coffee. Stir it lightly.
Now using a stencil, or directly dust the mugs with instant coffee or cocoa powder.
Serve Indian Cappiccino immediately with cookies!
---
RECIPE NOTES
To make beaten coffee overindulgent, add a dollop of vanilla ice cream or any of your favorite ice-cream to this coffee. I like coffee, caramel, and toffee flavors with coffee drinks.
Leftover whipped coffee mixture can be stored in the refrigerator for up to 5-6 days and used as needed.
Do not use 3-in-1 coffee mixes for this recipe. A plain simple instant coffee powder is all that you need.
If you like spicy flavors in your coffee, then you can add some ground cinnamon, ground cardamom, or even allspice.
I like this coffee made with whole milk. But you can also go with skimmed or semi-skimmed milk.
If you don't like too milky coffee, then you can either omit it completely and swap steamed milk with boiled water. You can even add some coffee cream to your coffee along with water.
For whipping, you can use any water at hot, cold, or room temperature. All work here.
Make sure to add 1/4 cup of hot milk after adding beaten coffee to the milk. This is because stirring this way is easy, and you get the perfect texture of foamy coffee. Once you are done with stirring, then top it with more hot milk.
For a double espresso caffeinated drink, you can also add this whipped or beaten coffee to your espresso shots.
---