Italian Hot Chocolate
This easy to make Italian style creamy hot chocolate recipe is super thick, rich, and enriched with intense chocolate flavors. Ready in under 10 minutes.
---
« Go back
Print this recipe »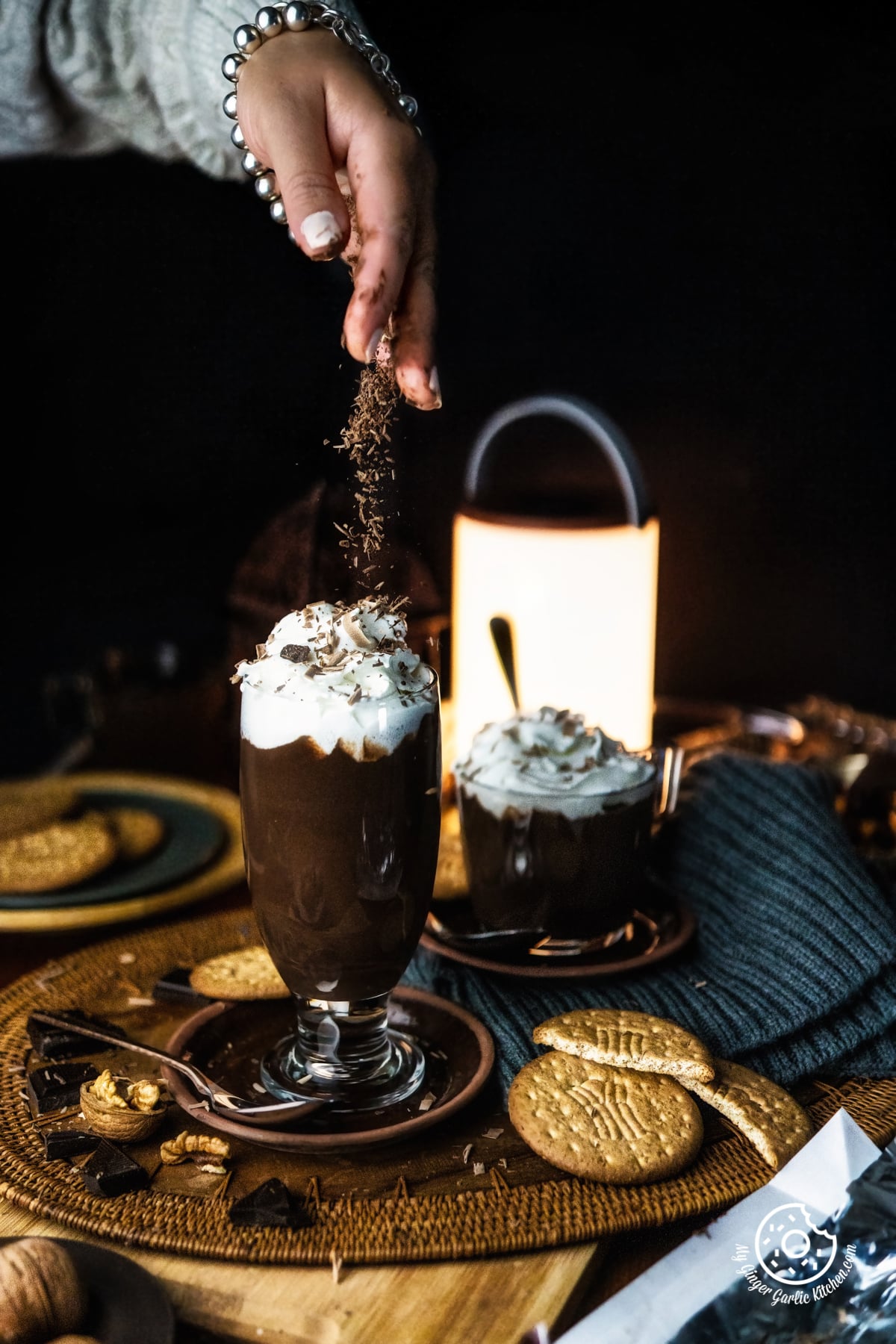 ---
Prep Time = 05 minutes
Cook Time = 10 minutes
Total Time = 15 minutes
Category = Drinks
Cuisine = Italian
Serves = 4-6
Nutrition Info = 185 calories
Serving Size = 1
---
RECIPE INGREDIENTS
» For Italian Hot Chocolate:
3 1/2 cups (875 ml) milk (I use semi-skimmed milk) (you can also use water)
5 tablespoons sugar, or to taste
3 tablespoons (24 grams) unsweetened cocoa powder
240 grams (8 oz) dark chocolate (75%)
5 tablespoons cornstarch
2 pinches of salt
» For Serving:
Whipped cream
Chocolate shavings
---
RECIPE INSTRUCTIONS
» Making Italian Hot Chocolate:
Chop the dark chocolate. Set it aside.
In a small bowl whisk together 1/2 cup of cold milk and cornstarch. Set it aside.
In a saucepan place cocoa, sugar, salt, and mix.
Also, add 3 cups of milk and whisk together.
Place the saucepan on the stovetop over medium heat. Heat the milk mixture, whisking occasionally, until the mixture is simmered and starts to bubble around the edges.
Once the milk is heated and reaches the scalding stage, turn the heat to low, and add the milk and cornstarch mixture.
Keep whisking continuously and cooking until the mixture has thickened and combined. This would take about 3-4 minutes.
After that, add the chocolate pieces and turn off the heat.
Whisk continuously for approximately 2-3 minutes or until completely dissolved and thick.
Pour hot chocolate into mugs, and garnish with some whipped cream and chocolate shavings.
Serve immediately.
---
RECIPE NOTES
If you prefer sweeter tasting hot chocolate then go for 55% percent cocoa, and if you prefer less sweet but intense chocolate flavor then you can use up to 84% cocoa.
I have used 4 tablespoons of cornstarch in this recipe which makes it really thick and creamy, which is similar to the consistency of the chocolate sauce. If you prefer thinner hot chocolate then use only 2 tablespoons of cornstarch.
Make sure that you only bring the milk to a simmer, and then turn the heat to low. And cook on low heat.
The addition of little salt balances the sweet chocolaty flavors. So, adding salt is highly recommended in this recipe.
Serve the hot chocolate immediately. This is because the drink will continue to thicken as it cools.
Replace water with milk to make a hot chocolate recipe with water.
---