Honeydew Melon Radish Salad Bowls
Honeydew melon radish salad bowl is an easy, fresh, healthy and delish salad made with sweet, spicy and tangy dressing. It is vegan and gluten-free.
---
« Go back
Print this recipe »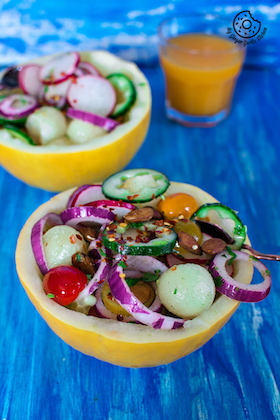 ---
Prep Time = 10 minutes
Cook Time = 2 minutes
Total Time = 12 minutes
Category = Main
Cuisine = World
Serves = 2
Nutrition Info = 255 calories
Serving Size = 1 serving
---
RECIPE INGREDIENTS
» For Honeydew Melon Radish Salad //
Honeydew - 1
Radish, sliced - ¼ cup
Cherry tomatoes, halved - ¼ cup
Cucumber, sliced - ½ cup
Onion rings - ¼ cup
» For Salad Dressing //
Olive oil - 4 tablespoons
Fresh lemon juice - ¼ cup
Salt & pepper to taste
Honey - 2 tablespoons
Chopped, cilantro - 1 tablespoon
Garlic, chopped - 1 tablespoon
» For serving //
---
RECIPE INSTRUCTIONS
» Step by step instructions below //
Combine honey, lemon juice, olive oil, salt, pepper, garlic and cilantro. Whisk well.
Cut melon in half, remove and discard seeds and scoop flesh with a sharp 1-inch melon baller.
Hollow out the melon shell completely.
Cut cucumber slices with a flower cookie cutter. That's completely optional.
Add melon balls, cucumber flowers, onions rings, radish slices, tomatoes to a large serving bowl.
Pour dressing over the salad and toss to coat.
Keep the salad in the refrigerator until you are ready to serve. To serve place the salad in the melon bowl.
Also sprinkle with chili flakes, and add some almonds. Enjoy!
---
RECIPE NOTES
No notes for this recipe.
---