Schezwan Sauce Recipe
Schezwan sauce is a spicy and hot Chinese chili sauce which is used in many fusion Indo Chinese dishes. It?s spicy, slightly sweet, slightly tangy in taste.
---
« Go back
Print this recipe »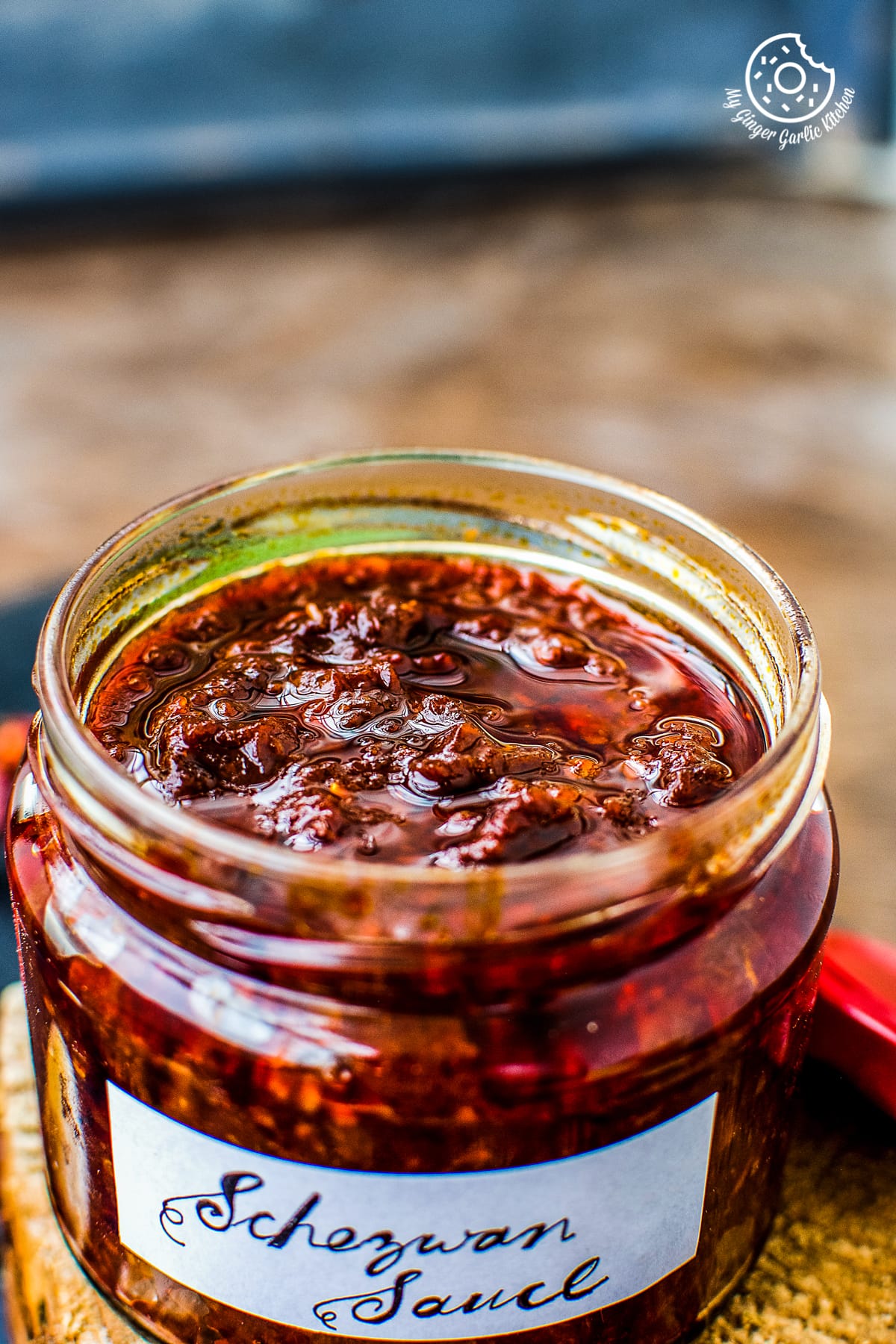 ---
Prep Time = 10 minutes
Cook Time = 30 minutes
Total Time = 40 minutes
Category = Condiment
Cuisine = Indian
Serves = 315 g
Nutrition Info = 20 calories
Serving Size = 1 Tbsp
---
RECIPE INGREDIENTS
» For Schezwan Sauce
Dried red chili - 100g
Sesame oil or vegetable oil - 1/4 cup or 1 dl
Garlic, finely chopped - 1/4 cup or 1 dl
Ginger, finely chopped - 4 tbsp
water - 1/4 cup or more if needed
Sichuan pepper/schezwan pepper, crushed - 1/2 tsp (You can also use black pepper if you don't have )
White vinegar - 3 tbsp
Soy sauce - 2 tbsp
Sugar - 1 1/2 tbsp
Tomato ketchup - 2 tbsp
Salt to taste
---
RECIPE INSTRUCTIONS
» How to Make Schezwan Sauce
Soak dried red chilies in hot water for 30 minutes or till they turn soft. (You can also de-seed chilies if you wish.)
After 30 mins, discard the water and blend to make a nice and smooth paste. (You can add a little water if required.)
Chili paste is ready. Keep it aside.
Heat oil in a pan.
Add garlic and sauté for few seconds.
Add ginger and sauté for about 2 minutes or till ginger-garlic is golden in color.
Now add in prepared red chili paste and stir well.
Let it cook till the chili paste reduces oil.
Add water and stir well.
Cover with lid and let it cook on medium heat for 15-20 minutes or cook till the sauce till oil floats on top. (Keep stirring occasionally and add more water if needed to require the desired consistency.)
No add in salt, sugar, sichuan pepper, soy sauce, and tomato ketchup.
Mix well and cook for 2-3 minutes.
Now add white vinegar and stir well again. Let it cook for 3-4 minutes or till oil leaves the sides.
Let it cool completely and store in an airtight jar and refrigerate.
Use it as a dipping sauce or when add it in your favorite Indo Chinese recipes.
---
RECIPE NOTES
1. This sauce stays fresh for about 2 to 3 weeks in an airtight container in the refrigerator.
2. You can also add celery to this sauce for that extra herby punch.
---