Homemade Mango Ice Cream (No Ice Cream Maker)
This creamiest and dreamiest Homemade Mango Ice Cream Recipe is made without an ice cream maker. Delicious, easy no-churn ice ceam is full of mango flavors.
---
« Go back
Print this recipe »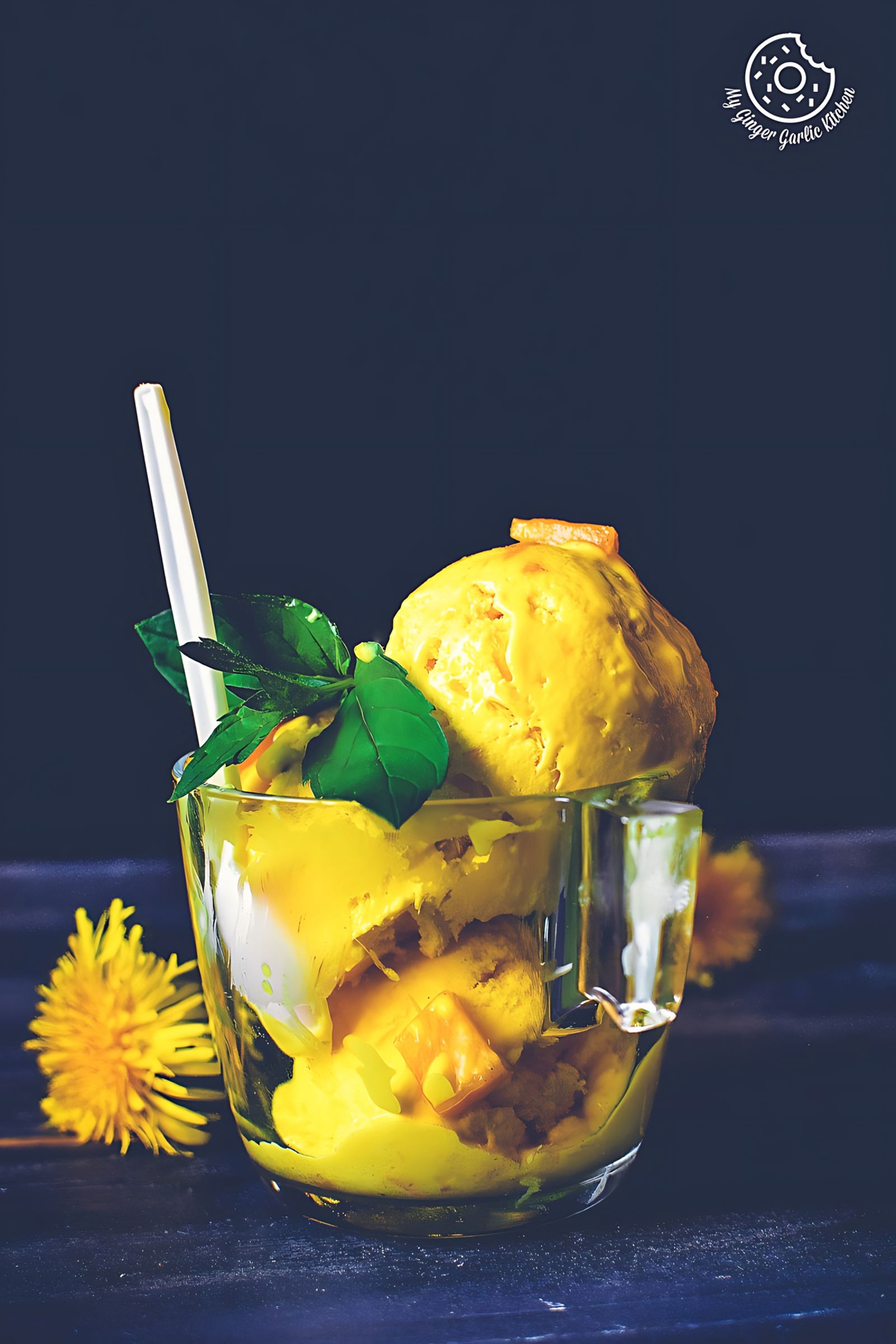 ---
Prep Time = 10 minutes
Cook Time = 10 minutes
Total Time = 20 minutes
Category = Main
Cuisine = Indian
Serves = 4-5
Nutrition Info = 180 calories
Serving Size = 100g
---
RECIPE INGREDIENTS
» Homemade Mango Ice Cream:
1 cup chilled heavy cream
1/2 can (8 ounces/200g) sweetened condensed milk
mangoes, peeled and chopped - 500g + 4 tsp
Few drops of pure vanilla extract, optional
Chilled chopped mangoes for garnish
---
RECIPE INSTRUCTIONS
» Making Mango Puree:
Add choped mango pieces to a blender jar.
Blend to make a smooth puree. Set it aside.
» Making Mango Ice Cream:
Refrigerate a mixing bowl for 1 hour. Add 1 cup chilled whipping cream to the refrigerated mixing bowl.
Beat the cream on high until it forms stiff peaks.
Add the 1/2 cup of sweetened condensed milk, vanilla extract, mango puree, and 4 tsp chopped mangoes.
Beat well to combine.
Cover with the cling film. Freeze for 2 hours.
Unwrap and stir well to combine.
Pour into a freezer-safe container.
Cover with cling film and freeze for 6-8 hours or overnight.
Scoop out mango ice-cream in a cup or cone.
Garnish with chopped mangoes, and mint leaves. Serve Mango Ice Cream Chilled.
---
RECIPE NOTES
No notes for this recipe.
---