Hara Bhara Kabab
Hara Bhara Kabab is a popular appetizer or snack made with spinach, potatoes, peas, spices, and herbs. It tastes great with ketchup and Chai.
---
« Go back
Print this recipe »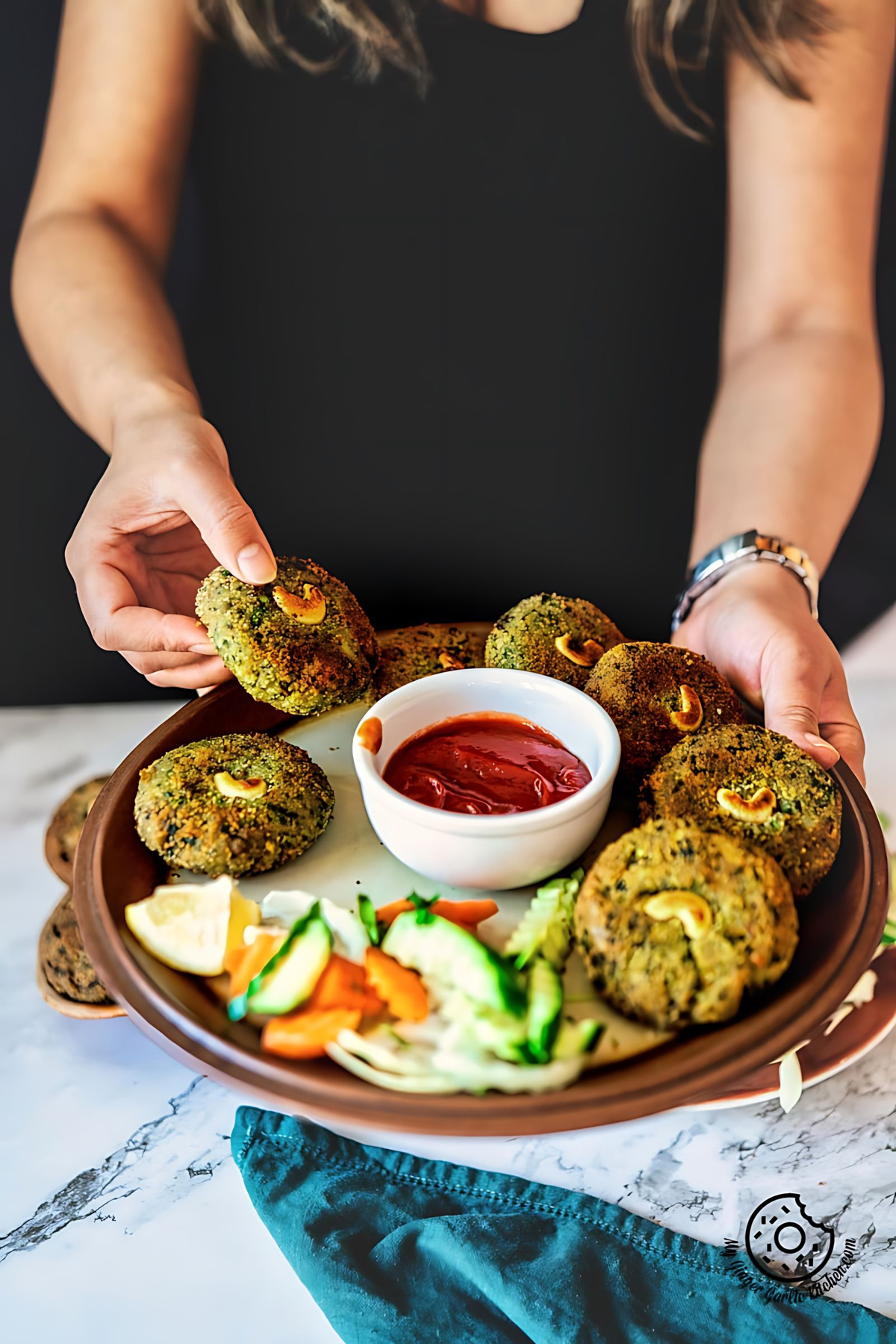 ---
Prep Time = 10 minutes
Cook Time = 25 minutes
Total Time = 35 minutes
Category = Snack
Cuisine = Indian
Serves = 12 Kababs
Nutrition Info = 87 calories
Serving Size = 1
---
RECIPE INGREDIENTS
» For Hara Bhara Kabab
1/4 cup gram flour (besan)
150 grams spinach (palak)
3-4 medium-sized potatoes
1 cup green peas (matar), fresh or frozen
1 cumin seeds (jeera)
2-3 green chilies, roughly chopped (to taste)
1.5 tablespoons, ginger roughly chopped
1.5 tablespoons, garlic roughly chopped
3/4 cup grated paneer
1 cup gluten free breadcrumbs (or regular)
1/3 cup cilantro (coriander leaves), roughly chopped
3/4 teaspoon black salt (kala namak)
1/2 teaspoon ground black or white pepper
1 teaspoon roasted cumin powder
1 teaspoon chaat masala powder
1 teaspoon amchur (dry mango) powder
3/4 teaspoon garam masala powder
Salt, to taste
1/8 teaspoon grated nutmeg
18-20 split cashew nuts
Oil for frying + 2 teaspoon
Salt to taste
---
RECIPE INSTRUCTIONS
» Making Hara Bhara Kabab
Roasting Besan (Gram Flour): Add 1/4 cup gram flour (besan) in a wide pan. Roast on medium heat until it releases a nutty aroma and changes color to light brown. Keep stirring continuously to prevent it from burning. Once roasted, turn off the heat and transfer roasted besan aside. Let it cool.
Boiling Potatoes: Add enough water to a pot. After that, place the whole potatoes in it. Boil potatoes covered over medium heat until they are soft and cooked through. To check doneness, prick the boiled potatoes with a fork or insert a knife. If the fork slides gently, then they are done. Let them cool completely, and then peel the potatoes.
Next, grate peeled boiled potatoes using a grater and keep them aside. You can also mash them using a potato masher.
Sautéing greens: Add 2 teaspoons of oil to a pan and heat over medium heat. Once hot, add cumin seeds and let them sizzle for a few seconds. Next, add chopped ginger, chopped green chilies, and chopped garlic. Sauté for 1 minute.
Then add green peas and sauté for 2 minutes. Now add spinach, toss well. Turn the heat to high and cover the pan. Cook for 30-40 seconds.
Then uncover the pan and cook for 1 more minute or until spinach shrivels. After that, turn off the heat and add cilantro. Mix well, and keep it aside to cool.
Making the green paste: Add sautéed spinach and peas mixture to the blender and blend to make a coarse paste without adding any water.
Making kabab mixture: Add the green paste, boiled mashed potatoes, breadcrumbs, and grated paneer to a large mixing bowl.
Also add black salt, roasted cumin powder, ground black pepper, amchur powder, chaat masala powder, garam masala powder, and salt. Mix well until combined.
Lastly, add grated nutmeg and mix all the ingredients again to make a non-sticky and firm dough. Taste for the spices, add more salt if needed. If the mixture seems too sticky, then you can add more mashed potatoes or breadcrumbs.
Shaping Kabab: Grease your palms with oil and pinch out a small portion of hara bhara kabab mixture. Roll it into a smooth ball and then Now gently flatten the ball to give it a smooth kabab (patty) shape. Roll the kabab in breadcrumbs. After that, place split cashew on the top and press. Shape all the patties and then keep them aside.
Frying Kabab: Heat oil in a broad non-stick or cast iron pan. Once the oil is hot, switch the heat to medium and slide kababs gently into the hot oil. Shallow fry kababs from the bottom, until they are golden from bottom.
Now flip the kebabs using a spatula and fry from both sides until they are golden and crispy, keep turning over as needed. After that, drain the fried kababs on a kitchen towel-lined plate. Shallow fry the rest of the kababs.
Serving: Serve hara bhara kabab hot with tomato ketchup or with green coriander chutney.
---
RECIPE NOTES
I have added 3 medium-sized mashed potatoes, but you can surely add less if you want a soft sticky mixture.
This recipe makes spicy kababs, if you don't like too many spices then you can skip adding 1-2 spices. Or adjust the number of spices as per your taste.
If you want a rich and nutty taste, you can also add cashew nuts or walnuts to the pan while sautéing spinach and peas.
When shallow frying kababs, keep the heat to medium. Do not fry them on low heat or high heat. After dropping kebabs, only flip the kababs when one side is golden, this way they will come out crispy and won't break.
---