Grilled Cheese Sandwich
Bread, butter, mayonnaise, cheddar, and gouda cheese are all you need to make this classic, perfectly melted, toasty grilled cheese sandwich.
---
« Go back
Print this recipe »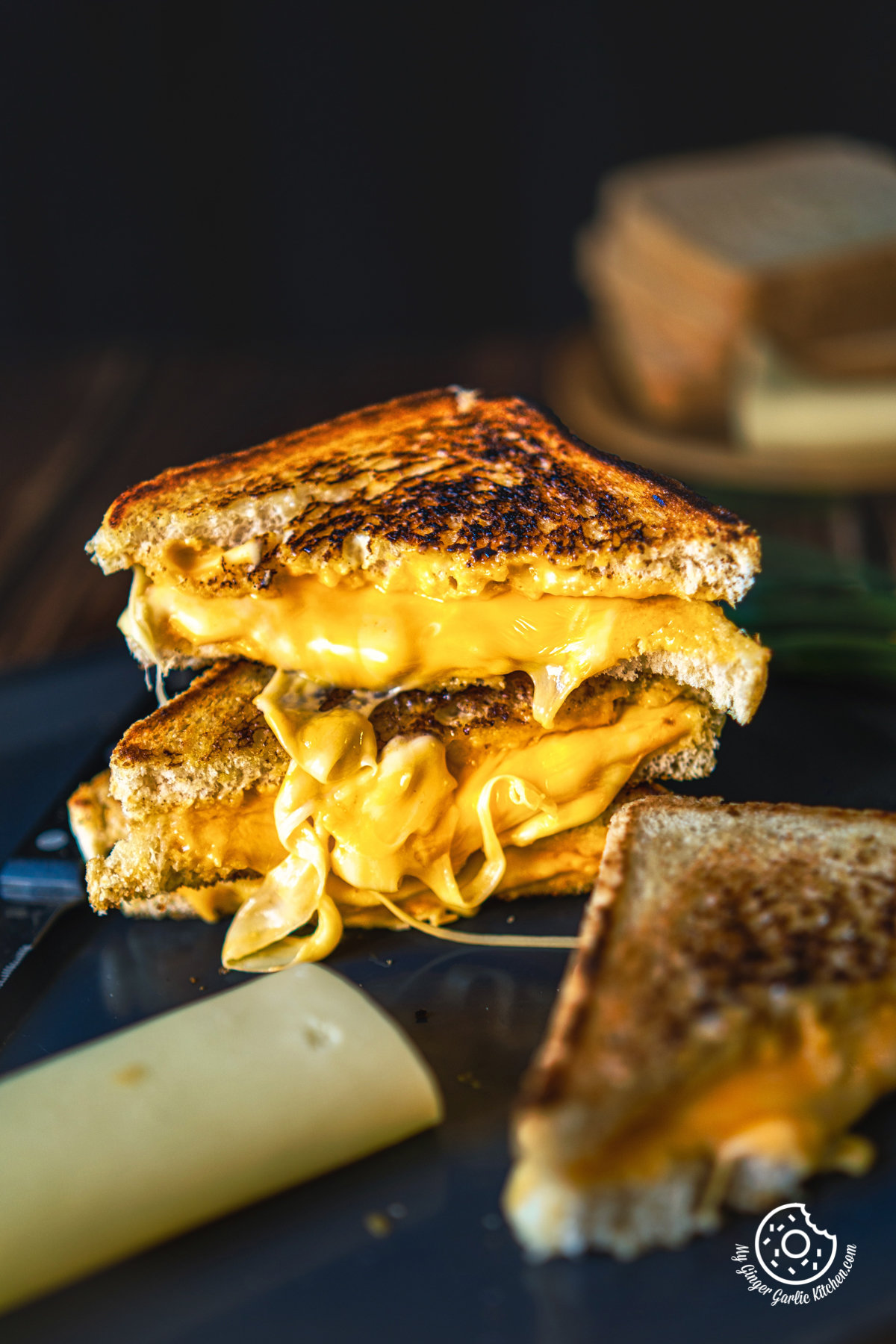 ---
Prep Time = 10 minutes
Cook Time = 30 minutes
Total Time = 40 minutes
Category = Lunch, Main Course
Cuisine = American
Serves = 4 sandwiches
Nutrition Info = 528 calories
Serving Size = 1
---
RECIPE INGREDIENTS
» For Grilled Cheese Sandwich
8 slices thick-sliced sandwich bread or sourdough bread
4 tablespoons unsalted butter, softened
8 tablespoons mayonnaise
8 slices medium cheddar cheese
4 slices Gouda cheese
---
RECIPE INSTRUCTIONS
» For Making Grilled Cheese Sandwich
Place 2 bread slices on a cutting board and spread 1 tablespoon of mayonnaise on one side of each slice of bread. Applying mayonnaise gives this grilled cheese sandwich a perfectly crisp golden crunch.
In a skillet/pan over medium-low heat, melt 1 tablespoon butter. When the butter melts, place 2 slices of bread in the skillet with the mayonnaise side down.
Top one piece of toast with cheese; cheddar, gouda, then cheddar. You can also season with freshly crushed black pepper or chili flakes. Cover the pan with the lid and toast until the cheese starts to melt and the bread slices are slightly golden brown.
Uncover the pan, and close the sandwich with the crisp sides on the outside. Now, press down lightly with a spatula to help the bread slices adhere to the cheese. Cover the pan again with a lid, and roast until bread is golden. Keep the heat on medium-low for the bread to toast slowly, giving your cheese a chance to melt completely, and cling to the bread slices.
Once the underside is golden, flip the sandwich with the help of a spatula and continue cooking until bread is golden from all the sides.
Once the cheese has melted, and the sandwich is browned from both sides, remove it to a cutting board and cut in half diagonally to serve. Wiping the skillet clean, and repeat all the steps to make 3 more sandwiches. Eat immediately, preferably with soup.
---
RECIPE NOTES
Heat: Always keep the heat to medium-low if you want to make an ideal grilled cheese sandwich that has a melty cheese and golden crispy crust. Medium-low heat prevents the bread from scorching too fast and helps in melting cheese.
Butter + mayo: Try the combination of butter and mayonnaise if you want that perfectly crispy exterior and buttery brilliance.
No matter which type of bread you are using, make sure to use the thick-sliced bread. Using thick sliced bread stops it from being soggy.
You can always make it with 1 cheese slice, but the more cheese the better. I have used 3 cheese slices, you can use up to 4 cheese slices.
---