Greek Style Chickpea Salad Recipe
This Greek Style Chickpea Feta Salad With Lemon Garlic Dressing makes an excellent for a light meal, particularly on a warm/hot summer day.
---
« Go back
Print this recipe »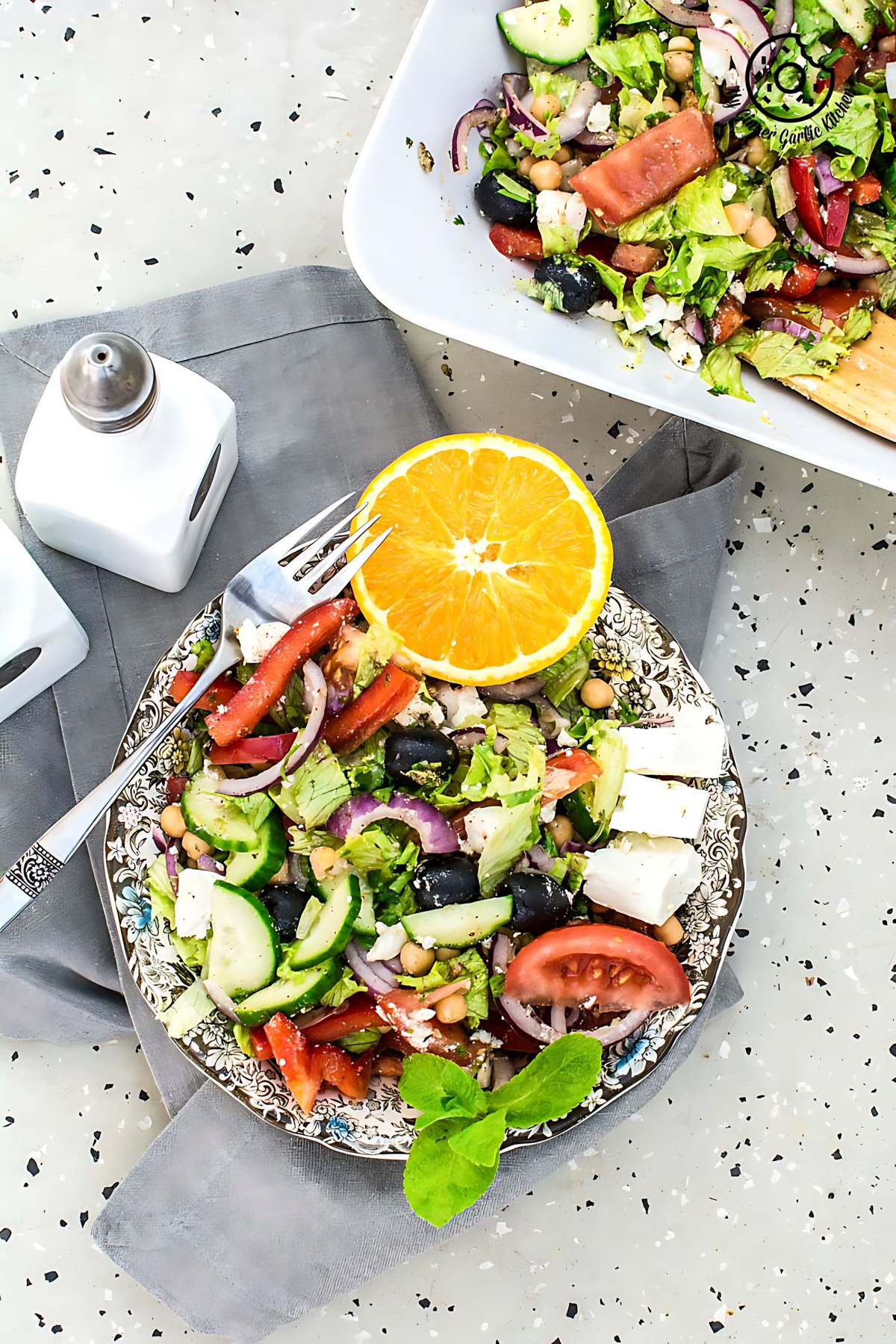 ---
Prep Time = 5 minutes
Cook Time = 5 minutes
Total Time = 10 minutes
Category = Main
Cuisine = Greek
Serves = 4
Nutrition Info = 305 calories
Serving Size = 1 serving
---
RECIPE INGREDIENTS
» For Greek Style Chickpea Salad //
Cucumber, sliced - 1 large
Chickpeas, cooked or canned - 1/2 cup
Tomato sliced - 2 medium
Green Leaf Lettuce, chopped into medium chunks or pieces - 1 head
Red onion, sliced and soaked in ice water for 15 minutes and drained - 1 large
Fresh Parsley, roughly chopped - ¼ cup
Low-fat Feta Cheese - 100 grams
Whole Kalamata Olives - 1/4 cup (I used black)
» For Dressing //
Zest of 1 Lemon
Minced Garlic - 1 teaspoon
Salt to taste (I did not add any)
Ground Black Pepper to taste
Olive oil - 3 tablespoons
Lemon Juice - 3 tablespoons
Dry oregano - 2 teaspoon
---
RECIPE INSTRUCTIONS
» How to Greek Style Chickpea Feta Salad:
Add lettuce, chickpeas, cucumber, onion, tomato, olives into a large bowl.
Toss well and set aside.
» How to make Lemon Garlic Dressing:
In a small bowl, combine all the ingredients for the dressing.
Give it a good mix. Adjust the salt and pepper according to your taste.
» Serving:
Just before serving the salad, drizzle the dressing over fresh vegetables.
Also, sprinkle crumbled feta cheese and toss one more time.
Serve Chickpea Feta Salad on a plate and sprinkle with more feta cheese. Enjoy!
---
RECIPE NOTES
No notes for this recipe.
---