Gobi Manchurian Recipe
Gobi Manchurian is a popular Indo-Chinese dish where crispy fried cauliflower florets are tossed in a sweet and spicy Manchurian sauce.
---
« Go back
Print this recipe »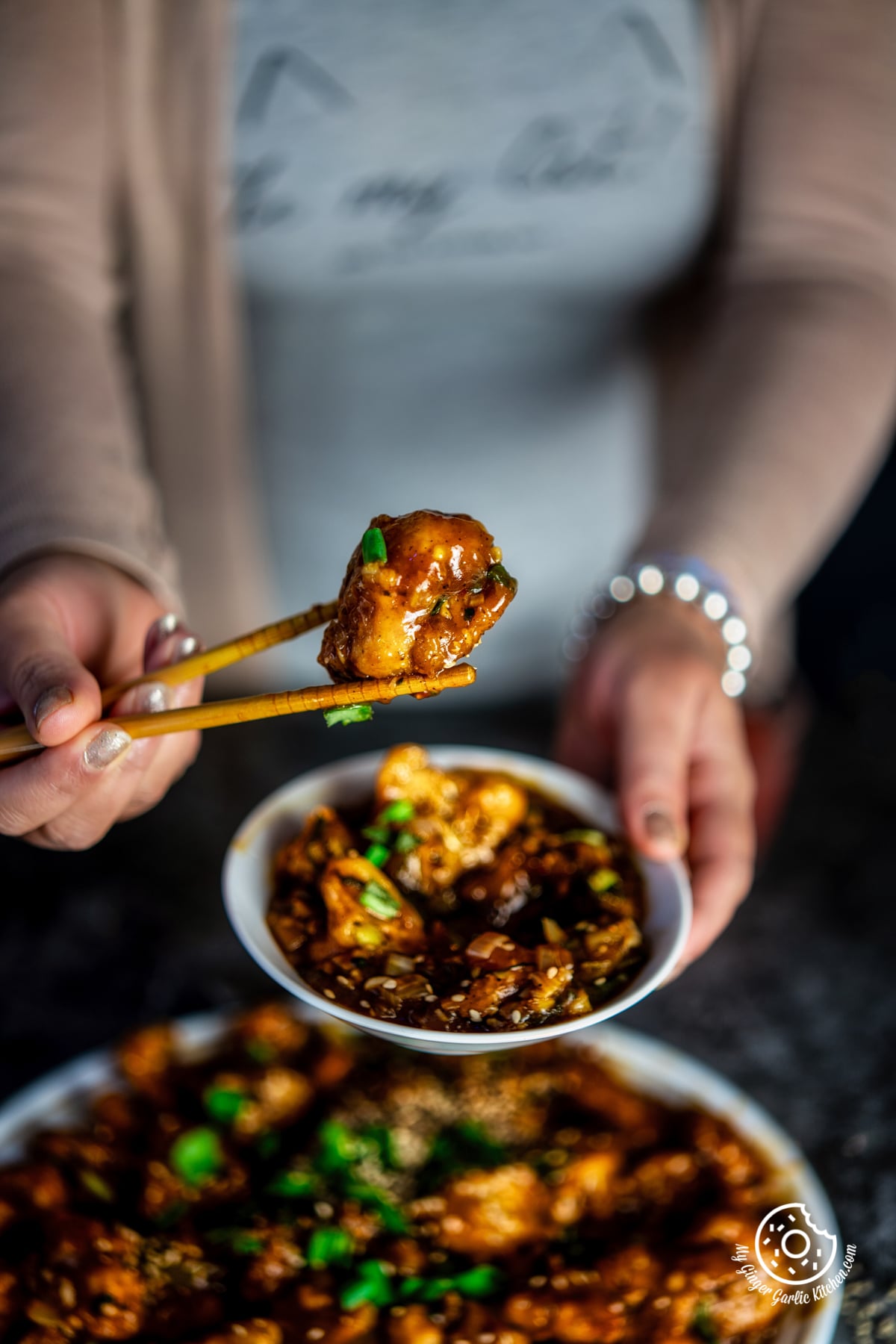 ---
Prep Time = 15 minutes
Cook Time = 20 minutes
Total Time = 35 minutes
Category = Snack
Cuisine = Indo-Chinese
Serves = 5
Nutrition Info = 302 calories
Serving Size = 1
---
RECIPE INGREDIENTS
» For Gobi Manchurian:
500 grams cauliflower (gobi), cut into florets
Water, as needed
1 teaspoon salt
1/2 cup all-purpose flour (maida)
3/4 cup + 3 tablespoons + 2 tablespoons cornflour
1/2 teaspoon + 1/2 teaspoon black pepper powder
1 teaspoon kashmiri red chili powder
Oil for deep frying + 2 tablespoons
1 teaspoon ginger-garlic paste
1 tablespoon ginger (chopped)
3 tablespoons garlic (chopped)
1 tablespoon green chili, chopped
1 small-sized onion, chopped
1/2 cup sliced spring onions + 2 tablespoons
1 tablespoon fresh coriander leaves, chopped
1 teaspoon sugar (optional)
2 tablespoons soy sauce
2 tablespoons red chili sauce
2 tablespoons tomato ketchup
Salt to taste
---
RECIPE INSTRUCTIONS
» Boil Cauliflower (Gobi):
Add hot boiling water to a pan along with 1 teaspoon of salt. Stir well.
Add cauliflower florets and mix again. Let them boil for 2 minutes.
Cover the pan and cook for 2 more minutes.
Drain cauliflower florets with a slotted spoon and transfer them to a mixing bowl.
» Make Batter:
Add about 3 tablespoons of cornflour and coat the florets well by shaking the mixing bowl. Once done, keep it aside.
In a separate mixing bowl add 1/2 cup of all-purpose flour, 3/4 cup of cornflour, salt, 1 teaspoon black pepper powder, 1 teaspoon Kashmiri red chili powder, and whisk.
Add water little by little and make a thick and smooth lump-free batter.
» Deep Fry Cauliflower (Gobi):
Heat oil in a pan over medium heat. Once hot, dip cauliflower florets in the prepared batter.
Drop battered cauliflower florets into the hot oil and fry until they are light golden in color. Do not overcrowd the pan.
Drain the fried cauliflower florets onto an absorbent paper towel-lined plate and fry the remaining florets a similar way.
Now turn the heat to high and drop fried cauliflower florets into the oil and refry them until they are crisp and golden brown.
Remove them on a paper towel lined plate and keep them aside.
» Alternatively, Air Fry Cauliflower (Gobi):
For Air frying, preheat the air-fryer at 200°C/400°F for 5 minutes. Line the air fryer basket with a perforated parchment and brush/spray it with oil.
Line batter coated cauliflower florets in a single layer. Brush all the florets with some oil.
Air Fry at 200°C/390°F for 14 minutes. Halfway through, give the basket a quick shake and spray florets with some oil.
Insert the basket again and air fry for the rest of the time. You will get super crispy and golden fried cauliflower florets.
» Alternatively, Bake Cauliflower (Gobi) in an Oven:
To bake, preheat the oven to 200°C/400°F.
Line a baking tray with parchment paper.
After that, arrange batter coated cauliflower florets in a single layer.
Brush/spray florets with some oil and bake for 18-20 minutes or until golden brown.
» Make Manchurian Sauce:
Heat oil in a skillet or a wok on high heat.
Once hot, add the chopped garlic, chopped ginger, and sauté for a few seconds.
Now, add green chili, chopped onion, sliced spring onion, and sauté for 1 minute.
After that add chopped cilantro and mix well.
Now add red chili sauce, tomato ketchup, soy sauce, and mix well.
Add salt to them and 1/2 teaspoon black pepper (or to taste), and sauté on high heat for a minute.
Add 3/4 cup water and boil for 1 minute.
Now in a small bowl mix 2 tablespoons of cornflour with 2-3 tablespoons of water.
Add cornflour and water mixture and mix well. Cook until sauce thickens.
Lastly, add sugar (if using) and mix everything well.
Once the sauce is ready, add the fried cauliflower and mix well. Cook for 1 minute on low heat.
Turn off the heat and spring onions. Toss well.
Transfer gobi manchurian to a serving dish and garnish with spring onion greens.
Sprinkle with some sesame seeds and serve hot as a snack or a party appetizer.
---
RECIPE NOTES
Double frying cauliflower florets make them super crunchy and delicious. They don't get soggy when you coat them in manchurian sauce. So double frying is highly recommended here. However, if you are not comfortable with double frying the florets, then you can fry them only one time.
After blanching cauliflower, make sure to coat them with cornflour. This dry coating helps them in coating batter.
After frying cauliflower florets, don't keep them for a long time, or else they would start turning soggy, and will not taste as crunchy as they should.
Hot and crispy manchurian tastes the best. So serve gobi manchurian dishes immediately.
The manchurian sauce gets its main taste from the mix of sauces. So, feel free to adjust the amount of sauces according to your taste buds.
---