Garlic Bread - Homemade Garlic Bread
Delicious, and flavorful homemade Garlic Bread Recipe straight from the oven! Here you get each piece perfectly slathered with garlic butter, with crisp edges.
---
« Go back
Print this recipe »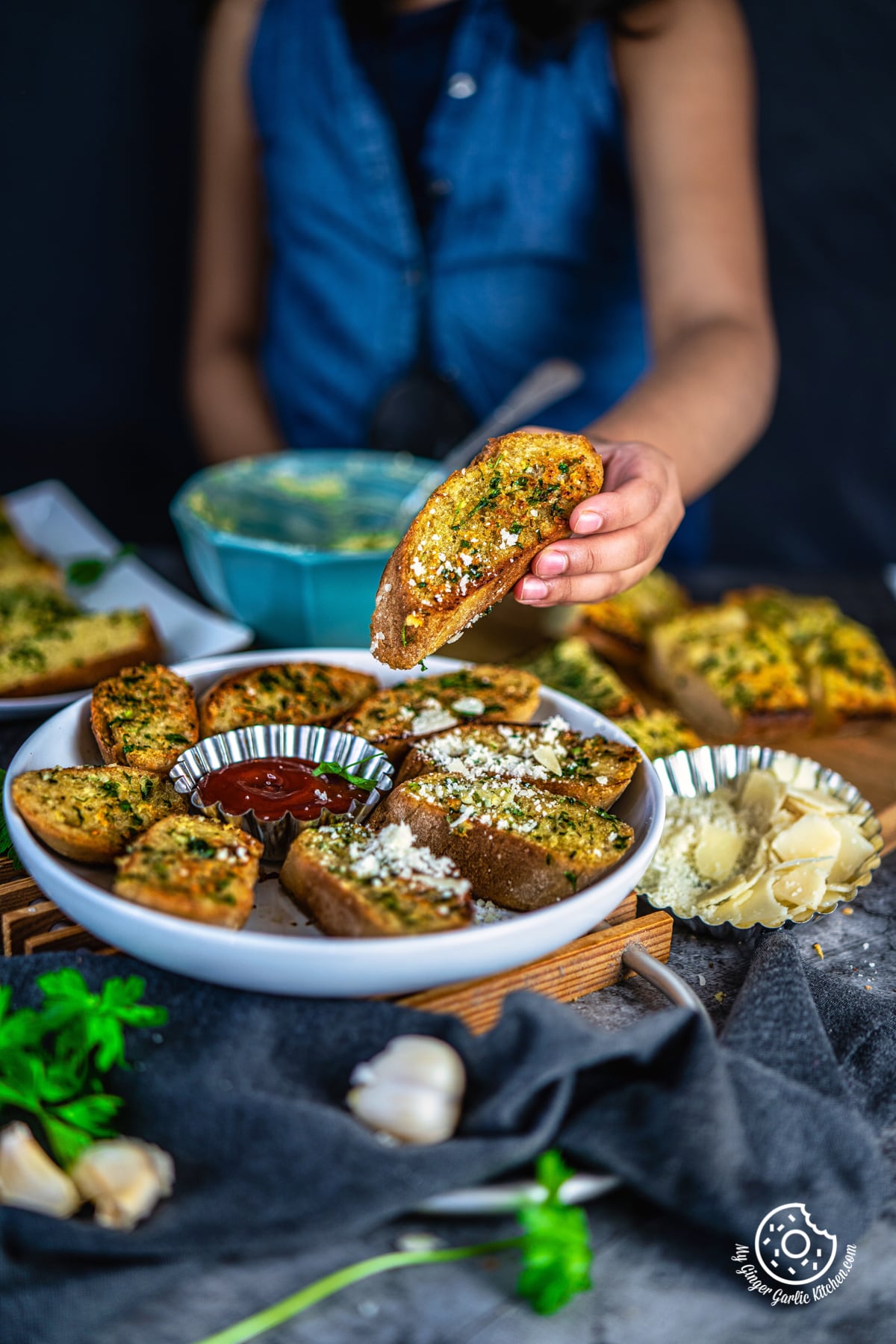 ---
Prep Time = 5 minutes
Cook Time = 10 minutes
Total Time = 17 minutes
Category = Side
Cuisine = Italian
Serves = 8
Nutrition Info = 241 calories
Serving Size = 1
---
RECIPE INGREDIENTS
» For Garlic Bread:
1 cup (227 g) butter, softened
7-8 garlic cloves, peeled
A handful of fresh parsley or cilantro finely chopped
1/4 cup parmesan cheese (Parmigiano Reggiano), grated (optional)
1 large ciabatta loaf + 1 baguette
1/2 teaspoon freshly ground black pepper, (optional)
---
RECIPE INSTRUCTIONS
» Garlic Bread Method:
Finely chop fresh parsley, and keep it aside. Now in a medium bowl, add butter.
Then using a garlic press, mince garlic and add it to the bowl. After that, add ground black pepper, and finely chopped parsley.
Now, mix everything together until thoroughly combined. Garlic butter is ready. Set it aside.
Cut the ciabatta loaf in half, lengthwise. Then spread the garlic butter mixture liberally over the one bread halve. Make sure to coat the bread halve edge to edge with the garlic butter. Keep the other half aside, if making garlic Parmesan bread like me. Or else use the same garlic butter for other halves too.
Garlic Parmesan Bread: To make garlic Parmesan bread, add 1/4 cup of parmesan cheese to the garlic butter and stir well to incorporate all these ingredients. Garlic parmesan butter is ready.
Now, spread a generous amount of garlic parmesan butter across the second bread halve. Line a baking sheet/pan/tray with a foil and place both the bread halves on it.
Preheat the oven to 200°C/400°F and bake it on a middle shelf for about 9-10 minutes or until edges are toasted and golden brown. Remove the bread from the oven and let it cool for 1 minute on a baking tray.
Slice the garlic bread and serve with it any of your favorite pasta or any Italian meal of your choice.
» Garlic Bread Without Oven Method:
Slice the baguette diagonally. You can also slice the baguette horizontally.
Now spread the butter on each slice of baguette.
Now heat a pan over medium-low heat and place the buttered baguette slices; keeping the butter smeared side facing down.
Spread butter also on the other side of baguette slices and toast for 1-2 minutes or until bread slices are toasty, flavorful, and golden.
Flip the baguette slices and toast from the other side too. Alternatively, you can toast garlic bread in a pre-heated grill for about 2 minutes. Remove toasted garlic bread from the pan.
Your delicious, crunchy, and aromatic garlic bread without oven is ready.
---
RECIPE NOTES
Always spread the garlic butter evenly and edge to edge on the bread. It gives them an even garlicky flavor.
I have baked garlic bread in the oven, but you can also broil the bread on high settings for about 45 seconds to 3 minutes until golden brown.
When making garlic bread without the oven, you can toast it in a non-stick or cast iron pan. A grill can also be used for making garlic bread.
Taste garlic butter spread, and feel free to add salt if needed.
---