Karachi Biscuit - Eggless Tutti Frutti Cookies Recipe
Eggless Tutti Frutti Cookies - Karachi Biscuits are one of the most popular tea time biscuits in India. Best served with a hot cup of tea or milk.
---
« Go back
Print this recipe »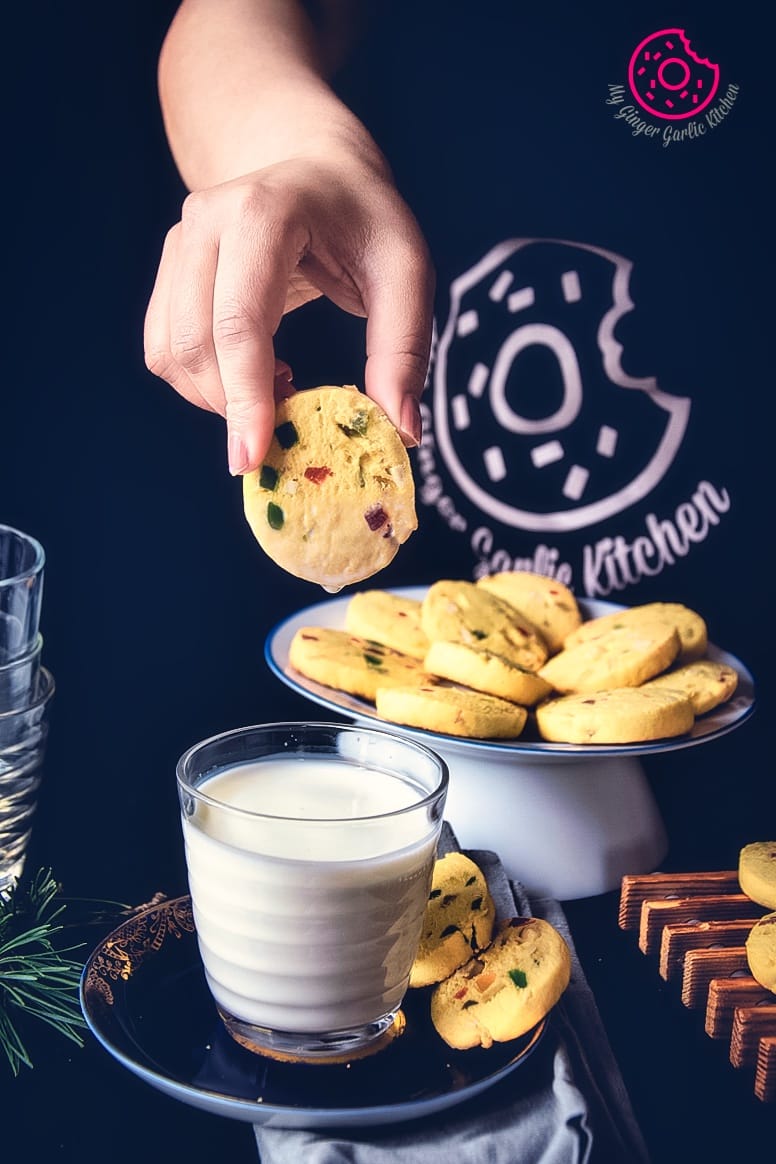 ---
Prep Time = 4 hour(s) 10 minutes
Cook Time = 15 minutes
Total Time = 4 hour(s) 25 minutes
Category = Snacks
Cuisine = Indian
Serves = 30
Nutrition Info = 152 calories
Serving Size = 100g
---
RECIPE INGREDIENTS
» For Eggless Tutti Frutti Cookies:
1.5 cups all-purpose flour / maida (you can also use whole wheat flour)
1/2 cup custard powder
1/8 teaspoon baking powder
A pinch of salt
3/4 powdered sugar
1/2 cup tutti frutti
4 tablespoon chopped cashews
1 teaspoon pineapple essence or rose essence
1/2 cup or 110 gms unsalted butter, at room temperature
4 teaspoon chilled milk, or more if required
---
RECIPE INSTRUCTIONS
» How to Make Eggless Tutti Frutti Cookies:
In a mixing bowl mix sift together flour, custard powder, baking powder, and salt.
Add tutti frutti, cashews, and mix well. Keep it aside.
Add butter and powder sugar to a large mixing bowl.
Cream together butter and sugar together.
Add the dry flour mixture, pineapple essence, and milk and mix till well combined.
Once they are mixed, mix in everything together to form a cookie dough. (You can add more milk if the dough isn't coming together.)
Divide the cookie dough into 2 equal parts and roll them into logs.
Wrap the logs in a cling wrap and refrigerate it for 4-6 hours.
Preheat oven to 350°F/180°C. Line 2 baking trays with parchment paper and set them aside.
Unwrap the cookie dough logs.
With a sharp knife, cut into 1/2 inch thick round cookies.
Place cookies on the prepared baking trays and bake them in a preheated oven at 180°C for 13 to 15 minutes.
Remove from the oven and let them cool completely.
Delicious tutti frutti cookies are ready!
Store these cookies in an airtight container and enjoy them with a cup of tea, coffee, or milk.
---
RECIPE NOTES
Generally, these cookies are made using all-purpose flour aka maida, but you can replace this with whole-wheat flour.
I have added pineapple essence to these bakery style cookies, but you can also add rose essence to these.
These cookies are slightly soft when they are out of the oven, but they turn nice and crisp when they cool down. So have patience.
You can store these crispy and melt-in-mouth cookies in an airtight container at room temperature for about a month.
Chilling is recommended because this step ensures that you get nice flaky cookies. You can chill the dough for 4 hours or more.
---