Eggless Mango Mousse
Creamy, airy, fruity, and fluffy Eggless Mango Mousse is a summer dessert that is not very sweet. It is so full of sweet mango flavors.
---
« Go back
Print this recipe »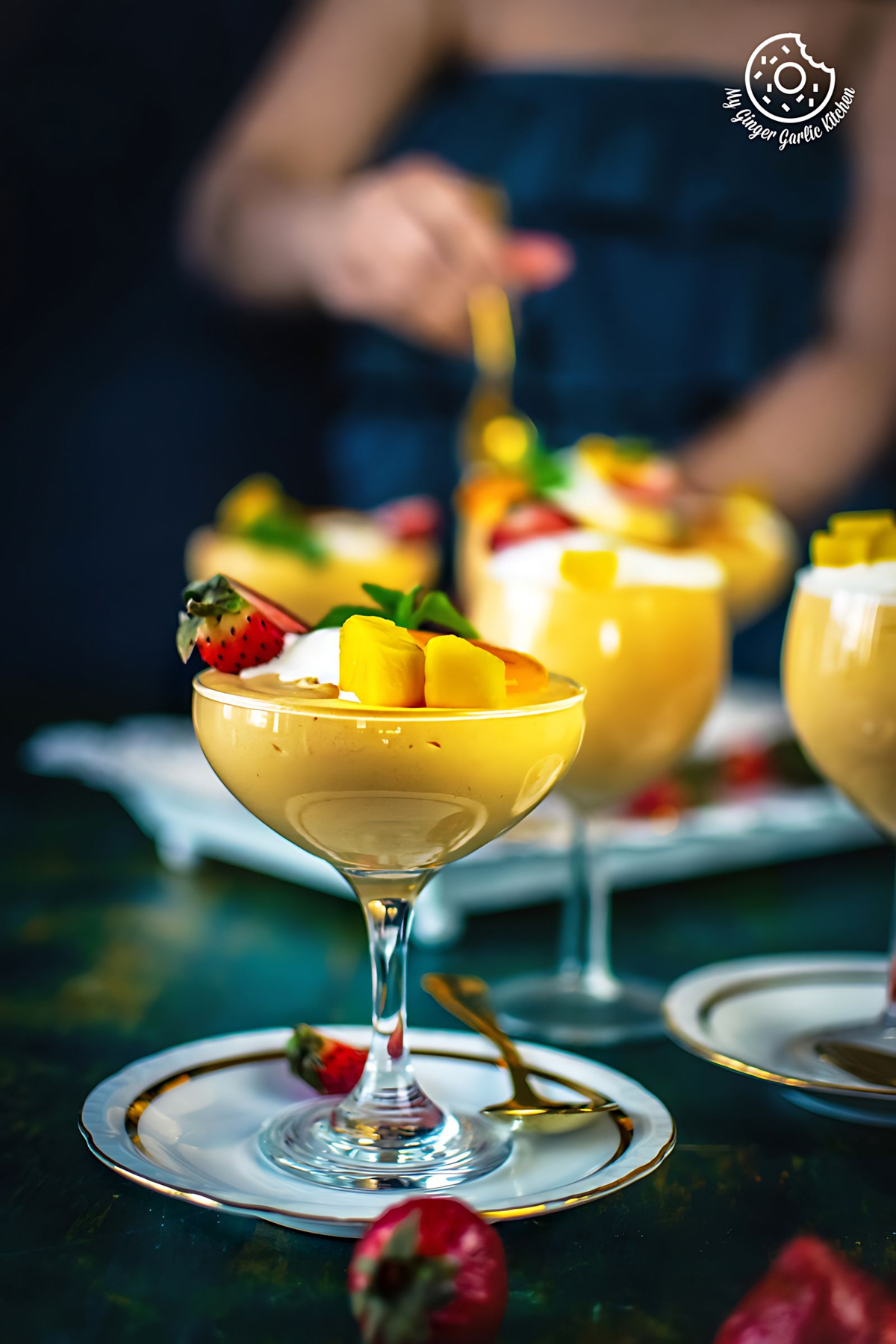 ---
Prep Time = 02 minutes
Cook Time = 4 hour(s) 15 minutes
Total Time = 4 hour(s) 17 minutes
Category = Dessert
Cuisine = French
Serves = 8
Nutrition Info = 209 calories
Serving Size = 1 serving
---
RECIPE INGREDIENTS
» For Mango Mousse //
2 large sized well-ripened mangoes (mine weighed about 1000 grams)
400 ml chilled heavy whipping cream
1/3 cup powdered sugar
A few drops of vanilla or mango extract (optional)
1 teaspoon agar agar powder (you can also use flakes, see notes)
2-3 tablespoons warm milk
» For Serving //
Some whipped cream (optional)
Mango puree (optional)
Chopped mangoes (optional)
Halved strawberries (optional, only for presentation)
» Equipments Needed //
Blender
Cutting board
Hand mixer
Sharp knife
Mixing bowls
Spatula
---
RECIPE INSTRUCTIONS
» How To Make Mango Puree //
Chop mangoes.
Add chopped mangoes to a blendee, and puree until smooth and creamy.
Mango puree is ready. Set it aside.
» How To Make Mango Mousse //
Add 1 teaspoon agar agar powder to a bowl along with 2-3 tablespoons of warm milk.
Stir well and let it sit to dissolve for 1 minute.
Microwave for 1 minute and stir again. Let it cool. (If you don't want to use the microwave then boil agar agar in a pan along with 1/4 cup of milk, and then simmer for 3-4 minutes.)
In a large mixing bowl add the cold whipping cream and whip for about 2 minutes.
Next, add powdered sugar, vanilla extract, and whip for 9-10 minutes until medium peaks form. If you're looking for a mousse with a more solid texture, then you can also whip the cream until stiff peaks form.
Add cooled agar agar mixture and whip for another minute.
Add pureed mangoes and fold gently until combined.
Using a soft spatula, gently and thoroughly fold mango puree into the whipped cream until fully incorporated.
Pour the mousse into dessert glasses or bowls.
Refrigerate and allow to set for at least 4 hours before serving.
Once set, you can serve it as it is or top it with some whipped cream, mango puree, chopped mangoes, and some strawberries.
Enjoy chilled!
---
RECIPE NOTES
I am using agar agar powder here, but you can also use flakes. If using flakes then dissolve agar agar in about 1/4 cup milk and microwave for 3 minutes. You can also simmer for 10-15 minutes in a pan.
You can skip agar agar powder if you dont fuss about super airy and light texture of your mousse.
For decoration, reserve some of the whipped cream and mango puree in separate bowls.
If you dont have mangoes, then you can also use storebought mango puree. For this recipe, you will need 1 3/4 cups of mango puree.
Always use warm liquid to dissolve agar agar powder. Do not use super-hot liquid, or else it will clump.
I added few drops of vanilla extract to this recipe. But it is entirely optional. You can skip flavouring or choose any other flavourings such as mango, saffron or cardamom.
You can easily adjust the amount of sugar according to your taste and natural sweetness of mangoes.
Always use well-ripened sweet mangoes to get the best result.
You can also replace sugar with the same amount of sweetened condensed milk.
You can store mango mousse in the fridge, covered with plastic wrap, for up to 3 days.
This recipe can easily be doubled or tripled.
---