Fruit and Nut Couscous Paneer Pudding with Chocolate
This Fruit and Nut Couscous Paneer Pudding is rich, creamy with a classic texture. It has similarity to Indian rice pudding, aka Kheer. Serve as dessert.
---
« Go back
Print this recipe »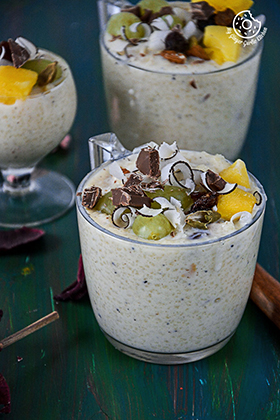 ---
Prep Time = 10 minutes
Cook Time = 1 hour(s) 30 minutes
Total Time = 1 hour(s) 40 minutes
Category = Dessert
Cuisine = International
Serves = 4
Nutrition Info = 258 calories
Serving Size = 1 serving
---
RECIPE INGREDIENTS
» For Pudding //
couscous - 1 cup
crumbled paneer - ½ cup
sugar - ¾ cup or as per taste
Semi skimmed milk - 1l
cardamom, crushed - 1 tsp
saffron - 7-8 strands
raisin - 4 tbsp
almonds, chopped - 4 tbsp
» For Toppings //
mango, chopped - ¼th
raisins - 1 tbsp
chopped almonds - 4 tbsp
grapes - ¼ cup
coconut shavings - 4 tbsp
dark chocolate, roughly chopped - about 50 gms
rosewater (optional)
---
RECIPE INSTRUCTIONS
» Making Fruit and Nut Couscous Paneer Pudding //
Wash couscous and soak in 2 cups of water for 10 minutes. Drain excess water from couscous and set aside.
Heat milk in a heavy bottomed pan and bring it to a boil.
Add couscous and boil on a medium-low heat till the couscous is soft.
Add crumbled paneer and cook for about 7-8 minutes.
Grind the Saffron with 1 tbsp of milk and add it to the Milk, and let it boil for 7-8 minutes.
Keep stirring the pan and make sure it does not stick to the bottom.
Add sugar, cardamom and cook on low heat for 6-8 minutes.
Add raisins, almonds and cook on low heat for 2-3 minutes.
Remove from heat, allow to cool a little. Drizzle rose water and mix well.
Cover and place in the fridge for about 4 hours or overnight.
» For Serving //
Pour the pudding into 4 bowls or glasses.
Top with chopped mangos, grapes, coconut shavings, crushed cardamom, almonds, raisins, and dark chocolate. Drizzle few drops of rosewater, if desired.
Serve chilled or warm.
---
RECIPE NOTES
No notes for this recipe.
---