Cream Cheese White Chocolate Truffles
These incredibly easy and delicious cream cheese white chocolate truffles are a blissful tranquillity of smooth, creamy, rich, and decadent mix.
---
« Go back
Print this recipe »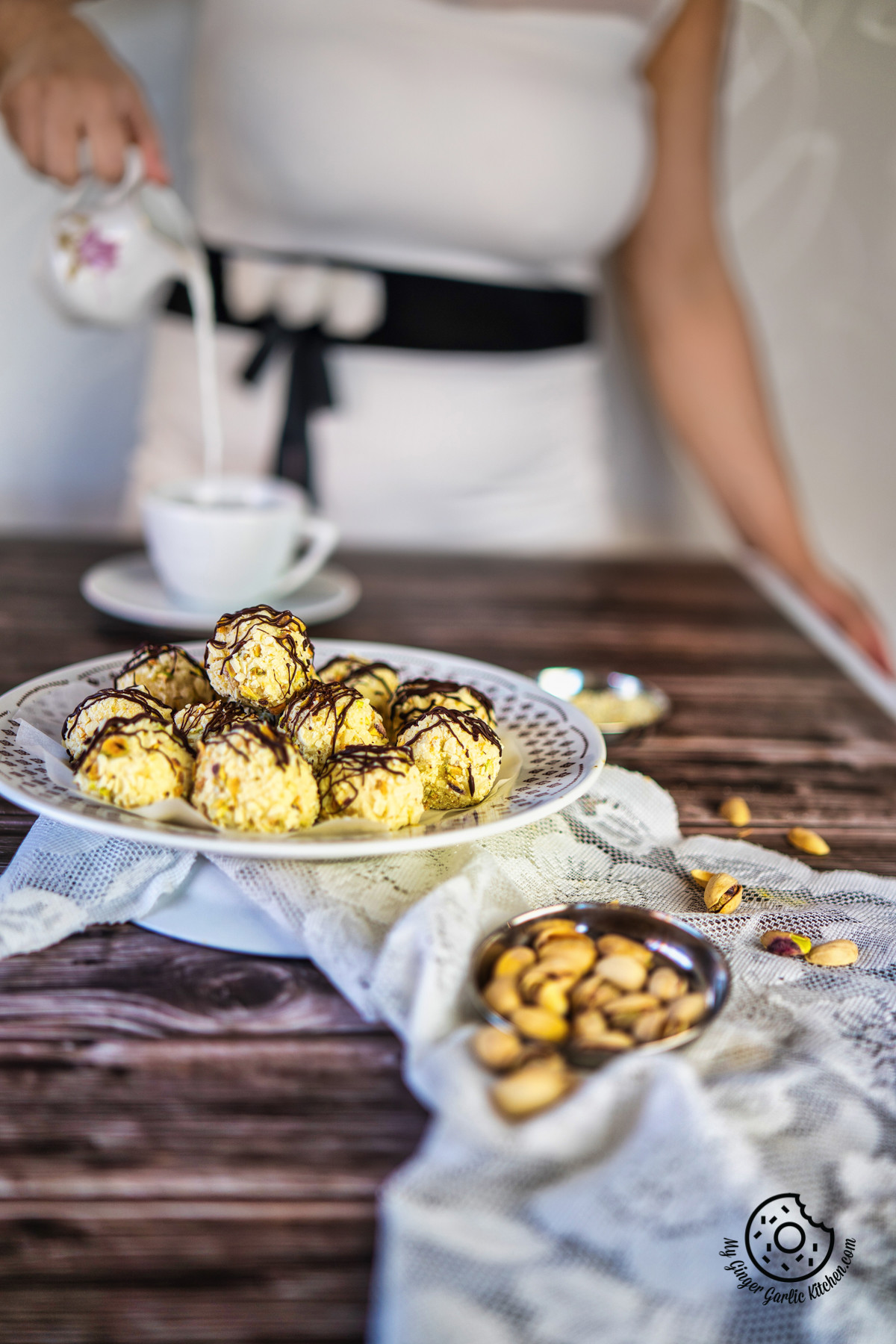 ---
Prep Time = 10 minutes
Cook Time = 50 minutes
Total Time = 60 minutes
Category = Dessert
Cuisine = French
Serves = 14
Nutrition Info = 69 calories
Serving Size = 1
---
RECIPE INGREDIENTS
» For Cream Cheese White Chocolate Truffles:
200 grams couverture white chocolate
200 grams cream cheese
1 teaspoon lemon juice
1/2 teaspoon lemon zest
Few drops of lemon extract (optional)
14 salted roasted pistachios, shelled (number of pistachios depends on the number of truffles you are making)
3-4 tablespoons melted semi-sweet or white chocolate for drizzle (optional)
» For Toppings:
3 tablespoons salted roasted pistachios, shelled and chopped
200 grams white chocolate (regular)
---
RECIPE INSTRUCTIONS
» For Making Cream Cheese White Chocolate Truffles:
In a medium bowl, beat the cream cheese until you get a smooth consistency.
Now, add lemon juice, lemon zest, and lemon extract. Mix until well combined. Keep it aside.
Now chop 200 grams couverture white chocolate.
Add chopped white chocolate to a large bowl, and melt it in a double boiler (bain-marie) or the microwave.
Once melted, remove the bowl from the pot. Set it aside and let it cool until it is at room temperature. It should still be liquid at this point.
Now add whisked cream cheese mixture to the bowl and mix until well well-combined.
Cover the bowl with cling the wrap, and freeze for 15-20 minutes or until the mixture is firm enough to scoop. It should be firm but not rock-hard.
Line a freezer-safe plate with cling wrap or parchment paper.
Using a candy or small ice cream scoop, portion out mixture into a 1-inch small ball, and flatten it.
Place 1 pistachio to the center.
Now bring the sides above the nut to close it and roll it into a ball. Similarly, make all the truffles.
Place all the truffles to the prepared plate and freeze them for 15 minutes or until firm.
In a small bowl, add 200 grams of chopped white chocolate and chopped pistachios. Mix well and set aside.
After that, roll the ball into chocolate pistachio mix by pressing the mixture gently into the truffle.
Place them onto parchment paper and refrigerate truffles for 10 minutes.
Now drizzle truffles with melted chocolate and refrigerate for 10 more minutes.
Serve chilled. Store cream cheese white chocolate truffles in an airtight container in the refrigerator for up to 4 days.
---
RECIPE NOTES
The number of truffles you get from this cream cheese white chocolate recipe will depend on how big or small your truffles are. I've made 14 truffles with this recipe.
If you are planning for gifting this cream cheese white chocolate, then you can easily double or triple it to make a bigger batch of homemade truffles.
To make cream cheese oreo truffles, you can add 1/4 cup of crushed Oreos to the cream cheese mix.
The heat of your hands might make rolling truffles a bit difficult. To prevent the heat of your hands from melting the truffles, you can wear kitchen gloves before rolling truffles.
Make sure to chill the mixture in the freezer until it becomes firm or else it will be very difficult to roll into balls.
For even-sized scooping, use a small ice cream scoop. This way you'll get similar sized truffles.
---