Cream Cheese Cookies
These delightfully fluffy, moist, and super delicious melt-in-mouth cookies are made with cream cheese, sugar, and flour. Great with milk.
---
« Go back
Print this recipe »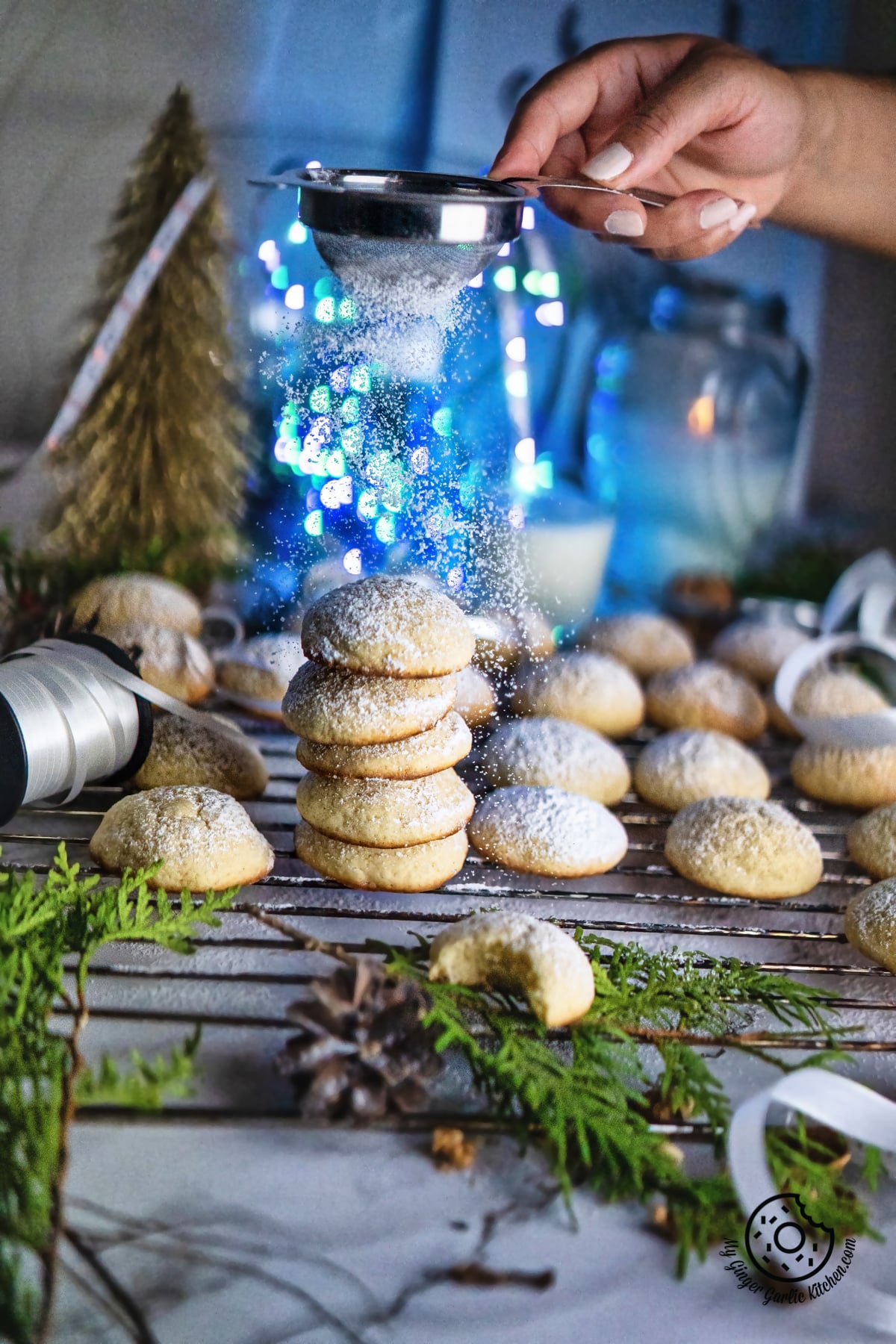 ---
Prep Time = 1 hour(s) 10 minutes
Cook Time = 09 minutes
Total Time = 1 hour(s) 19 minutes
Category = Dessert
Cuisine = American
Serves = 26-27
Nutrition Info = 70 calories
Serving Size = 1 cookie
---
RECIPE INGREDIENTS
» For Cream Cheese Cookies:
1 3/4 cups (220 g) all-purpose flour
1/2 cup (115 g) cream cheese, softened
1/2 cup (115 g) butter, room temperature
1 cup (200 g) granulated sugar
2 teaspoons vanilla extract
1 egg, room temperature
1/2 teaspoon salt
1/2 teaspoon baking powder
1-2 tablespoons of icing sugar for dusting
---
RECIPE INSTRUCTIONS
» How to Make Cream Cheese Cookies:
In a large bowl, cream together butter and cream cheese using an electric hand mixer or in a stand mixer fitted with a paddle attachment.
Once combined, add the granulated sugar and beat until sugar dissolves and the mixture is light and fluffy.
After that, add egg and beat well until combined.
Place a sieve over the same bowl and add all-purpose flour, salt, and baking powder. Pass it through the sieve into the mixture.
Now add vanilla extract to the same bowl.
Mix using a spatula until wet and dry ingredients are combined. Make sure to scrape the sides. You will get soft, sticky, and gooey batter.
Once the batter is ready, cover the bowl using a cling wrap and chill for 1-2 hours.
Pre-heat oven to 375°C/190°F, and line a baking tray with parchment paper.
After chilling, portion out about 2 tablespoons of the mixture using an ice cream scoop or a spoon.
Dampen/dust your hand and roll it into a ball. Similarly, keep making the balls until all the dough is used up.
Place the rolled balls on the prepared baking tray approximately 2 inches apart from each other.
Bake for 9-11 minutes or until the edges are set.
Remove baked cookies from the oven and transfer them to a wire rack and let them cool completely.
Dust them with icing sugar and enjoy with a cup of hot chocolate or coffee. Store them in an air-tight container for up to 2 days.
---
RECIPE NOTES
I sifted dry ingredients to get a smooth finish, but that is not compulsory for this recipe. So you can also add dry ingredients directly without sifting.
Make sure to measure flour by using a scale, before adding to the wet ingredients. It should be exactly 220 grams. If you don?t have a scale, then fill the cup with flour and level it up using a knife.
The dough will be sticky and might be a bit hard to roll. So for ease of rolling either dust your hands with some dry flour or dampen them with some water before rolling. You may need to dust/dampen quite often.
You can bake these cookies for 9-10 minutes. Every oven temperature is different so baking time may vary. The best thing to avoid any overbaking is to keep an eye on the cookies after 7-8 minutes.
The cookie dough chilling time is very important. So make sure you chill the cookie dough for at least an hour. You can chill the dough for 1-2 hours.
---