Coconut Mango Chia Pudding
5 ingredients thick, creamy **Coconut Mango Chia Pudding** with layers of coconut chia pudding and mango puree is healthy and a wonderful way to start morning.
---
« Go back
Print this recipe »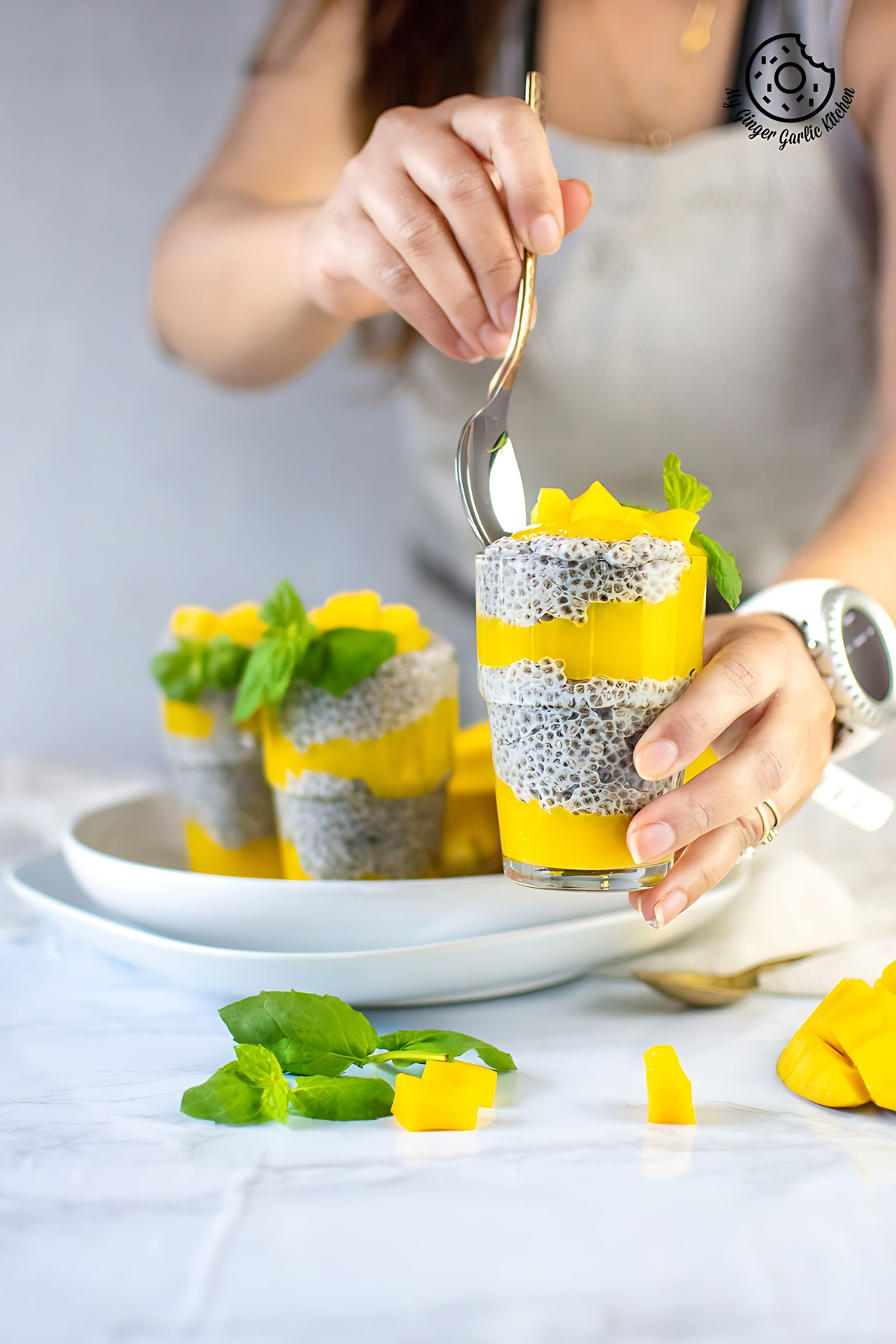 ---
Prep Time = 02 minutes
Cook Time = 03 minutes
Total Time = 05 minutes
Category = Breakfast
Cuisine = International
Serves = 4
Nutrition Info = 175 calories
Serving Size = 1 serving
---
RECIPE INGREDIENTS
» For Coconut Mango Chia Pudding //
1 & 1/4 light coconut milk (I used creamy)
1/4 cup or 4 Tablespoons chia seeds
2 Tablespoon honey/maple syrup or as per taste (you can also use any other sweetener of choice)
1 medium-sized mango
Chopped mangoes, for topping
---
RECIPE INSTRUCTIONS
» Making Mango Puree //
Chop mangoes, and add them to a blender jar and blend until smooth.
Mango puree is ready. Keep it aside.
» Making Coconut Chia PuddinG //
Add 1 cup of coconut milk, chia seeds, vanilla extract to a large mixing bowl.
Stir well to combine.
Let it sit 10 minutes and then stir well to get rid of any clumps.
After 10 minutes, mix again.
Next, add honey, and 1/4 cup of milk.
Stir well again.
Cover and refrigerate to set for at least 4 hours or overnight.
» Assembling Coconut Mango Chia Pudding //
Once coconut chia pudding has set, stir it again and set aside.
Grab 4 individual serving glass or jars, and add 1 tablespoon mango puree to each glass.
Now, divide half of the pudding and spoon it out into 4 serving glasses.
Then make a layer of mango puree by adding 1 tablespoon mango puree to each glass.
Divide the rest of the pudding into all 4 glasses.
Top with some mango puree and chopped mangoes.
Serve chilled!
---
RECIPE NOTES
I have used creamy and thick coconut milk for this recipe because it gives a nice rich and creamy texture to this pudding. But you can also use light coconut milk for this recipe.
I added 2 tablespoons of sweetener for 4 servings of this pudding. Feel free to adjust the amount of sweetener according to your taste buds.
You can omit the maple syrup, if the mango alone makes it sweet enough for you.
If your mangoes are not sweet enough, then you can also add some sweetener to mangoes while pureeing.
For the topping, you can also use toasted coconuts, chia seeds, and a drizzle of honey/maple syrup.
I have used fresh mangoes for this coconut mango chia pudding recipe, but you can also use frozen mangoes for making puree.
If you dont want to make mango puree, then simply use canned mango chunks or mango puree.
To make it fuller, you can also use some granola or muesli toppings for this pudding.
Always add topping right before serving.
Instead of pureeing mangoes separately, mangoes can also be pureed along with coconut milk before soaking chia seeds. I personally like this pudding in layers so I add mango puree in a layer.
You can also replace honey/maple syrup with 2 tablespoons of pureed dates.
You can refrigerate any leftovers. Mango chia pudding would stay fresh for up to 4 days.
Sometimes pudding does not thicken up properly. If your chia seed pudding is still liquid and didn?t set as it should, then add about 1 tbsp of chia seeds to the pudding and whisk well. Let it sit for about an hour, and your pudding will thicken up.
I personally like to use honey because it is higher in antioxidants, lower in fructose-content, is less processed, and has many other health benefits. Feel free to choose any other sweetener.
To get more mango-ey flavors in this pudding, you can add mango chunks in the coconut chia pudding.
You can also add shredded toasted coconut in the coconut chia pudding right before serving it.
---