Black Eyed Peas Curry in Pepper Onion Sauce
This classic Black Eyed Pea Curry is a healthy, easy, quick and no fuss recipe where black eyed pea is cooked in a pepper onion sauce. Serve with rice.
---
« Go back
Print this recipe »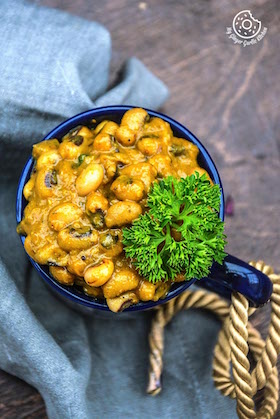 ---
Prep Time = 10 minutes
Cook Time = 40 minutes
Total Time = 50 minutes
Category = main
Cuisine = Indian
Serves = 6
Nutrition Info = 146 calories
Serving Size = 1 serving
---
RECIPE INGREDIENTS
» For Black Eyed Peas Curry in Pepper Onion Sauce
2 cups Black eyed pea, soaked for overnight
1 big, yellow bell pepper, diced
2 large-sized red onions,cut into dices
2 large-sized tomatoes, roughly chopped
2 tablespoons onion, ginger-garlic paste
3 tablespoons oil
1 bay leaf
1 teaspoon cumin seeds
1 teaspoon mustard seeds
1/2 teaspoon turmeric powder
1 teaspoon Kashmiri red chili powder
1/2 cup fresh cream
2 teaspoons coriander powder
3-4 green chilies, slitted
1 teaspoon tomato ketchup
2 tablespoons kasuri methi
1/4 teaspoon garam masala, powder
salt, as per taste
cilantro (coriander) leaves, and green chilies for garnish
---
RECIPE INSTRUCTIONS
» How to Make Black Eyed Peas Curry in Pepper Onion Sauce //
Take a pressure cooker. Add black eyed beans with salt, 3 cups of water, and cover the lid. Pressure cook for 3 whistles. Let it cook on low heat for about 5 minutes.
When the cooker has cooled off, open it.
Heat a pan, and add 3 tablespoons oil to it. Add cumin seeds, mustard seeds, and bay leaf to it.
When cumin seeds start to crackle, add onion, ginger-garlic paste to it. sauté for 5 minutes. Add chopped tomatoes, and saute for 3-4 minutes.
Add bell pepper, and onions. Saute for 3 minutes. Add turmeric powder, and saute for another 3 minutes. Now add coriander powder, chili powder, garam masala powder, and salt along with 1 cup of water.
Add green chilies and boil it covered for 2 minutes. Add kasuri methi, tomato ketchup and mix well. Cooked covered for 5-7 minutes.
Remove from heat, and let it cool. Transfer into a blender, and blend until smooth.
Heat a pan. Add pepper onion gravy to it. Let it come to a boil. Add boiled black eyed peas and fresh cream. Cook for 3-4 minutes on medium heat.
Remove from heat, and garnish with fresh cream, green chilies and cilantro leaves.
Serve hot with steamed rice or any of your flatbread. Enjoy!
---
RECIPE NOTES
No notes for this recipe.
---