Chocolate Modak
Chocolate Modak is made with milk, sugar, almond flour, and cocoa powder. These decadent no-bake treats are perfect for Ganesh Chaturthi.
---
« Go back
Print this recipe »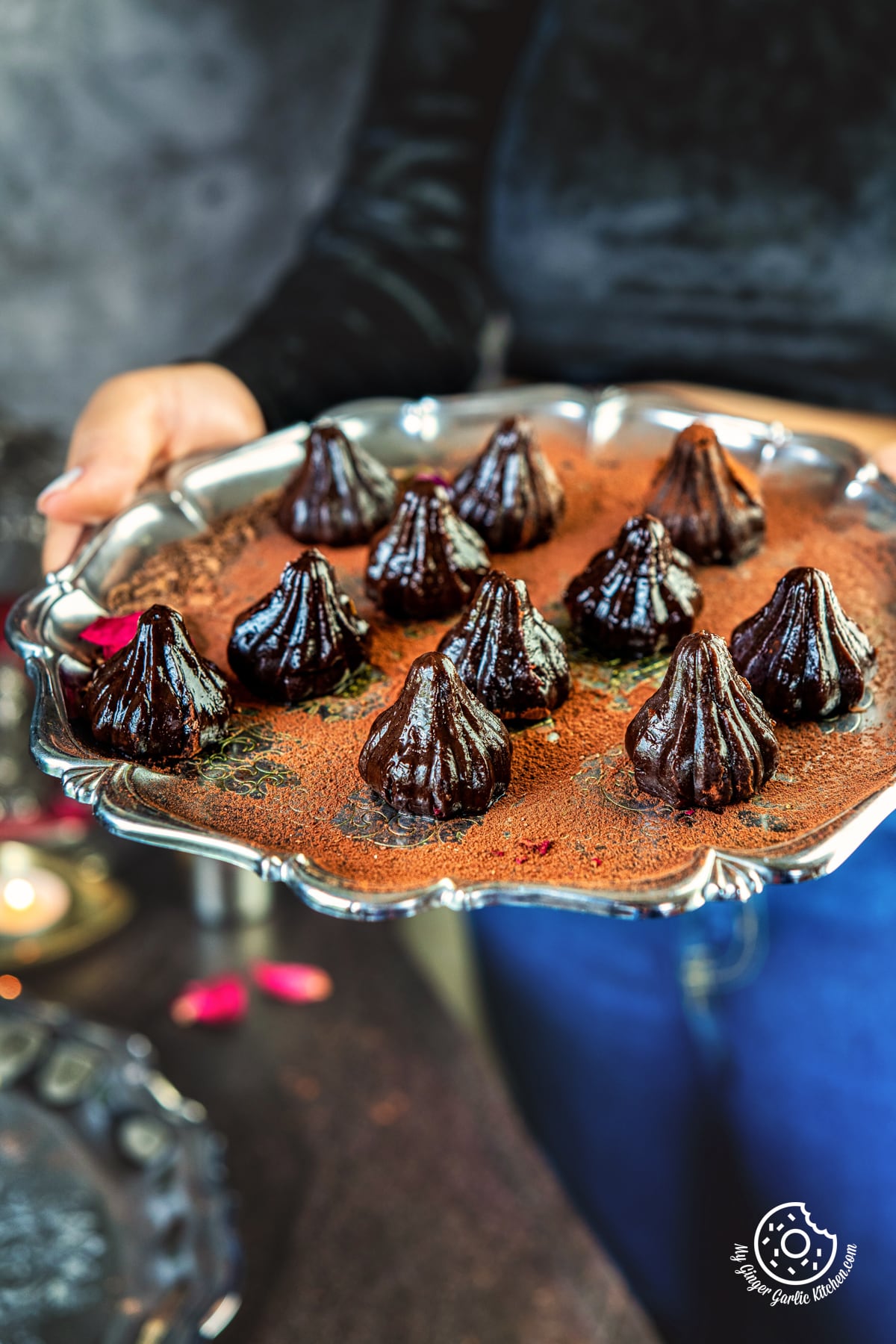 ---
Prep Time = 5 minutes
Cook Time = 40 minutes
Total Time = 45 minutes
Category = Dessert
Cuisine = Indian
Serves = 10-12 modaks
Nutrition Info = 121 calories
Serving Size = 1
---
RECIPE INGREDIENTS
» For Chocolate Modak
2 cups whole or full-fat milk
1/2 cup sugar
1/3 cup + 1 tablespoon almond flour
2 tablespoons cocoa powder, I used Dutch processed
1 tablespoon ghee + for greasing the mold
Few drops of vanilla extract
---
RECIPE INSTRUCTIONS
» How to Make Chocolate Modak
Add milk to a large wide pot over medium heat. Stir it for a minute, then add 1/2 cup of sugar. Heat the milk on medium heat until the sugar has dissolved. Keep stirring regularly.
Once the sugar has dissolved completely, switch the heat to medium-low. Let it cook until the milk has reduced by half and thickened, this would take about 10 minutes.
Once the milk has been reduced, add almond flour and mix well until combined. Cook for 2-3 minutes. After that, add unsweetened cocoa powder to the pan and mix well until everything is combined.
Now add vanilla extract and cook the chocolate mixture for about 5-6 minutes. Keep stirring consistently, so the chocolate mixture doesn?t burn and stick to the pan. Add 1 tablespoon of ghee and cook again until it becomes thick. First, the mixture would look like a thin brownie-like batter, and when it's cooked it will reach a thick consistency. Once it?s thick, remove it from heat.
Transfer the mixture to a greased plate. Spread the mixture and allow the mixture to cool and thicken to room temperature. After that, freeze it for 10-15 minutes or refrigerate it until chilled.
Grease your hands. Take a small portion of the mixture and roll between greased palms. Grease the modak mold. Place a small ball in the greased modak mold. Press it inside using your thumb or index finger.
Remove the excess mixture from the bottom and sides and then gently demould. You have the modak shape, carefully place it on a plate.
Similarly, make all the chocolate modaks and refrigerate them until chilled. This step will help them set. Once chilled, modaks are ready to serve. Arrange chocolate modak in a serving tray. These stay fresh for up to 1 week.
» How to make modak Without Mold
Take a small portion of chocolate mixture and roll it into a ball using greased palms. Then pinch the top. After that, slit the edges with a knife or a toothpick to create a fluted dumpling look. You can check out the video recipe for more clear instructions.
---
RECIPE NOTES
Stuffing - I have stuffed these modaks. But if you like, feel free to stuff them with chopped nuts, chocolate chips, chocolate nibs, or salted caramel.
Garnish - I didn't garnish them, because they look pretty shiny and festive on their own. But if you wish, you can garnish them with rose petals, edible silver/golden leaves, or pistachios.
Refrigerate - This chocolate mixture doesn't have much flour, so would be a little sticky and hard to shape if you use it at room temperature. I would suggest freezing the mixture for at least 10-15 before shaping modaks. If the mixture gets warm, freeze it again for a few minutes or until the mixture is chilled again. Also, keep the modaks refrigerated.
---