Chocolate Lava Cake
Chocolate Lava Cake is a supremely chocolaty, rich, decadent, gourmet dessert which is in an elegance of itself. It is astoundingly easy to make them at home.
---
« Go back
Print this recipe »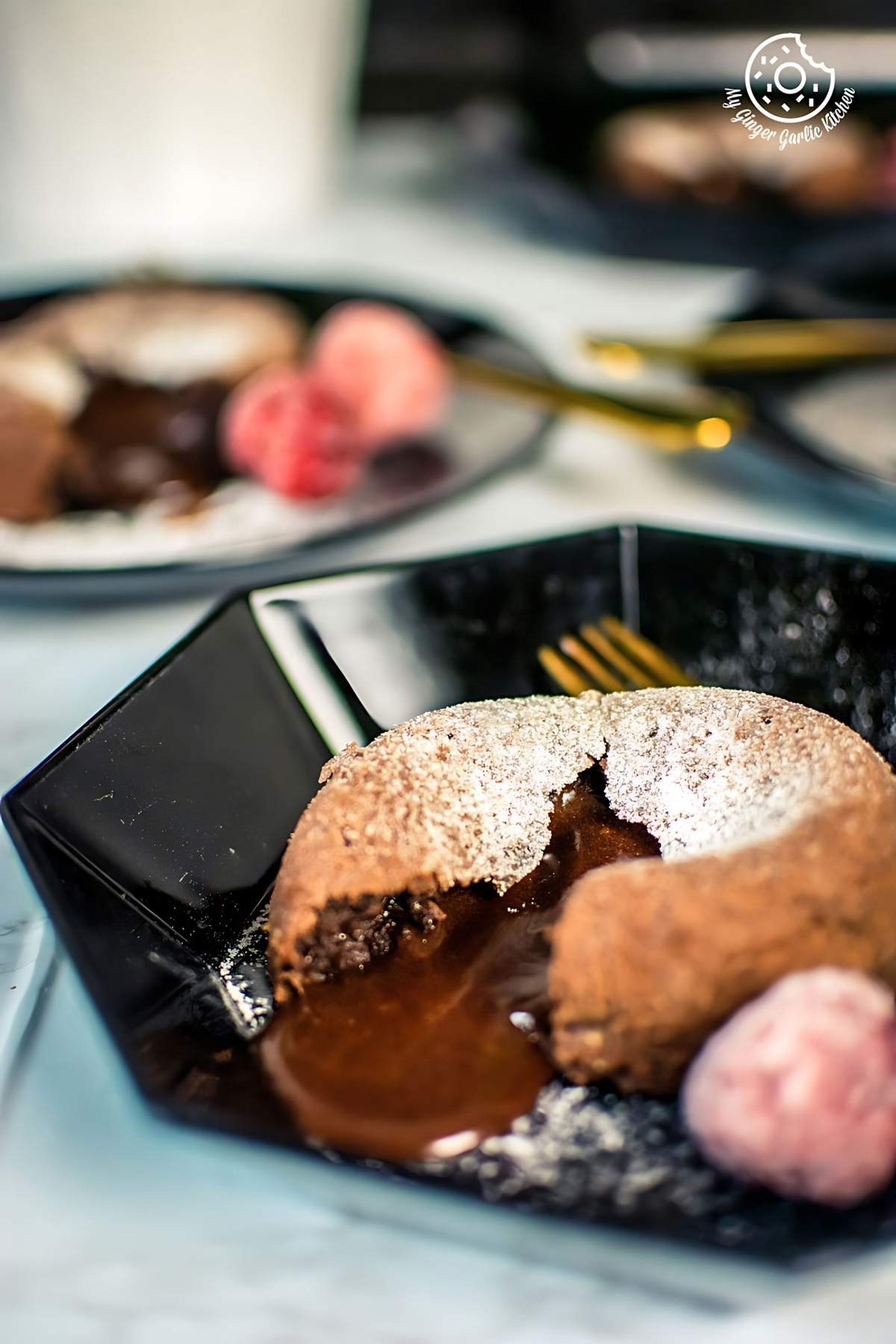 ---
Prep Time = 07 minutes
Cook Time = 11 minutes
Total Time = 18 minutes
Category = Desserts
Cuisine = French
Serves = 4
Nutrition Info = 371 calories
Serving Size = Per serving
---
RECIPE INGREDIENTS
» For Chocolate Lava Cake //
1/2 cup unsalted butter, cut into cubes, plus more for greasing the ramekin
1/4 cup granulated sugar
115 grams high quality bittersweet or dark chocolate, 70 to 74 percent cacao (do not use chips)
2 large eggs
2 large egg yolks
2 tablespoons all-purpose flour, plus more for dusting the ramekin
Pinch of salt
½ teaspoon vanilla extract
» Optional For Serving (choose any of the below) //
Chocolate syrup
Confectioners? sugar or cacao powder
Strawberries or raspberries
Vanilla ice cream
Whipped cream
---
RECIPE INSTRUCTIONS
» Prepare ramekins //
Preheat oven to 225°C (440°F). Generously butter 4 ramekins. (Mine was 9cm wide (200ml).
Dust the buttered ramekin with all-purpose flour. Tap out the excess flour. Keep the prepared ramekins aside.
» Melt Chocolate //
Coarsely chop the chocolate.
Add chopped chocolate and cubed butter to a heat-proof bowl. Microwave on high for 30 seconds. Stir well. And microwave again for 40 seconds. Stir well. By this time you should get perfectly melted and smooth chocolate. Microwave 10 more seconds, if chocolate is not melted completely.
Set it aside. Alternatively, melt chocolate in a double boiler. To melt, place chocolate and butter bowl over a pan of simmering water. Cook, while stirring occasionally until chocolate is entirely melted and smooth.
» Make Lava Cake Batter //
In a medium bowl, beat the 2 large eggs with the 2 large egg yolks, vanilla, and sugar.
Whisk vigorously until the mixture is thickened, foamy and pale. This would take about 2 minutes.
Next, add salt, and flour. Whisk until smooth.
Add the melted chocolate to the egg mixture and whisk gently until combined.
» Bake Lava Cake //
Place the prepared ramekins on a parchament paper lined baking tray.
Pour the mixture into the prepared ramekins.
Bake for 11 minutes or until the edges of the cake are firm, but the centers are still soft. Take the ramekins out of the oven and let them cool in the ramekins for a minute.
Hold the hot ramekins from the bottom using an oven mitten or kitchen towel. Then place a dessert plate over the ramekin and carefully turn over.
Remove the ramekin. When inverted the cakes should release easily from the ramekin. If the cake is not releasing easily then use a spoon or knife to release the cake from the ramekin.
Dust the cake with confectioners? sugar.
Serve as it is or with some ice cream or whipped cream.
---
RECIPE NOTES
This cake batter can be refrigerated for up to 2 days hours. So you can make this batter in advance and refrigerate. To refrigerate, cover the bowl tightly and keep it in the refrigerator. Just bring it to room temperature before baking. You can also bake the cake directly from the refrigerator, but then you need to increase the baking time. An additional 2 minute baking time should enough.
You can freeze the baked lava cakes for up to 3 months. Allow them to cool completely before freezing. When you want to serve, re-heat cakes in the microwave.
When making lava cake, make sure to use the highest quality dark chocolate possible. Do not use chocolate chips for making lava cake, or else you wont have much lava oozing out of the cake. You can either use baking chocolate bars or regular dark chocolate bars. They both work great here.
---