Carrot Zucchini Semolina Pancake
Carrot Zucchini Semolina Pancake is a delicious and quick breakfast / lunch recipe made with semolina, yogurt, onion, carrot, zucchini and some spices.
---
« Go back
Print this recipe »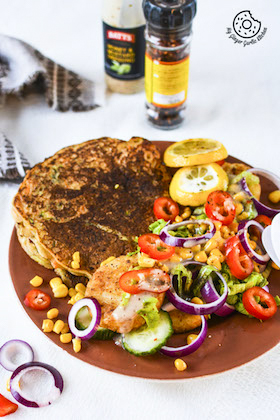 ---
Prep Time = 10 minutes
Cook Time = 15 minutes
Total Time = 25 minutes
Category = lunch/Breakfast
Cuisine = World
Serves = 4
Nutrition Info = 153 calories
Serving Size = 1 serving
---
RECIPE INGREDIENTS
» For Pancake //
semolina - 2 cup
yogurt - 1 ¼ cup
onions, finely chopped - ½ cup
carrots, grated - ½ cup
zucchini, grated - ½ cup
chopped cilantro - 2 tbsp
cumin seeds - 1 ½ tsp
green chilies, chopped - 2
crushed garlic - 1 tsp
crushed ginger - 1 tsp
cayenne pepper - 1 tsp (optional)
water for batter
salt to taste
baking soda - ½ tsp
oil for pancakes frying
» For Serving //
roasted potato patties of your choice
dressing of your choice (I am using honey mayo)
fresh veggies( corn, onion slices, cucumber slices, grilled lemon, chili pepper, salad leaves)
ground pepper
---
RECIPE INSTRUCTIONS
» How to Make Carrot Zucchini Semolina Pancake //
Take a mixing bowl and add all the ingredients to it, except for oil and water.
The batter should be of same consistency as of the usual pancake batter, so add water slowly while mixing thoroughly.
Heat a pan on high temperature for a few minutes and then turn it to medium.
Add 1 tsp oil to the pan, and pour about ¼ cup of batter.
With the back of a flat spatula spread the batter and veggies forming a circle. Cover with a lid.
Let it cook for about 30-35 seconds. When the top of the poured batter is dry, spray a little oil on top and flip.
Press the pancakes with the help of a spatula for few seconds.
Pancake should be golden brown from both sides.
Repeat the process with rest of the batter.
Crispy pancakes are ready. Serve them with hot roasted potato patties, and fresh veggies. Pour your favourite dressing and sprinkle some pepper powder on top.
---
RECIPE NOTES
No notes for this recipe.
---